Evaluate
Weigh the pros and cons of technologies, products and projects you are considering.
Exchange 2007 out-of-office (OOF) feature adds usability and security
Discover how Exchange 2007 Out of Office Assistant features improve usability and security and prevent spam, and how to configure OOF in Microsoft Outlook.
Exchange Server's out-of-office (OOF) auto-reply feature has hardly changed over the years. But in Exchange Server 2007, Microsoft has added new functionality to the Out of Office Assistant that improves usability and security and helps prevent spam.
One new feature is the ability to specify a date range during which you will be out of the office, which you can see in Figure A. I like this feature because it is easy to forget that the Out of Office Assistant is turned on. In the past, I have frequently forgotten to turn off the out-of-office message after returning from vacation.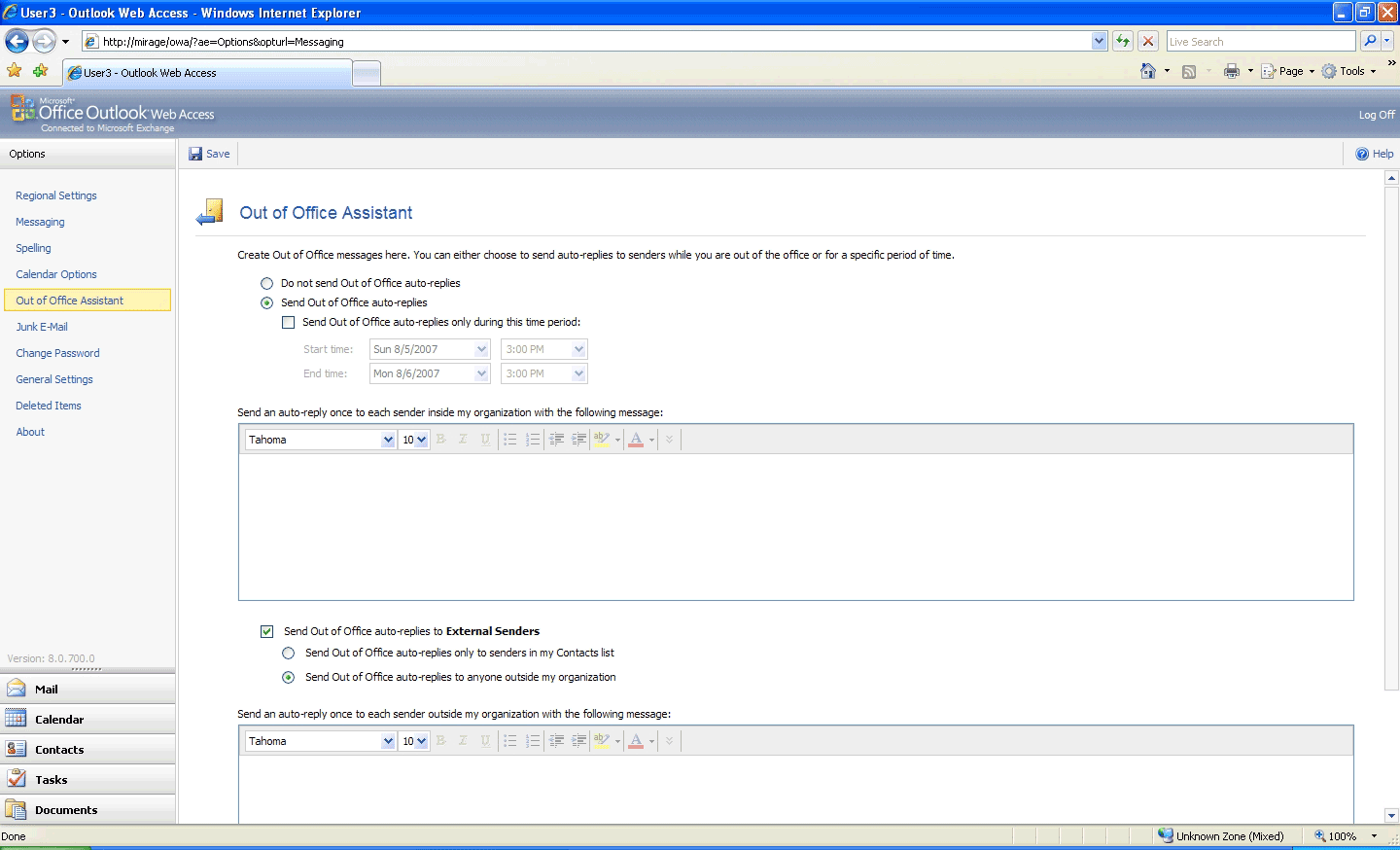 Figure A: Exchange 2007's Out of Office Assistant offers two significant feature improvements. (Click on image for enlarged view.)

Another benefit of specifying the dates for out-of-office auto-replies is that you don't have to wait until right before you walk out the door to enable your OOF message. You can configure your OOF message at the same time that you make your travel reservations. That way, you don't have to remember to manually turn on your OOF message before you leave for your trip.

As you can see in Figure A, Exchange 2007's Out of Office Assistant doesn't force you to pick a date range. You can still turn the out-of-office auto-replies on and off the old fashioned way. If you want to specify a time period, select the Send Out of Office auto-replies only during this time period checkbox and then specify the start and end dates.

But the biggest new feature by far is the option of using two different auto-reply messages, which Microsoft has implemented for security reasons.

Different people need different amounts of information about why you are out of the office. For example, if you are traveling on business, you may want your co-workers to have your contact numbers and itinerary. However, you probably wouldn't want some random email sender to have such detailed information, because that can pose a security risk.

Although not technically a security threat, more spam can also result from unfettered OOF messages. Spammers love out-of-office messages, because they prove that email addresses are valid. In fact, there have been many reports of spammers setting up applications to look for out-of-office auto-replies, and then selling the email addresses that generated those replies to other spammers for a premium price.

The contents of OOF messages have also been used in various phishing and social engineering schemes over the years.

Fortunately, these types of situations can be avoided by providing detailed internal OOF messages, and being very selective about what types of information are disclosed in external OOF messages.

Setting up multiple, out-of-office auto-replies is simple. In Microsoft Outlook, begin by typing into the top text box (shown in Figure A) the OOF message that you want co-workers to see. If you look beneath this text box, you will notice that there is a checkbox that you can use to control whether or not out-of-office auto replies are sent to external senders. It is important to note that this option is enabled by default.

Just below the Send Out of Office Auto-Replies to External Senders checkbox are two radio buttons that you can use to control which external senders receive the out-of-office auto-replies. By default, anyone outside of your organization will receive an out-of-office auto-reply when they send you an email message. You can, however, choose to only send auto-replies to people who appear in your contacts list.

This is a great feature, because it allows you to generate a semi-detailed OOF message for your friends, family, associates or whoever else might be listed in your contacts list, without having to worry about the information being freely available to anyone in the outside world who happens to send you an email.

You can use the text box found beneath these options to compose the auto-reply message that will be sent to external senders.

About the author: Brien M. Posey, MCSE, is a Microsoft Most Valuable Professional for his work with Exchange Server, and has previously received Microsoft's MVP award for Windows Server and Internet Information Server (IIS). Brien has served as CIO for a nationwide chain of hospitals and was once responsible for the Department of Information Management at Fort Knox. As a freelance technical writer, Brien has written for Microsoft, TechTarget, CNET, ZDNet, MSD2D, Relevant Technologies and other technology companies. You can visit Brien's personal Web site at www.brienposey.com.

Do you have comments on this tip? Let us know.

Please let others know how useful this tip was via the rating scale below. Do you know a helpful Exchange Server, Microsoft Outlook or SharePoint tip, timesaver or workaround? Email the editors to talk about writing for SearchExchange.com.