Exploring the Exchange Administration Center in Exchange Server 2013
As Exchange evolves, so does its management interface. Get a close look at the new Exchange Administration Center and see why it's an improvement.
Looking back at previous versions of Exchange Server, management has been largely administered through a GUI-based console, either installed on the server or on a management workstation. But Microsoft has changed the game with Exchange 2013. Management is now done through a Web browser, via the brand new Exchange Administration Center. Let's have a look.
The evolution of Exchange Server management
Exchange Server management tools have gone through various iterations. For example, do you remember the Microsoft Exchange Administrator in Exchange 5.5 or the Exchange System Manager in Exchange Server 2000?
The Exchange Management Console (EMC) and Exchange Management Shell (EMS) debuted in Exchange Server 2007. And although many changes in underlying functionality were made in Exchange Server 2010, the EMC remained the same in many respects, especially when it came to recipient, client access and hub transport management.
Exchange 2010 also featured the Exchange Control Panel (ECP), which allowed administrators to manage tasks like basic recipient management in a Web browser. In fact, certain features, like role-based access control (RBAC) and ActiveSync quarantine could only be managed via the Web-based ECP.
In Exchange Server 2013, we see the next revolutionary step: a completely Web-based GUI for Exchange management.
The EAC is an evolution of the ECP and EMC and, in Exchange 2013 RTM, this clearly shines through. For example, some error messages still display with Exchange 2010's graduated yellow background. That said, you'll be pleasantly surprised at what you can do and how complete the EAC actually is.
Managing Exchange 2013 through the Exchange Administration Center
Whenever Exchange admins migrate to a new version, their first question is usually "How do I accomplish basic management tasks?" Let's take managing recipients for example. This is not the first time recipient management has changed. The move from Active Directory Users and Computers in Exchange 2003 to the Exchange Management Console in Exchange 2007 and 2010 is still a big change some admins are getting used to.
In Exchange 2007 and Exchange 2010, admins had three distinct sections to manage Exchange from within the EMC:
Organization management, which mirrors the underlying organization-wide settings stored within Active Directory
Server management, which focuses on the individual servers within your organization
Recipient management
An Exchange administrator could be forgiven for thinking that the primary purpose of the EMC was to set up and configure Exchange rather than for day-to-day administration and management.
Recipient management remains fairly similar in Exchange 2013. And although the EAC is Web-based, the tools necessary to manage Exchange recipients are still contained within.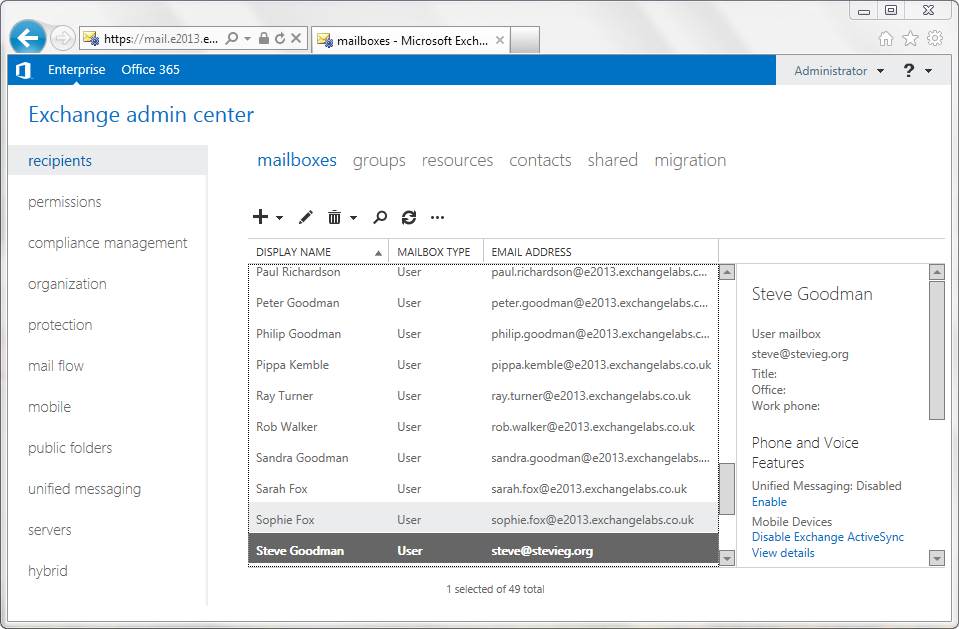 Figure 1. Managing recipients in the Exchange Administration Center.
The Exchange Administration Center emphasizes management rather than setup. Instead of focusing on how Exchange is structured behind the scenes, the attention is now on the specific tasks you need to accomplish.
It seems as if the EAC's sidebar items are listed in order of how often you're likely to need them, with Recipient management at the top and Server management and Hybrid configuration at the bottom of the screen (see Figure 1).
Despite these cosmetic changes, accomplishing common tasks isn't much different, and in many ways it's more intuitive. In Figure 1, you'll see that within the Recipients management section, Resources and Shared mailboxes now have their own subsections.
Also consider the Exchange 2010 method of moving mailboxes. First you had to use the Mailboxes section to initiate mailbox moves, then you had to monitor the Move Request section to see if those moves processed. In Exchange 2013, a dedicated Migration section lets admins coordinate mailbox moves from a single place.
This task-based focus is apparent as you navigate through the EAC. If you want to manage an aspect of mail routing, visit Mail Flow, rather than rooting around Organization Management and Server Management as you have to do in Exchange Server 2007 and Exchange Server 2010.
Another key aspect of the EAC is the focus on hybrid deployments. Whether or not you're using Microsoft Office 365, there is a link in the EAC header that gives admins the option to switch between on-premises Exchange Server 2013 and Office 365. The fact that you can open a Web-browser window and manage both your cloud and on-premises mailboxes through a single, consistent interface serves as a reminder of Microsoft's strategy for Exchange and the rest of the Office suite.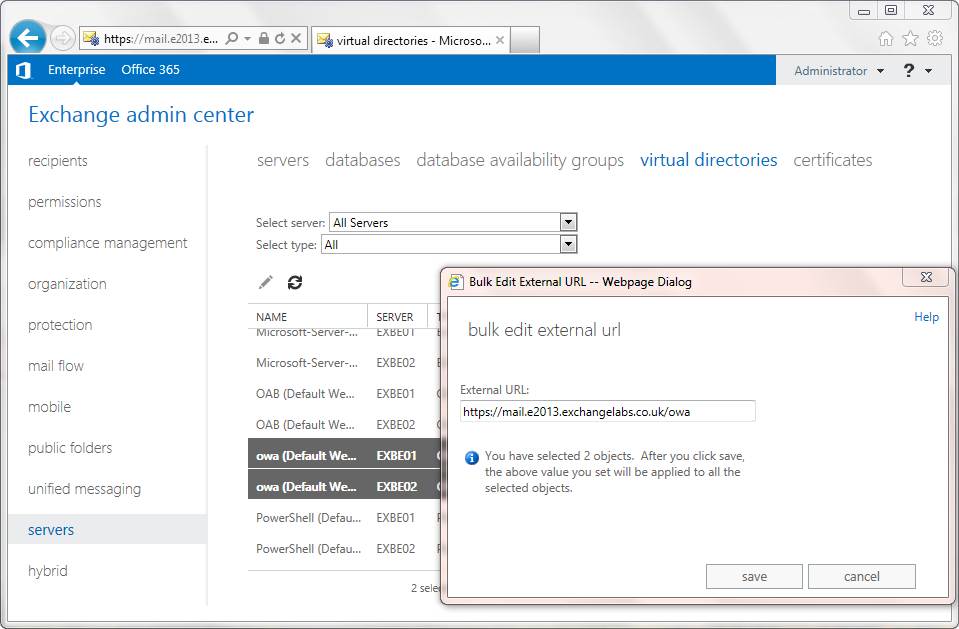 Figure 2. Bulk editing virtual directory URLs from within the EAC
My favorite change in the EAC is in the Servers management section. If you've set up multiple Exchange servers, and, like me, you do so on a regular basis, modifying internal and external URLs for Outlook Web App (OWA), Exchange ActiveSync and Outlook Address Book (OAB) can be a bit of a pain.
With the EAC, you can now select all virtual directory instances of a specified type and perform a bulk edit. Sure, it's a small change, but over the course of a year, it's something that's going to save you a lot of time (see Figure 2).
Current Exchange Administration Center downsides
There's a lot to love about the EAC, but it is certainly not without its drawbacks.
More on Exchange 2013
Identifying administration tool retirements and changes in Exchange 2013
For example, when generating certificate requests or importing certificates, you must specify both a file share and full file path for your Exchange servers to access. This would be fine if a file share browser was built into the EAC, but it's not. It would be easier if there was a way to cut and paste a certificate request into your preferred certificate vendor's website and then upload the certificate from the local PC.
Also, the EMC's invaluable PowerShell learning tool is gone. If you've never used it before, this feature provides a pop-up with necessary PowerShell code to complete various administrative actions.
For example, let's say that you need to modify a user in order to disable ActiveSync, alter mailbox limits and change which department he works in. After making those changes, you could click a small PowerShell icon to display the commands necessary to complete these actions. It is a great entry point for EMS beginners and an easy way to learn many commands and syntax. This feature is not currently included in the EAC, but I've heard that Microsoft may reconsider it at a later date.
Complaints aside, the move to a Web-based management interface in Exchange Server 2013 is a positive one and is certain to facilitate day-to-day task management for all administrators.
ABOUT THE AUTHOR
Steve Goodman is an Exchange MVP and works as a Technical Architect for one of the UK's leading Microsoft Gold partners, Phoenix IT Group. Goodman has worked in the IT industry for around 14 years and has worked extensively with Microsoft Exchange since version 5.5.
Dig Deeper on Exchange Server setup and troubleshooting