Moreno Soppelsa - Fotolia
Extending Microsoft Azure applications with connectors
Connectors have different uses. Certain Microsoft APIs, or connectors, can ease Azure applications development and improve Office 365 functionality.
Cloud applications are not isolated islands of functionality. They often need to exchange data with persistent...
Continue Reading This Article
Enjoy this article as well as all of our content, including E-Guides, news, tips and more.
data stores, extract and transform data from other enterprise applications or run complex business rules. Often, certain applications and data stores reside in the cloud. In other cases, they span cloud and on-premises resources.
A Microsoft Azure API, which is also known as a connector, links many commonly used applications and services. These connectors enable integration of a wide array of functions. Azure logic apps, mobile apps and Web apps all use connectors.
Connectors include a range of functions and can include the following:
Office 365 Connector allows users to interact with basic Office 365 functions through Microsoft Azure, including email, calendar management and contact management.
Microsoft SQL Connector enables use of create, update, get and delete functions for both on-premises SQL Servers and Azure SQL databases.
SFTP and FTP/FTPS Connectors allow trigger use for file retrieval and for Upload File, Get File, Delete File and List Files functions to be called on FTP/FTPS and SFTP servers.
Azure Storage Blob Connector can connect to any storage blob. It allows the use of numerous blob commands including Get Blob, Delete Blob, List Blobs in Container and Snapshot Blob. It also enables the use of triggers for blob retrieval.
Oracle Database Connector is used in conjunction with any on-premises Oracle database. The connector allows for basic table manipulation with create, update, get anddelete functions.
Microsoft SharePoint Connector connects to either on-premises SharePoint servers or SharePoint Online. The connector enables users to perform basic actions on documents and lists, such as create, update and get. The connector also supports several user authentication methods such as OAuth 2.0 and Windows authentication.
Azure HDInsight Connector is used to create Hadoop clusters and jobs on Azure. Supported job submissions include Pig, Hive MapReduce and Streaming MapReduce.
Additional connectors are listed in the Azure documentation.
Categorizing Microsoft connectors
Microsoft categorizes connectors into several groups based on the kinds of operations they perform and the way connector logic is executed. These groups include standard connectors, premium connectors, EAI and EDI connectors and rule connectors, among others.
Standard connectors work with software as a service (SaaS) applications or network services and include the Office 365, SFTP and FTP/FTPS Connectors. Premium connectors integrate enterprise applications such as Oracle, DB2 and SAP. EAI and EDI connectors provide for more complex extract-and-transform functions using BizTalk services. Finally, rule connectors use BizTalk capabilities and enable developers to create logical business rules and policies decoupled from application code.
Microsoft categorizes connectors into several groups based on the kinds of operations they perform and the way connector logic is executed.
Connectors can run in response to logic within Azure applications or in response to an external event. Connectors that respond to application logic are typically used to read and write data to and from databases.
Some connectors function as triggers and either poll for data or push data. Polling connectors check for particular events at regular intervals. For example, a polling connector checks for an event, such as the arrival of new data. Checks are performed at a program-specified frequency. Polling connectors may need to implement additional code to perform cleanup operations, such as removing a processed record from a queue. Push connectors listen for an event to occur and then launch an instance of a logic application to respond. An example is an HTTP listener that waits for data to arrive on a port and then computes a response to the input.
Connectors that span cloud and on-premises applications that are located behind a firewall require an additional service to enable the exchange of data. Microsoft provides a Hybrid Connection Manager (HCM) to authenticate on-premises applications with cloud-based connectors. HCM runs within an IIS server located within the on-premises network. Don't confuse the HCM with Hybrid Connections, an Azure BizTalk service that connects to on-premises applications using TCP and HTTP. Web apps and mobile apps use this service. HCM does not use BizTalk and supports other protocols, in addition to TCP and HTTP.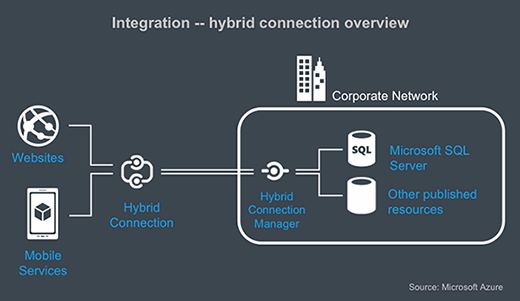 A Microsoft Azure API is a core component for cloud applications that depend on external services, such as on-premises or SaaS applications. Connectors are specialized to a particular target service, such as Office 365 or an Oracle database. They also can function under the control of application logic or respond to events as triggers. This combination of connectivity to external Azure applications and a flexible execution model significantly reduces the development burden on system designers tasked with building applications.