Problem solve
Get help with specific problems with your technologies, process and projects.
First impressions of Outlook 12
SearchExchange.com contributor Brien Posey provides a sneak peek of Outlook 12 and shares his experiences testing the next version of Microsoft's e-mail client -- including some UI surprises and hardware hang-ups.
Please let others know how useful this tip is via the rating scale at the end of it. Do you have a useful Exchange or Outlook tip, timesaver or workaround to share? Submit it to SearchExchange.com. If we publish it, we'll send you a nifty thank you gift.
---
I recently set up a small test network with Exchange 12 and Outlook 12. There were many surprises along the way (keep an eye out next week for my first impressions of Exchange 12). In then end, though, I was able to send and receive e-mail through Outlook 12 and Exchange 12 in spite of a lack of documentation. In this article, I share my first impressions of Outlook 12.
Ready your RAM
Since Microsoft seems to be really pushing the move to 64-bit computing, I bought a couple of 64-bit PCs for my tests. Office 12 is actually a 32-bit application, but I wanted to see how well it would run on the 64-bit version of Windows Vista (which is currently in beta testing as well).
I used for my tests were a pair of HP A1129n's, each equipped with a 64-bit Athlon 3400+ 2.2GHz processor, 512 MB of RAM, 200 GB of hard disk space, and an integrated ATI Radeon Xpress 200 128 MB of video memory. These are brand new machines that exceed Windows Vista hardware recommendations. Even so, when I installed Office 12, all of the Microsoft Office products ran so slowly that they were unusable for all practical purposes.
I did some performance monitoring and found that memory was the bottleneck. After I added an extra 512 MB of RAM to each machine, Office 12 began to perform at an acceptable level. It still wasn't blazingly fast, but it wasn't painfully slow anymore either.
Bottom line: Unless Microsoft makes some changes before Office 12 and Vista are officially released, I don't recommend even trying to run Office 12 with less than 1 GB of RAM.
A new look for Outlook 12
When you open Outlook 12 for the first time, it asks you if you want to set up an e-mail account. If you choose Yes, it prompts you for a username, password, and e-mail address. It then uses this information to attempt to automatically configure your SMTP/POP3 e-mail.
If you're connecting to an Exchange server though, you have to use the manual configuration option. The process of manually configuring a connection to Exchange Server is almost identical to the process used in Outlook 2003. Simply provide the mailbox name and Exchange Server name, and you're in business.
When Outlook 12 opens, you will immediately notice that it has undergone a rather dramatic facelift. The folder list, inbox, and preview pane all look a lot like what we're used to -- but now there's a fourth column.
Microsoft calls this fourth column the To Do Bar. It consists of a calendar, your upcoming appointments, and task list. You can still view the calendar, contacts, and tasks independently, as you have done in the past, but now you also have the option of a unified view of everything (minus your contacts).
Figure A: Outlook's UI has undergone a facelift.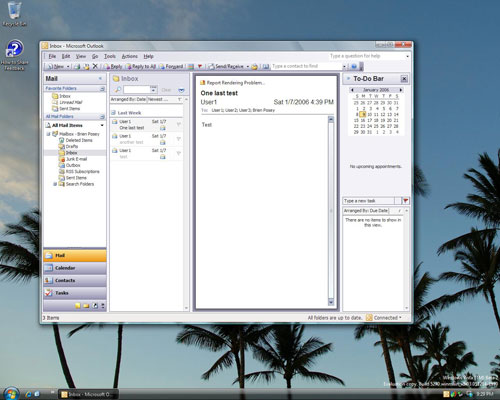 In Office 12, Microsoft is trying to get away from menu bars as much as it can. But Outlook 12 is one application that still makes fairly extensive use of them.
If click the New button though, you can see that Outlook 12 does make some use of Microsoft's new menu style. Notice in Figure B that the menu options are more like tabs. Each option contains a set of icons for accomplishing various tasks, rather than using the standard list of menu commands.
Figure B: Most Office 12 applications make use of this new style of menu.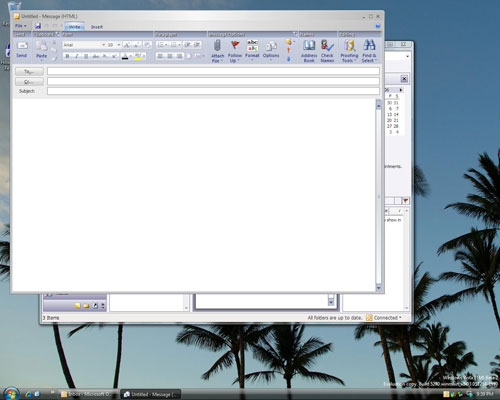 Cuckoo for Contacts
Vast improvements have been made to the Contact list in Outlook 12. When you look at a contact, there are icons you can use to assign the contact a task, book a meeting, or call the contact. There's even an icon you can use to create a map to the contact's location. You can also include the contact's business card along with a photo.
It even seems that Outlook may finally have a separate contact list for business and personal contacts (notice the Copy to Personal Contacts icon in Figure C).
Figure C: Outlook 12 includes a slew of new contact-related features.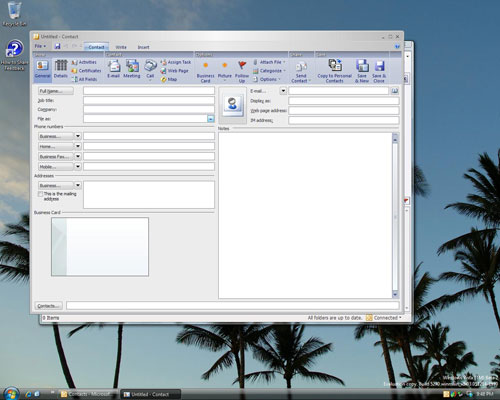 Conclusion
Outlook 12 contains a lot of new features, many of which I have yet to discover and explore. As for the ones I mentioned here, keep in mind that Office 12 is still in beta, and anything can change by the time that the product hits the market.
About the author: Brien M. Posey, MCSE, is a Microsoft Most Valuable Professional for his work with Exchange Server, and has previously received Microsoft's MVP award for Windows Server and Internet Information Server (IIS). Brien has served as CIO for a nationwide chain of hospitals and was once responsible for the Department of Information Management at Fort Knox. As a freelance technical writer, Brien has written for Microsoft, TechTarget, CNET, ZDNet, MSD2D, Relevant Technologies and other technology companies. You can visit Brien's personal Web site at http://www.brienposey.com.
Do you have comments on this tip? Let us know.
Related information from SearchExchange.com:
Article: Exchange 12 hits beta mark
On-Demand Webcast: Planning for Exchange 12
Reference Center: Exchange 12 news, tips and resources