Problem solve
Get help with specific problems with your technologies, process and projects.
Fix Exchange Server 2007 Setup failures using the registry
Find out how to fix Exchange Server 2007 Setup failures and freezes and troubleshoot server role installation problems by editing specific registry keys.
Exchange Server 2007 Setup is known to experience failures for a variety of reasons. To fix this, Microsoft designed Exchange 2007 to detect installation failures, make note of the problem within the registry and reboot from that point the next time it runs. But these registry notations, which are meant to help administrators, can actually create issues and cause Setup to freeze. This tip explains how to edit registry keys to fix Exchange Server 2007 Setup failures.
---
There are a number of things that can cause Exchange Server 2007 Setup to fail; and most failures cause Setup to become locked. I experienced this when I tried to install an early beta of Exchange Server 2007 Service Pack 1 (SP1) on a lab server. I wasn't able to rerun the SP1 installation, nor could I uninstall Exchange Server 2007.
Because of this issue, Microsoft has designed Exchange Server 2007 Setup to detect a failure, make notations within the registry and then resume from that point of failure the next time it runs. Often, however, these notations can do more harm than good, and actually cause Exchange 2007 Setup to freeze.
One trick to resolve this is to use registry keys to determine what state Exchange Server 2007 is in, and unlock Setup, if needed. Remember, editing the registry can be dangerous, and making a mistake while doing so can destroy Windows and/or your applications. I recommend making a full-system backup before continuing.
To use registry keys to fix an Exchange Server 2007 Setup failure, open the Registry Editor and navigate through the tree to:
HKEY_LOCAL_MACHINE\SOFTWARE\Microsoft\Exchange\v8.0
In Figure 1, you'll see that there are separate folders beneath the v8.0 container for each server role. These folders and their contents offer a great deal of information about the server's current state.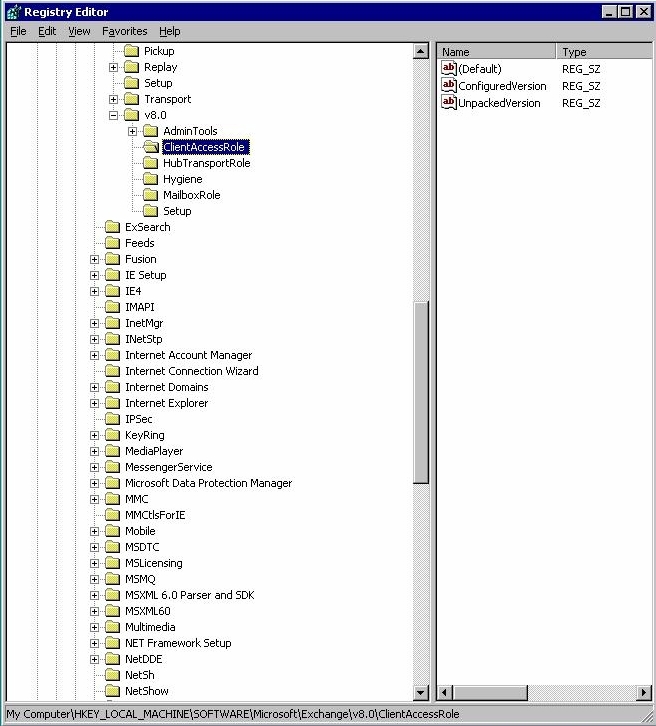 Figure 1. Registry containers offer details about the state of Exchange Server 2007. ( Click to view larger image.)

You might also notice that there is no unified messaging container. The absence of a container for a particular server role indicates that the corresponding role hasn't been installed, or that an installation hasn't been attempted.

The most important registry keys within the role-specific containers are the Watermark and Action keys. The presence of these keys means that Setup has failed, and a role is partially configured.

Because these keys are role-specific, they will always appear in the container that corresponds to the role Setup was processing when the failure occurred. The Watermark key tells Setup its point of failure. The Action key tells Setup what action was being performed (install, uninstall, etc.).

Setup uses a watermark within the Action key to denote where to resume the next time it runs. There are several instances in which the presence of these keys can cause Setup to lock, preventing any further action. To unlock Setup, delete both the Action and Watermark keys.

Two other registry keys included within the container are: UnpackedVersion and ConfiguredVersion. The ConfiguredVersion key indicates what version of Exchange Server the role is running. UnpackedVersion denotes which Exchange version you most recently tried to install.

For example, I tried to install the release version of Exchange Server 2007 SP1, but the installation failed during the Mailbox Server role setup.

In this situation, the numbers displayed for the ConfiguredVersion and the UnpackedVersion were different. If the installation succeeded, these numbers would have been the same.

When this happened, I attempted to uninstall the role. However, Setup failed because Exchange perceived a version conflict. I fixed this by copying the MSFTE.MSI file from the \Setup\ServerRoles\Mailbox folder of the original installation CD to the server's \Program Files\Microsoft\Exchange Server\Mailbox folder.

I used the file version that was bundled with the original Exchange Server 2007 installation CD, not the version that came with SP1. Once I replaced the file with the required version, I was able to uninstall the role and fix the problem.

About the author: Brien M. Posey, MCSE, is a four-time recipient of Microsoft's Most Valuable Professional Award for his work with Windows Server, Internet Information Server (IIS) and Exchange Server. Brien has served as CIO for a nationwide chain of hospitals and healthcare facilities, and was once a network administrator for Fort Knox. You can visit Brien's personal Web site at www.brienposey.com.

Do you have comments on this tip? Let us know.