vege - Fotolia
Get started
Bring yourself up to speed with our introductory content.
Free Exchange admin tools to monitor, manage deployments
These free Microsoft tools will help you monitor, manage and calculate server requirements in your on-premises or hybrid Exchange deployment.
Free Exchange admin tools? What's the catch?
Continue Reading This Article
Enjoy this article as well as all of our content, including E-Guides, news, tips and more.
While you may think that nothing in life is free, that's not the case for IT and certainly not for Exchange. For example, Spiceworks is a free tool for the help desk, device inventory and management, and network monitoring. An entire community has built up around those free tools.
Microsoft Exchange admin tools
One of the best sources of free tools is Microsoft. The Exchange team provides these great tools, among others, for admins.
The Exchange Deployment Assistant is one of the best free Exchange tools. Whether you're planning an on-premises, hybrid or cloud deployment, this online tool asks a few simple questions about an Exchange deployment and then offers clear instructions for making it happen.
RBAC is a pain to work with in PowerShell because it's not the kind of thing you work with on a daily basis; you have to research the PowerShell commands and spend more time than if you had a GUI tool. In addition, you have to run commands to see which cmdlets and parameters are used for certain roles to decide if you should tweak the parameters in any way. A GUI tool can really help in this regard.
Remote Connectivity Analyzer is a great tool for testing your new Exchange deployment with regard to ActiveSync, AutoDiscover and other services (see the figure). There are tests for Lync or Office Communications Server, or Office 365, Client and Message Analyzer. Microsoft recently announced a beta for the Office 365 Support and Recovery Assistant as well.
Exchange Server Role Requirements Calculator is an Excel spreadsheet that helps you organize -- for free. There is always a need with an on-premises Exchange deployment to map out your servers in terms of storage and to ensure the best performance -- depending on the size of your organization and the number of servers you plan to deploy.
Open source tools
Sometimes the best way to accomplish a goal is through scripts that the Exchange admin or team can tweak and repurpose for their own needs. We might look to specific Microsoft MVPs who post scripts to get what we need. Steve Goodman, a fellow MVP and SearchExchange.com contributor, has a great PowerShell reporting tool, which now includes support for Exchange 2016. In addition, Microsoft has a gallery of Exchange resources for IT professionals that includes tools and scripts.
Beyond the free tools Microsoft provides, there are a number of great tools available on the Microsoft-sponsored open source project hosting site CodePlex. One thing to be aware of with CodePlex is that some of the options offered are just beta or demo versions of paid-for tools.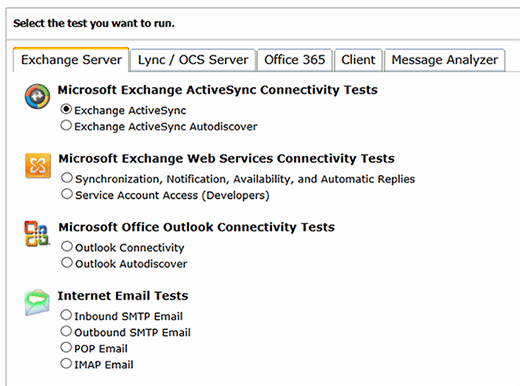 One of my favorite CodePlex tools is RBAC Manager. Role based access control (RBAC) is a modern method of assigning role groups. Those roles have underlying PowerShell commands and parameters assigned to them so that a person who is placed into a specific role group with clear roles assigned has the ability to perform certain tasks -- either through the graphical user interface (GUI), which is based on PowerShell commands behind the scenes, or directly through PowerShell. RBAC can be a bit of a pain to work with through PowerShell, but the GUI administrative console limits Exchange admins to built-in role groups and roles. Having this RBAC Manager tool can be very helpful in simplifying RBAC administration with a graphical user interface.
There are a myriad of great Exchange admin tools out there that the IT organization has to pay for; however, there are also plenty of helpful tools and scripts that are free, so why not try them? The free tools listed here are just some of the highlights.
Dig Deeper on Exchange Server setup and troubleshooting