Evaluate
Weigh the pros and cons of technologies, products and projects you are considering.
Hyper-V management tool 5nine revives the GUI on Windows Server
The role of the command line is growing, but GUI-loving admins have options. We look at a Hyper-V tool that may appease the button-clickers.
If there's one thing about Microsoft Hyper-V (especially in Server Core installations) that drives admins up a...
Continue Reading This Article
Enjoy this article as well as all of our content, including E-Guides, news, tips and more.
wall, it's the lack of a GUI. Well, let me amend that: it annoys admins who are used to a GUI, and who prefer to have one for basic admin tasks. This isn't to say command-line administration is inferior, only that having a GUI can be a plus for certain administrative tasks.
Apart from remote administration, one way to get around having no local GUI for Hyper-V is to add one. Even if you don't share an office niche or a server closet with the Hyper-V box in question, this is handy: It makes administering that box a little less off-putting. This is especially true if you spend most of your time with a GUI on more conventional instances of Windows Server, such as (oh, irony!) instances of Windows Server that run on Hyper-V itself.
5nine Software has licensed (via VT Technologies) its own software option with its 5nine Manager for Microsoft Hyper-V R2 (both the full Server and Windows Server Core installations). It works as both an add-on running directly on the server itself, and as a remote-management tool that's installed on a workstation used to administer such a server. What's most useful about it is that it provides the end user with a slew of administrative GUI components unavailable in either product. In Server Core installations, the list of administration options isn't as broad, but it's still quite useful.
Figure 1: Using 5nine Manager for Hyper-V to look at a running virtual machine.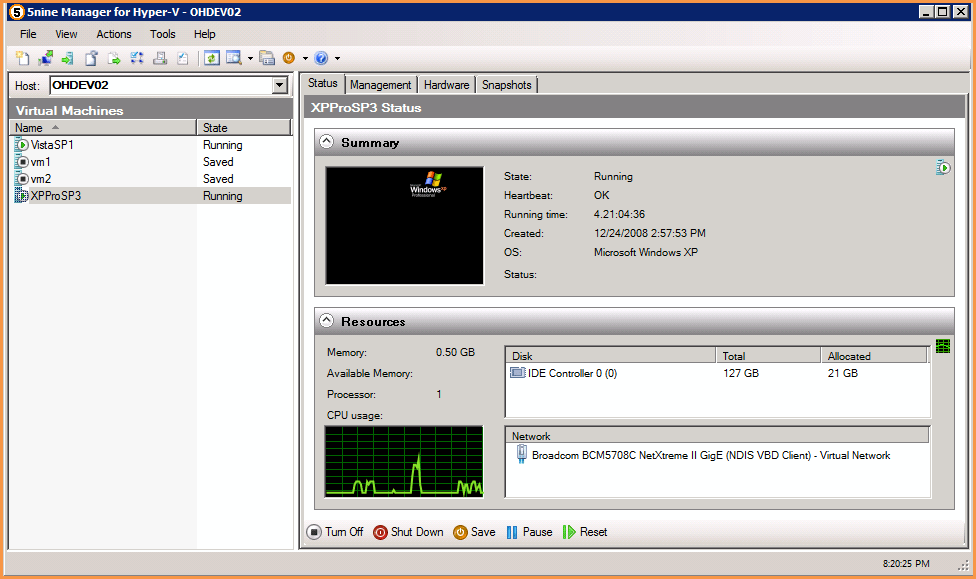 From the outside, 5nine Manager broadly resembles Microsoft's own Hyper-V Manager snap-in. But 5nine Manager requires far less pain to set up. As anyone who's tried the snap-in knows, installing the Hyper-V management tools on a remote machine is unbelievably awkward. In fact, the process deserves some kind of booby prize for being as convoluted and difficult as it is. If nothing else, 5nine Manager provides the most commonly-used functionality of that console without the headache needed to get it running.
By default, 5nine Manager enables configuration of the virtual machines running on the local host, but you can add remote hosts and select one to manage from a drop-down menu. A set of tabs -- Status, Management, Hardware and Snapshots -- lets you configure each of those aspects of a selected virtual machine. Each VM's hardware profile, including virtual disks and disk controllers, can be managed and edited through this interface, along with resource governor settings and processor allotments. To interact directly with a VM, all you need do is click a button.
5nine Manager also includes several other functions that aren't readily available in either Hyper-V. First and most notable is the File System View, a dual-paned file explorer that brings to mind the classic Norton Commander and all its successive clones. Most of the basic file-manipulation stuff you'd need to perform can be done through the File System View, although you can always drop to a command-line if you need to do more detailed work. Other views give you access to the servers' event logs and system services, although in both cases you're limited to events and services that are specifically related to Hyper-V.
Another major management component in 5nine Manager is the Network Manager, which lets you configure the virtual networks on a given local server. It doesn't allow you to manage remote servers' networks, in part because that would be a great way to accidentally trash such a server's network connection and leave it inaccessible from the outside.
Also included is a virtual disk management system that lets you create new .VHDs or .VFDs and inspect/edit currently created disks, a virtual-machine creation wizard for adding new VM instances, and a resource-monitoring pane for detailed analysis of the behavior of both hosts and guests, including alerts for various critical scenarios (e.g. high CPU usage).
The full version, which costs $119 per installed instance of the Manager, adds a few features intended for professional server administrators (5nine also offers a trial download). The full version allows direct access to the consoles of other, remotely administered servers (not just VMs) and advanced editing of virtual network administration (e.g. changing network bindings).
Windows admins have more incentive than ever to make use of the command line, thanks to PowerShell and the enormous array of programs that make use of it (especially Microsoft's own server-level products). But as tools like 5nine Manager demonstrate, the GUI is still useful for certain tasks.
ABOUT THE AUTHOR
Serdar Yegulalp has been writing about computers and information technology for more than 15 years for a variety of publications, including InformationWeek and Windows Magazine. Check out his blog at GenjiPress.com.