Evaluate
Weigh the pros and cons of technologies, products and projects you are considering.
Free Microsoft tool accesses Exchange, Outlook MAPI stores
What started as one Microsoft engineer tinkering with MAPI became a full-blown tool. See how MCFMAPI can access stores via a graphical user interface, helping you solve MAPI problems.
Exchange administrators are familiar with MAPI, Windows' messaging API for making programs mail-aware. Because Microsoft Outlook and Exchange Server rely heavily on advanced MAPI features, admins and developers can benefit from a tool that works in the same way.
Microsoft's free MFCMAPI tool -- now in version 6 -- lets you use a graphical user interface (GUI) to open message stores that are exposed through MAPI and navigate through them. The tool has a fairly long history, according to its chief developer, Microsoft engineer Stephen Griffin, who considered its first three versions to be toys. Several revisions later, though, MFCMAPI seemed a suitable replacement for another Exchange tool -- Microsoft Exchange Server Information Store Viewer. MDBVU is still available, but is no longer being developed; the last revision was in May 2004.
MCFMAPI, which is available as open-source software under the terms of the Microsoft Public License, offers more functionality. To use the tool, you need the program and a locally running instance of either Microsoft Outlook or Exchange System Manager. MCFMAPI is self-contained and can run from any directory.
Launch the tool and select Session -> Logon and display store table to connect to the local MAPI store provider. After doing so, you can view the available message stores.
Users can also perform logon/logoff operations with passed flags. Like most items exposed through MFCMAPI, you must know the consequences of using those flags before taking advantage of them. The default logon process should be sufficient for those just getting started with the tool.
Program submenus let you explore the Address Book, the various message stores -- including public folders -- and the current profile. You can double-click on each item you have explored to expose a deeper hierarchy of properties or view full properties for the item within the property editor.
Do not directly edit properties unless you know exactly what you're doing. You can potentially ruin everything you explore with this tool, so tread with caution.
A slew of auxiliary functions are also available in MFCMAPI. The contents of the currently selected store or the entire server can be dumped out to text; however, this is a slow process. You can also launch the Profile wizard using a number of different flags, compute the store hash for a specific store entry ID, dump the contents of any viewed table to text and convert messages between .eml and .msg formats.
Figure 1: MFCMAPI lets you explore the range of MAPI functions that are related to message stores.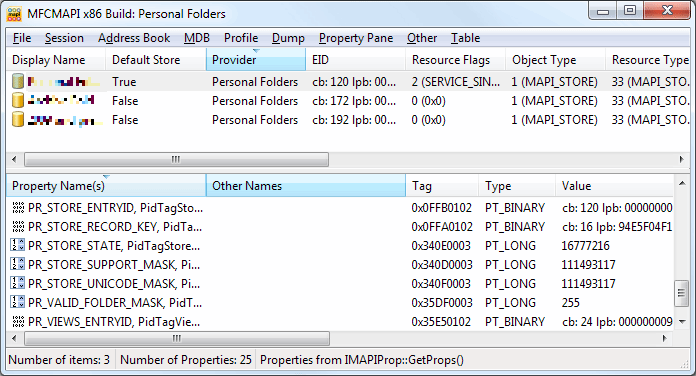 ABOUT THE AUTHOR
Serdar Yegulalp has been writing about computers and information technology for more than 15 years for a variety of publications, including InformationWeek and Windows Magazine.
Dig Deeper on Exchange Server setup and troubleshooting