Evaluate
Weigh the pros and cons of technologies, products and projects you are considering.
Free app brings IIS administration to smartphones
The new IIS7 Mobile Admin utility literally puts management of Internet Information Services in the palm of your hand, but the tool is not without its limitations.
Most Windows Server admins have a smartphone and use it to access remote administrative tools of one kind or another. As handy as this is, however, a smartphone isn't the most convenient way to work with, say, a Remote Desktop connection.
To that end, remote administration for any Windows server over a smartphone is best done with tools designed to work in the context of a smartphone instead of a full-blown desktop. Admins might not need access to every single function -- just some of the most crucial ones, like the ability to reset a failing application pool or an on-demand website.
To manage these issues, Microsoft programmer Sukesh Ashok Kumar created a utility for minimal remote management through a smartphone. His project -- IIS7 Mobile Admin -- runs as a website within Internet Information Services (IIS) and lets admins perform some basic information-gathering and setting-changing operations in IIS, all within a web browser. It is written using the IIS 7 .NET managed API (Microsoft.Web.Administration); no custom code is used to access IIS itself.
Right now, IIS7 Mobile Admin only handles a few functions:
List all the available application pools in the system. Click on the name of a pool and you'll be able to list long-running requests to the server, show applications running under that pool or recycle the application pool in question.
List all the available websites in the system. From there you can show a site's configuration (which right now consists of its site bindings) or start/stop the site.
Search for an application pool or website by name. If you just want to see all sites or pools in the system, you can click Find without supplying any search parameters.
Figure 1: Inspecting application pools with IIS7 Mobile Admin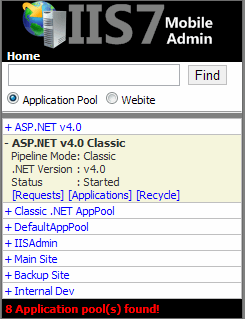 Figure 2: Start/stop sites with IIS7 Mobile Admin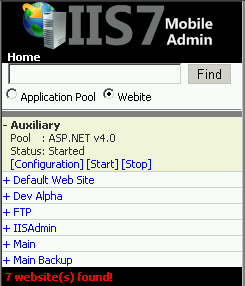 To set up the IIS mobile web app, you don't need to do much more than unpack the project into its own directory, set permissions on the files to allow access from IIS users and add that directory into IIS as a new website. Another way to run IIS7 Mobile Admin is via a self-contained process using another project from Kumar -- IIS Hostable Web Core (HWC). Still, the IIS site will do the trick for most admins.
Since this tool hypothetically allows anyone from the Internet to access elements of the IIS internal configuration, admins should use some basic security measures when implementing it:
Secure the IIS7 Mobile Admin site by enabling HTTPS and basic authentication. Don't allow any access to the site without some kind of encryption or user credentials.
Run the site in its own application pool. This will increase security and also make it less vulnerable to an application pool crash or hang up.
The project is hosted at CodePlex and distributed under the Microsoft Public License. It also encourages feedback and feature requests and can be reused freely in other projects or forked entirely, but only under the same license terms.
You can follow SearchWindowsServer.com on Twitter @WindowsTT.
ABOUT THE AUTHOR
Serdar Yegulalp has been writing about computers and information technology for more than 15 years for a variety of publications, including InformationWeek and Windows Magazine.