Evaluate
Weigh the pros and cons of technologies, products and projects you are considering.
Free tools keep Microsoft Outlook visible in Windows Vista
Does your Microsoft Outlook 2007 screen get lost when working with multiple applications? These free Outlook tools can help manage your inbox in Vista.
Does your Microsoft Outlook 2007 screen get lost in the background while working in other applications? Microsoft MVP Brien Posey dedicates this tip to some free add-in tool gadgets that help manage your Outlook inbox in Windows Vista.
---
I tend to keep Microsoft Outlook open and running while working in other applications. Inevitably though, Outlook always gets pushed to the background. I assumed that this problem would get better after moving to a multi-monitor configuration. However, working in three different monitors simultaneously hasn't helped.
Recently, I discovered some Outlook-related gadgets for use with Microsoft Windows Vista. These third-party add-in tools display Microsoft Outlook information in a user interface (UI) that remains visible on your desktop most of the time.
Here are a few free third-party add-in tools that you can download from the Windows Live website. Simply search on the word Outlook, and click on the Sidebar Gadgets section. Following are a few of my favorite Microsoft Outlook 2007 add-in gadgets.
Outlook Info
Outlook Info (Figure 1) gives you a summary of the information that Microsoft Outlook provides. For example, the figure shows that I have six unread email messages, no remaining appointments for the day and nothing on my to-do list. It does show an upcoming Microsoft MVP meeting, though. You can glean a lot of information from a UI that only takes up about 2 inches of desktop space.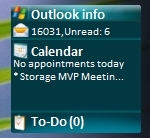 Figure 1. The Outlook Info tool gives you with a summary of your mailbox content.
Inbox Alert
The Inbox Alert tool lists the sender and the subject line associated with unread messages in an inbox (Figure 2). It also displays the total number of unread messages. With this message, the age of unread messages doesn't matter. Previously, I have left a message unread and gone back a couple weeks later to find it without any luck. This tool consolidates all of my unread messages into one place.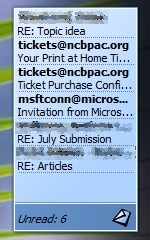 Figure 2. The Inbox Alert tool displays all unread messages.
My Outlook 2.0
A very elaborate Outlook-related gadget called My Outlook 2.0 is actually a miniaturized copy of Microsoft Outlook. You can use it to perform the same basic types of tasks as Outlook or Outlook Web Access (OWA). While this is a handy tool, I prefer to use Outlook, rather than trying to use this small interface.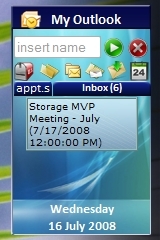 Figure 3. The Outlook 2.0 tool can almost function as an Microsoft Outlook replacement.
Outlook Tasks
Outlook Tasks (Figure 4) displays your task list via a simple interface. You can also enter a new task into the empty space at the top of the window and it will be added to the task list.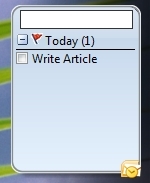 Figure 4. The Outlook Tasks tool displays your task list.
Coming Up
There are several gadgets that display the contents of your Outlook Calendar. What makes the Coming Up tool unique though, is that it tries to figure out which appointments are important by showing only calendar entries that are marked as all-day events, instead of showing your next meeting (Figure 5).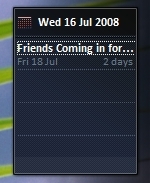 Figure 5. The Coming Up tool tries to determine which appointments are important by showing only calendar entries that are marked as all-day events.
It's important to note that Microsoft didn't create any of these tools; they're all from third parties. This means that, although these tools work with Windows Vista and Outlook, Microsoft doesn't officially support them. It also means that there is a slight chance that tools on the Windows Live website contain malicious code.
About the author: Brien M. Posey, MCSE, is a five-time recipient of Microsoft's Most Valuable Professional award for his work with Exchange Server, Windows Server, Internet Information Server (IIS), and File Systems and Storage. Brien has served as CIO for a nationwide chain of hospitals and was once responsible for the Department of Information Management at Fort Knox. As a freelance technical writer, Brien has written for Microsoft, TechTarget, CNET, ZDNet, MSD2D, Relevant Technologies and other technology companies. You can visit Brien's personal website at www.brienposey.com.
Do you have comments on this tip? Let us know.
Please let others know how useful this tip was via the rating scale below. Do you know a helpful Exchange Server, Microsoft Outlook or SharePoint tip, timesaver or workaround? Email the editors to talk about writing for SearchExchange.com.