jules - Fotolia
Get started
Bring yourself up to speed with our introductory content.
Heavy workloads get a boost with Azure Premium Storage
Microsoft says it has tailored Azure Premium Storage for organizations that need to run I/O intensive VMs in the cloud with extremely low latency.
Organizations that have evaluated hosting servers in Microsoft Azure may have had concerns about performance, given the Azure network is shared across hundreds, if not thousands, of customers. Many enterprises may hesitate to move servers with heavy workloads, such as SQL Server and Oracle, from on-premises networks to the cloud. Microsoft recently introduced Azure Premium Storage for businesses that want to run I/O intensive applications in the cloud.
Microsoft Azure now offers two types of storage: the "traditional" storage hosted on hard disks named Standard Storage and storage on solid-state drives called Premium Storage. Microsoft says Premium Storage was developed for enterprise customers who needed a storage platform that can provide high I/O performance to run demanding enterprise applications, such as databases, in the cloud.
Many administrators may ask if they can provision Premium Storage drives to run existing virtual machines (VMs) in Azure to give them a performance boost. It depends on the type of VMs that are already in use. The Azure team has released a new series of VMs named "DS series" that are compatible with Premium Storage.
There are 14 versions of the DS-series VMs, ranging from DS1 to DS14. A DS1 VM features one CPU core with a maximum storage of 2 TB and a maximum storage IOPS of 3,200. A DS14 VM has 16 CPU cores with a maximum storage of 32 TB and a maximum storage IOPS of 50,000.
DS VMs support both Standard and Premium Storage which allows organizations to mix storage types to build a server with the performance required.
Speed is one benefit to the cloud
The biggest advantage of cloud workloads is the deployment speed. An Azure administrator can have VMs ready to host the most I/O intensive applications in less than a day. Compare that with a large organization trying to get a similar machine ready for use; it will take weeks -- if not months -- before the request wends through the various teams to configure the operating system, storage, firewall and other facets. With Azure, the administrator can configure the VMs, the storage required, ports required and load balancing from the portal.
The foundation of Premium Storage replication
Fast deployments are one thing, but data durability is another area of concern for many businesses. Microsoft provides high availability and resilience by keeping multiple copies of the same data. Azure Premium Storage is built on Microsoft's Locally Redundant Storage technology and stores three copies of the data within the same region. This ensures the data is highly available and the system can handle even multiple storage failures in the back end.
Three versions of Premium Storage
There are three types of Premium Storage disks -- P10, P20 and P30 -- with different limits detailed in the table below. The type of disk is determined by its size and each disk type is assigned a different number of IOPS and bandwidth.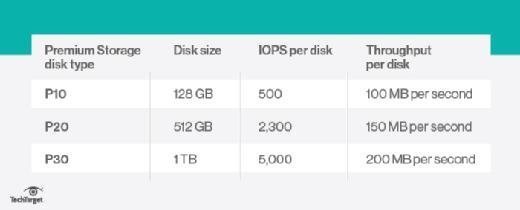 Adjusting the size of existing disks
If a VM is already on Premium Storage, Azure does offer some flexibility if requirements change. If more storage is required or the VM needs more IOPS, the Update-AzureDisk PowerShell cmdlet has an option to make these adjustments.
Note that the VM needs to be stopped or the disks should be detached from the VM before executing the cmdlet. Before making this change, make sure it occurs when the downtime will have the least impact.
Other Azure Premium Storage considerations
Before planning to move your heavy workloads to the cloud, be aware that Premium Storage is not available in all Azure regions. Always create a DS-series or GS-series VM to use Premium Storage. While creating the VM, you can select a previously created Premium Storage account, create a new one or let the Azure portal create a default premium account for you. If you are familiar with PowerShell, then you can manage Premium Storage using the Azure command-line interface.
Next Steps
Get 64 TB of cloud storage with Azure GS-series VMs
Get started with Azure Backup
Azure storage could boost cloud adoption