How Microsoft Office Communicator enhances Outlook 2007 functionality
Learn about how Microsoft Office Communications Server 2007 works similarly to Exchange 2007 UM and integrates with Outlook for added functionality.
Microsoft Outlook works with other products in addition to Exchange Server, including Office Communications Server 2007 (OCS 2007) -- Microsoft's "other" unified messaging product. OCS 2007 doesn't store voice messages and faxes in Exchange Server mailboxes by default, but it does have other capabilities similar to those in Exchange Server's Unified Messaging (UM) role. This tip highlights some OCS 2007 features and how they can be used to augment Exchange Server and Outlook 2007.
---
Microsoft Office Communications Server (OCS) 2007 is designed primarily as a collaboration platform. Users are able to make and receive phone calls, communicate through videoconferences and share applications and whiteboards. OCS 2007 also can be configured to coexist with Exchange Server's Unified Messaging (UM) role, so that the two products provide complementary services.
When I installed the Microsoft Office Communicator, the client component to OCS 2007, on lab workstations I noticed that the Microsoft Office Communicator extended the capabilities of Microsoft Outlook, even though I didn't set up Unified Messaging. The Microsoft Office Communicator interface (Figure 1) is fairly simple, but still lets users communicate through voice, video and instant messaging (IM).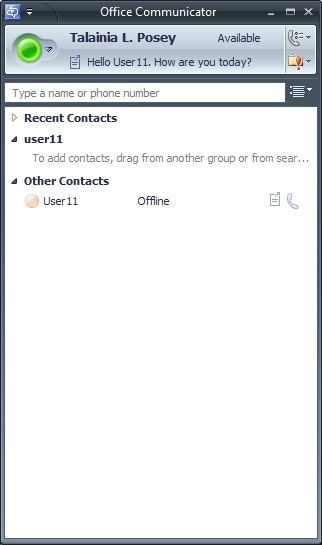 Figure 1. The Microsoft Office Communicator interface.
The large green sphere in the upper, left portion of the screen reflects the user's presence state. Office Communicator lets each user convey presence information to other users in real time. Presence information reflects the user's availability and, in some cases, their preferred method of communication. If you look at the last line of text in the figure, you see that User11 is offline. The sphere next to User11 is a color other than green, representing that the user is offline.
Users can set the presence themselves. If you look at Figure 2, you can see a user can specify his or her availability by clicking on the arrow icon next to the presence sphere.

Figure 2. Users control their own presence state all the time, except when they're logged out.
Integration into Microsoft Outlook 2007
Microsoft Office Communications Server (OCS) adds some functionality to Outlook 2007. Keep in mind that prior to deploying Microsoft Office Communicator, Outlook 2007 was running a default configuration and only giving users access to their Exchange Server mailboxes.
Integrating Microsoft Office Communicator functionality into Outlook allows for a richer user experience, and allows users to take full advantage of Exchange Server's power when using various OCS features.
Figure 3 shows a screenshot of a real-life mailbox, so most content has been blurred out of focus. The clearly viewable message shows a missed-call notification. Keep in mind that I don't have the Exchange Unified Messaging role installed anywhere on my network. OCS 2007 placed this message here.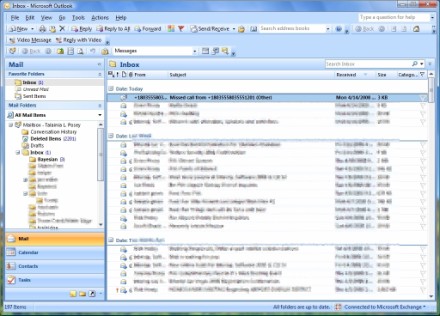 Figure 3. OCS 2007 emails missed-call notifications to a user's inbox. (Click on image for enlarged view.)
The phone number is listed in the message's subject line because this call came from a telephone, not from Office Communicator. Had it come from Office Communicator, the caller's name would have been displayed.
More on Exchange Unified Messaging and Outlook 2007:
Intro to the Exchange 2007 Unified Messaging Server role

Connecting Exchange 2007 Unified Messaging and Asterisk open-source telephony

Favorite new Microsoft Outlook 2007 features
Figure 4 shows what the message contents look like. Notice that there is a link to the phone number. You can click on the phone number and return the missed call from within Outlook 2007.
Additionally, the Message From field has been replaced by the Participants field. This is where real-time presence information is displayed within the message. In this case, the call came from a telephone, so there is no presence information from the caller. However, if there were, you would know if the caller was available.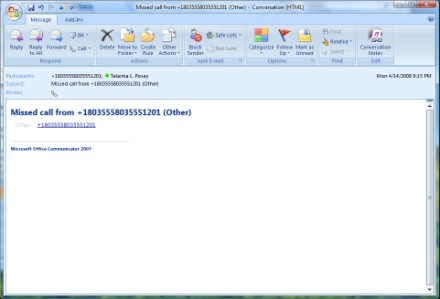 Figure 4. A missed-call notification in OCS 2007. (Click on image for enlarged view.)
The toolbar in Figure 4 features IM and Call icons, making it possible to respond to the caller by email, voicemail or instant message -- all from within Outlook.
Figure 5 shows what the screen looks like when a missed call was placed through Office Communicator directly. Notice that the user's name is displayed instead of the phone number, even though a Voice over Internet Protocol (VoIP) phone number has been assigned to the user.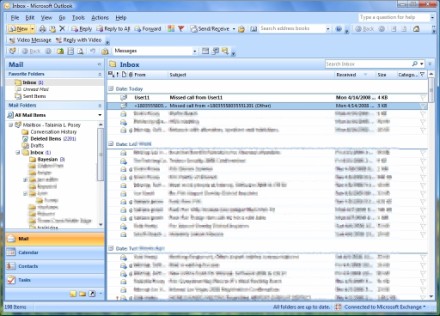 Figure 5. Missed-call notifications can also come from Office Communicator calls. (Click on image for enlarged view.)
When I open this missed-call notification, the message itself looks different than the previous notification. Figure 6 shows there are links in the message to call, email or IM the caller. The message's Participants field in the message header contains the caller's real-time presence information.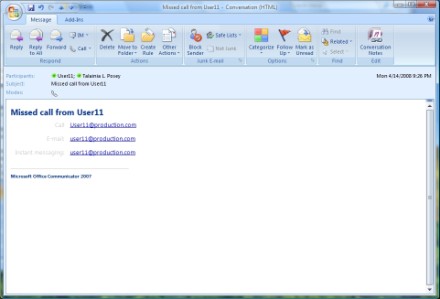 Figure 6. A missed-call notification contains links for calling, emailing or instant messaging the caller. (Click on image for enlarged view.)
An interesting thing about how OCS functionality is embedded into Outlook is that presence information is also included with regular email messages. If you look at Figure 7, you can see an email message about an upcoming conference in Las Vegas. Notice that although this sender doesn't participate in my OCS deployment, Microsoft Outlook reserves a place for the sender's presence information. This can be helpful in corporations where internal users send email messages to each other because sometimes it's easier to respond to an email with a phone call. The embedded presence information informs you whether or not the sender is available to receive a call.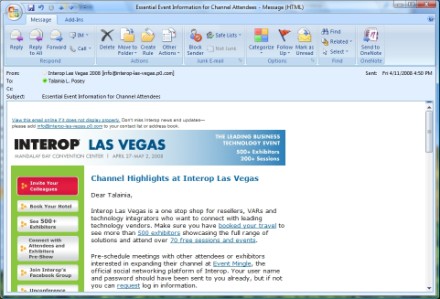 Figure 7. Presence information is included with regular email messages. (Click on image for enlarged view.)
One very interesting feature of OCS 2007 and Outlook integration is call logging. Figure 8 shows the pop-up window that appears when a user is on a call. The dropdown menu gives users the option to take notes about a call. I can also change the subject of the conversation, which is helpful if I must go back later and look for my notes on a particular conversation. Like an email message, I can also flag the call as important.


Figure 8. Microsoft Office Communicator lets you take notes about a phone call. (Click on image for enlarged view.)
Microsoft Outlook also contains a Conversation History folder (Figure 9). This folder holds a record of every inbound and outbound call that a user made, received or missed. If you look at the top call on the list, you will notice that the Subject is different from all other calls, because it contains the words New Business. When I was taking notes on the call, I renamed the subject so it's easier to find my notes. You'll also notice that the call has been flagged as important.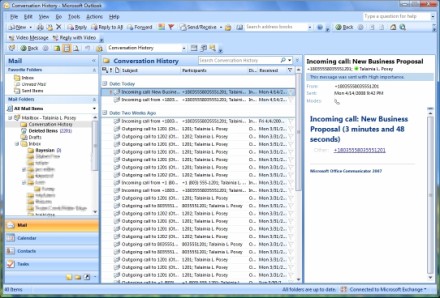 Figure 9. Microsoft Outlook maintains a log of all inbound and outbound calls. (Click on image for enlarged view.)
With a log like this, calls are searchable the same way that email messages are searchable. For example, if you were going to meet with a client, you could use the search mechanism to review all calls from that client prior to the meeting.
The preview pane provides some basic information about the call, but doesn't display notes you've taken. This is because the notes are stored as an attachment in a Microsoft OneNote document. To see the notes, open the message and then open the attachment.
About the author: Brien M. Posey, MCSE, is a four-time recipient of Microsoft's Most Valuable Professional Award for his work with Windows Server, Internet Information Server (IIS) and Exchange Server. Brien has served as CIO for a nationwide chain of hospitals and healthcare facilities, and was once a network administrator for Fort Knox. You can visit Brien's personal web site at www.brienposey.com.
Do you have comments on this tip? Let us know.
Please let others know how useful this tip was via the rating scale below. Do you know a helpful Exchange Server, Microsoft Outlook or SharePoint tip, timesaver or workaround? Email the editors to talk about writing for SearchExchange.com.
Dig Deeper on Microsoft messaging and collaboration services