Share this item with your network: BACKGROUND IMAGE: iSTOCK/GETTY IMAGES
SharePoint governance and e-discovery

iSTOCK/GETTY IMAGES
Problem solve
Get help with specific problems with your technologies, process and projects.
How SharePoint 2010 simplifies e-discovery
SharePoint 2010 gives you access to far more e-discovery features than any previous release -- features that will ease compliance issues when they arise.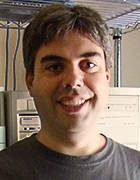 By
For organizations that are subject to federal regulations, those regs apply no matter where an organization's data is actually stored. As such, SharePoint data is subject to the same regulatory controls as any other type of data.
In some ways, this can be problematic. Earlier versions of SharePoint were not created with regulatory compliance in mind. In fact, e-discovery capabilities and other compliance-related features were only first introduced in SharePoint 2007. That being the case, it's important to consider how organizations that use SharePoint will comply with e-discovery requests.
Deploying SharePoint with e-discovery in mind
The key to complying with e-discovery requests is to deploy and manage SharePoint in a way that facilitates e-discovery. When it comes to the initial SharePoint deployment, the best thing you can do is to deploy it as a single farm rather than allowing multiple, independent SharePoint servers. That way, even if your SharePoint data exists on multiple servers within multiple lists and document libraries, all of the data still falls within a single SharePoint farm, making e-discovery easier.
When setting up a new SharePoint deployment, use the latest version of SharePoint -- currently SharePoint 2010. I'm sure some readers are wondering why anyone would use a legacy version of SharePoint for a brand-new deployment, but I know of several companies whose policy is to always deploy the previous version of any application.
The idea behind this policy is usually that the older version is somehow perceived as more stable. When it comes to e-discovery, though, it really is important to use SharePoint 2010 if you can. SharePoint 2010 contains far more e-discovery features than any previous release.
A good governance plan ensures that your SharePoint deployment adheres to a structure that makes sense for your organization. It is equally important to have a plan that keeps your entire SharePoint farm in check. If you deploy SharePoint in a haphazard manner and allow the deployment to evolve on its own, SharePoint will quickly become unwieldy and out of control.
Tools for e-discovery
SharePoint 2010 contains a number of mechanisms you can use for fulfilling e-discovery requests. However, you will have to activate SharePoint's Hold and eDiscovery features before you can use them. To do so, click on the Site Actions menu and then choose the Site Settings option. When you arrive at the Site Settings page, locate the Site Actions section and click on the Manage Site Features link. SharePoint will then take you to a page that allows you to activate or deactivate the various SharePoint features (Figure 1).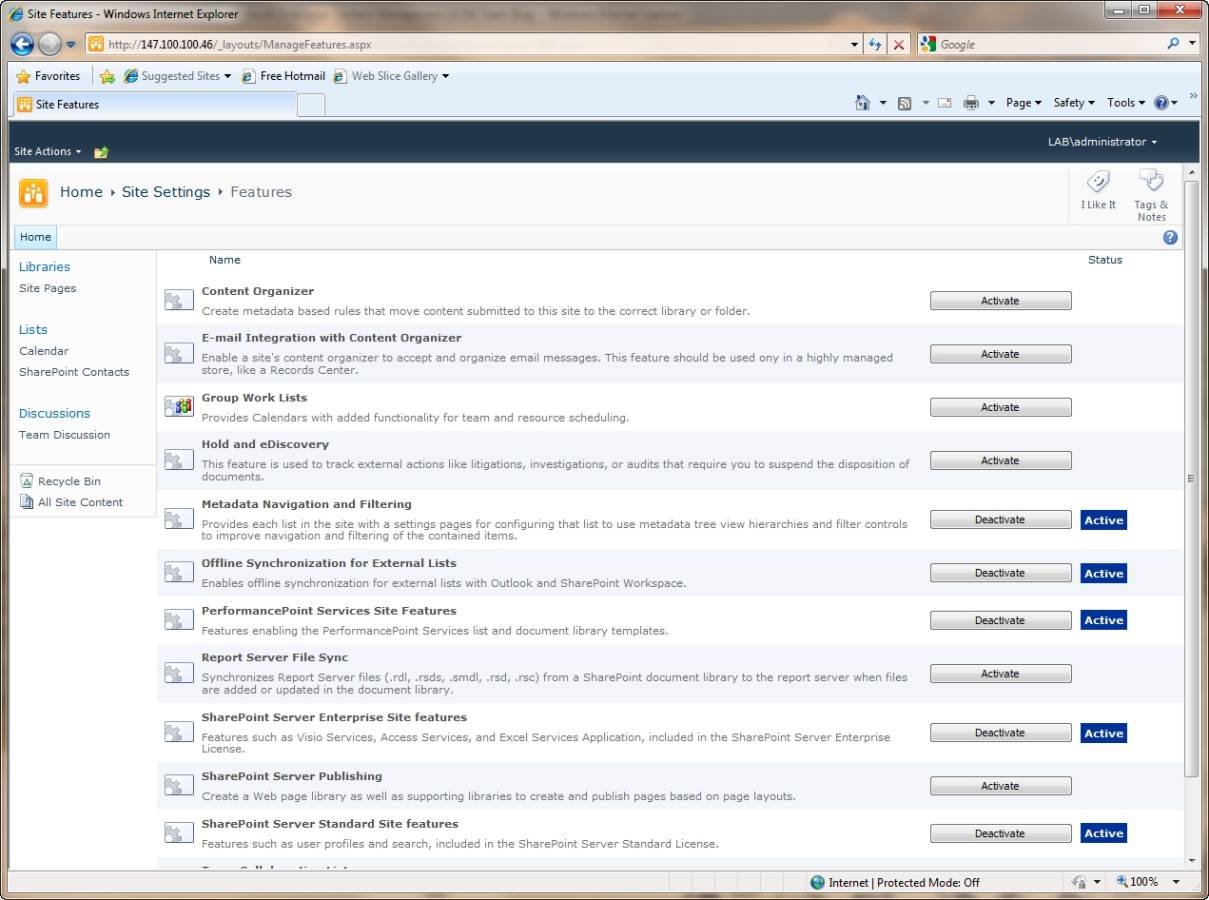 Figure 1. You must first activate SharePoint 2010's Hold and eDiscovery feature.
The Hold and eDiscovery feature is not activated by default. Therefore, you must click the corresponding Activate button to turn on this feature.
Once the Hold and eDiscovery feature has been triggered, SharePoint will add a Hold and eDiscovery section to the Site Settings page (Figure 2). It's worth noting that only Site Collection Administrators have access to these features, although it is possible to delegate access to others.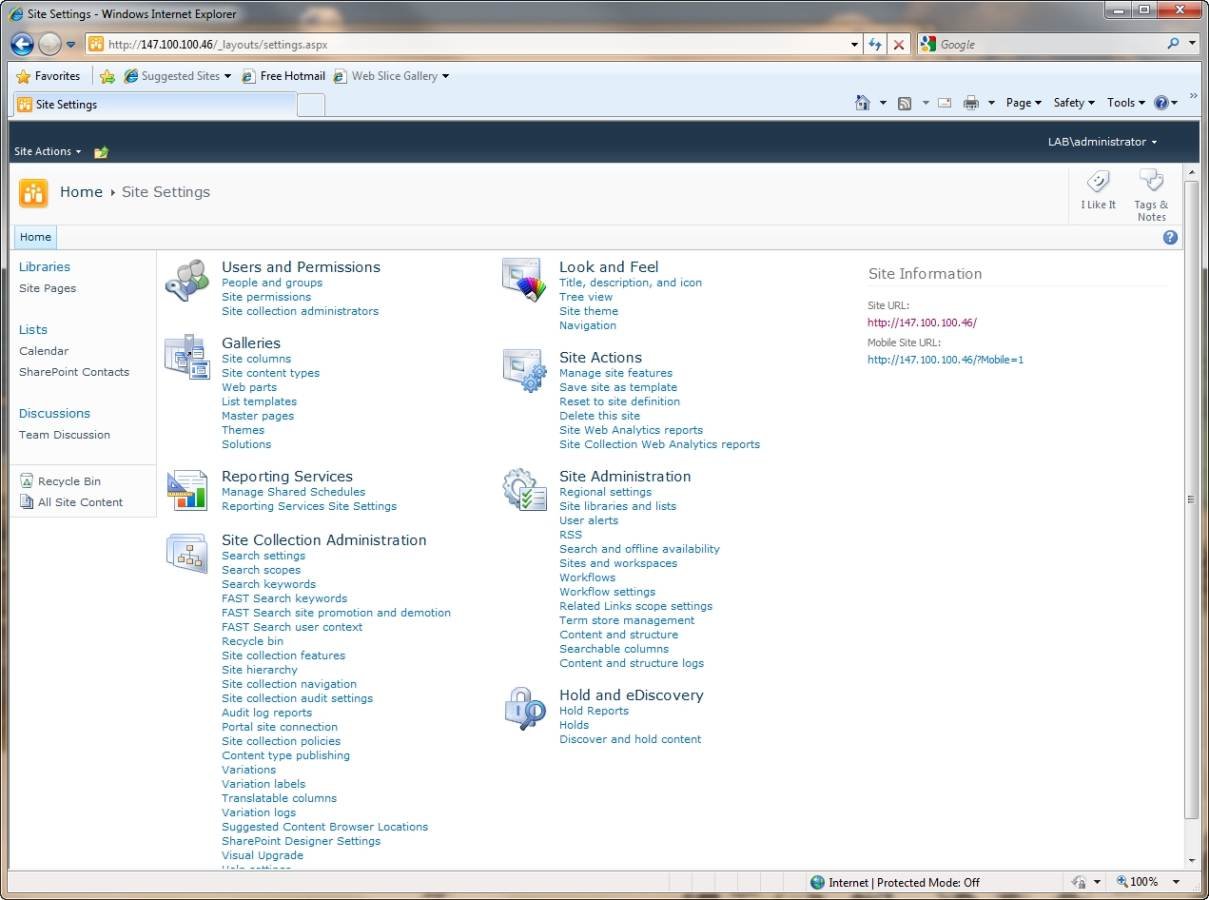 Figure 2. The SharePoint 2010 Site Settings page now has a Hold and eDiscovery section.
Using the eDiscovery feature
To use the eDiscovery feature, click on the Discover and Hold Content link shown in Figure 2. When you do, you will be taken to the Search and Add to Hold page (Figure 3).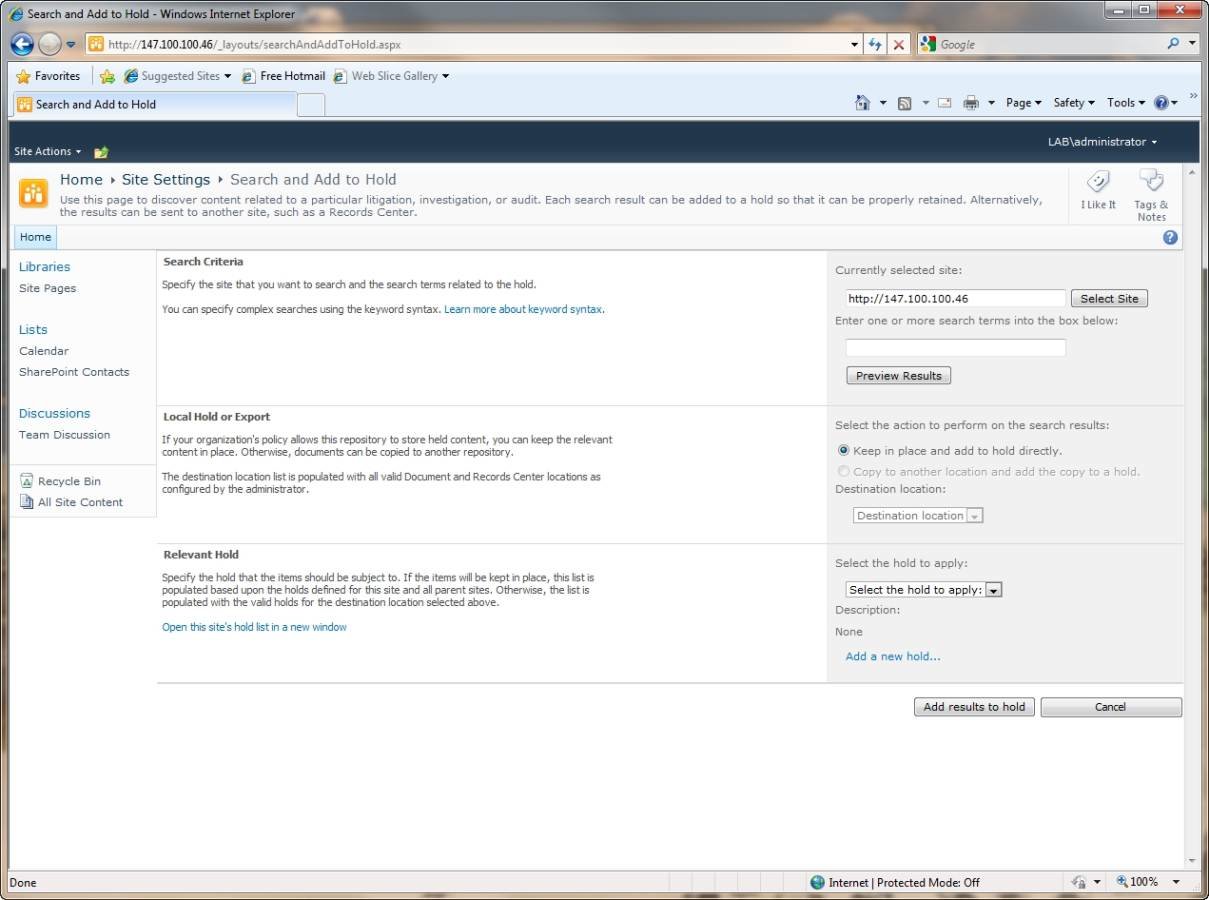 Figure 3. The Search and Add to Hold page in SharePoint 2010 gives access to specific search sites and sets of search terms.
Third-party software for SharePoint e-discovery
Although SharePoint's e-discovery capabilities are somewhat limited -- especially in older versions -- other third-party applications are designed to augment the capabilities that are built into SharePoint. Although I do not use or endorse any of these products, I wanted to give you an idea of what's available. AvePoint Inc.'s DocAve eDiscovery is a legal hold/e-discovery solution for WSS v3, MOSS 2007, SharePoint Foundation and SharePoint 2010.
Aside from supporting multiple versions of SharePoint, DocAve eDiscovery's main benefit is that it allows for the analysis of a document's contents and its metadata. The software also creates various reports in .csv, .xls and .pdf formats.
EMC SourceOne eDiscovery takes a different approach to eDiscovery. A product line called SourceOne eDiscovery is designed to provide enterprise-wide e-discovery capabilities. This product acts as a module that adds SharePoint awareness to SourceOne eDiscovery.
As you can see, this page is divided into three sections. The top section lets you select the SharePoint site that you want to search and provides a set of search terms. You will also notice that SharePoint gives you a Preview Results button, which is very handy if you are performing a lengthy search.
The page's middle section allows you to control what happens to site content once it is placed on hold. You can either store the content in place or offload it to a dedicated repository.
The bottom section of the page allows you to specify which type of hold the items will be subject to. It is up to you to define the holds. Defining a hold is simply a matter of clicking the Add a New Hold link and then giving a bit of information about the hold, such as a description of why documents are being held and who is responsible for managing the hold.
In Figure 2, the Site Settings page has a couple of other choices. One is the Holds option. Clicking on the Holds link displays a list of all of the holds that have been defined. This list also displays the status of each hold.
The other choice is the Holds Reports option. The Holds Reports page is actually a library that contains a report for each hold that is used within the site. The reports contain information about the items that are on hold and about the search queries that have been entered in order to obtain those items.
As you can see SharePoint 2010 has a decent set of e-discovery and legal hold features. Even so, these features are most effective when the SharePoint deployment has been designed and managed in a way that makes it easy for the e-discovery features to locate documents throughout the SharePoint farm.
ABOUT THE AUTHOR
Brien M. Posey has received Microsoft's Most Valuable Professional award seven times for his work with Windows Server, IIS, file systems/storage and Exchange Server. He has served as CIO for a nationwide chain of hospitals and healthcare facilities and was once a network administrator for Fort Knox.
Dig Deeper on SharePoint administration and troubleshooting