momius - Fotolia
How Windows administrators can manage print queues
Printer management requires making sure the correct and most current drivers are installed and that any print queues associated with a device are cleared.
Windows printers and print queues are a mundane but occasionally vexing aspect of Windows Server management, particularly...
Continue Reading This Article
Enjoy this article as well as all of our content, including E-Guides, news, tips and more.
in business and office environments. A little attention to key Windows administrative tools will help administrators manage print queues that feed jobs to printers.
Start with the right drivers
When a new printer appears on the network, it requires the proper device driver to get it working. In many cases, Windows Update will detect and download the right driver for a new printer automatically. But when automatic detection fails, or fails to come up with the most current driver for the printer, there are several techniques to obtain the necessary software to get things working.
Read the manual/check for media: Though some printers still ship with optical media for drivers, software or product documentation, the manual might include a URL pointing to the proper driver. Many vendors include asset IDs on printers, and you can enter that ID on the vendor's site for the download page to the most current and correct driver for that device.
Visit the vendor's support pages: If you don't have -- and don't want to download -- the latest manual for the printer, try visiting the manufacturer's support pages. In most cases, they provide links directly from those product pages to the latest drivers.
Ask the community: If the first two tips don't work for you, they probably haven't worked for others either. Turn to online communities around the printer vendor, the operating system (OS) or well-known user communities such as TenForums.com or TechNet Forums for information. Somebody who's already faced and found a fix for your precise problem may have shared useful information.
More points to be aware of with drivers
Many modern print drivers come in the form of frameworks or class drivers. For example, a Samsung color or monochrome laser printer might use a PCL6 class driver rather than a device-specific and device-centric driver to do its thing. Likewise, modern Dell printers use the Dell Open Print Driver. Although you must download the Open Print Driver, it still shows up as a device driver for the specific print device inside Devices and Printers, and it may show up under the generic name in Device Manager.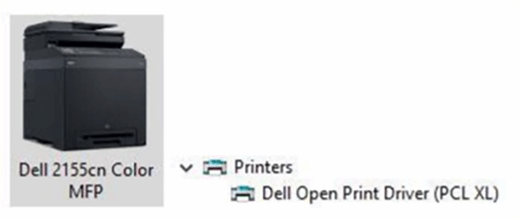 Working with Windows printers
For modern desktop and server versions of Windows, the key to print status information and management falls under the Windows Administrative Tools heading.
You can navigate to that folder through the Start menu hierarchy, or type "Print" into the search box, and select Print Management from the resulting menu. The full name of this management console snap-in is printmanagement.msc so you can always access it through the console syntax as well. Though it runs on both desktop and server versions of Windows -- Windows 10 and Windows Server 2016, along with older still-supported OS versions -- administrators can use it on a desktop client to access server-based print devices, print queues and so forth. In current Windows versions, this tool comes built-in and ready-to-run rather than requiring a download and snap-in installation or access via the base Microsoft Management Console. Figure 2 shows its basic user interface (UI).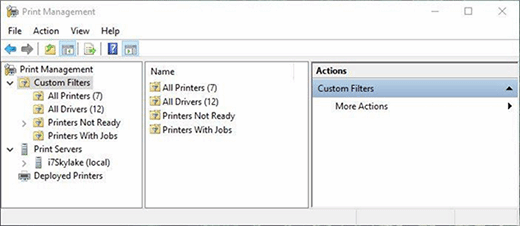 Query individual elements in the UI by selecting them in the left pane, and digging into details in the center pane. The right pane provides immediate access into tasks or actions associated with items highlighted in the left and center panes. Selecting All Printers beneath the Custom Filters folder in the left pane, for example, reveals a list of available print devices in the center pane. Selecting one of those items provides access to a menu of action options as a pop-up under More Actions in the Actions pane at the far right (Figure 3).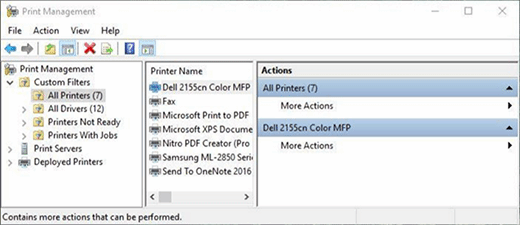 Those options appear as follows -- listed verbatim with a brief explanation to the right of the colon following the menu entry:
Open printer queue: opens a printer queue window, and shows all pending and active print jobs;
Pause printer: permits admins to pause printing for troubleshooting or other reasons;
Deploy with group policy: enables printer management and deployment via GPOs;
Set printing defaults: lets admins establish or alter print setup and default settings;
Manage sharing: (Workgroup only) lets admins set up and manage printer sharing;
Print test page: sends the standard Windows test page print job to the print device;
Enable Branch Office direct printing: adds the print device to a Branch Office location to enable local users to print directly, and locally, to that device;
Properties: brings up the device driver Properties window;
Delete: lets admins remove the print device from the print environment; and
Rename: lets admins change the printer's name as it appears in Active Directory or the local print environment -- Workgroup/Homegroup contexts.
More Windows printing resources
As you might expect, TechNet offers a plethora of print resources likely to be of interest and use to admins tasked with print management. Here's a short list of items worth digging into:
Print Management Step-by-Step Guide: (TechNet: Windows Server). See also the entire Print and Document Services: documentation of which this item is a part.
Deploying Printers and Print Servers: (TechNet: Windows Server).
Check the queue when changes won't stick
Managing printers nearly always means having to manage print queues, primarily because Windows won't let printer device attributes and names be altered unless and until print queues associated with that device are empty. When working with printers, therefore, a key first step is to check and perhaps redirect pending print jobs before flushing any print queues associated with that device. This is bound to keep a certain amount of inevitable frustration at bay, typical when working with Windows printers and print queues.
Dig Deeper on Enterprise infrastructure management