Problem solve
Get help with specific problems with your technologies, process and projects.
How a bare-metal restore affects Microsoft Outlook 2007 performance
To fix a workstation and laptop that were both running out of hard disk space, Microsoft Exchange Server expert Brien Posey performed a bare-metal restore. Read about the issues he encountered and what steps he took to repair Microsoft Outlook 2007 and its mailbox cache.
When replacing a system drive, backing the system up and performing a bare-metal restore can offer a quicker fix than writing an image to a new drive and manually customizing the system. But a bare-metal restore can adversely affect a Microsoft Outlook 2007 mailbox cache. Exchange Server expert Brien Posey walks you through the process of rebuilding an Outlook mailbox cache in this tip.
---
When my primary workstation and laptop were running low on hard disk space, I decided to replace their system drives. Because both machines were running custom configurations and a non-standard set of applications, I backed them up and performed a bare-metal restore. This seemed like it would be faster than writing an image to the new drives and manually customizing the systems.
The backup and restore processes appeared to be successful. However, as I started using the machines, I noticed that Outlook 2007 wasn't operating correctly. Apparently, the backup process damaged or canceled the mailbox cache. As a result, Outlook continually attempted to rebuild it.
It seemed that the mailbox cache was never fully rebuilt. Each time I opened Outlook on both machines, the synchronization process would partially complete and then generate a send/receive error.
Although the machines were attached to the same mailbox, they were running completely different configurations. I had also backed them up and restored them separately, and avoided connecting them to my mailbox at the same times.
One way to fix this was to delete the .OST file that Outlook 2007 uses for the cache. Therefore, the file would be rebuilt the next time Outlook opened. I tried this, but deleting the .OST file alone did not work. To correct the problem, I had to disable cached mode and then delete the .OST file. To do this, follow these steps:
Open Outlook 2007 and select Options from the Tools menu. Windows will open the Options properties sheet.

Go to the Mail Setup tab and select E-Mail Accounts.

Select your email account and click Change. The Change E-Mail Accounts dialog box contains a check box. Deselect it to disable cached Exchange Mode (Figure 1).
Click Next, then OK, then Finish and finally click Close.

Close and re-open Outlook 2007 and it should run in online mode.

Close Outlook one more time and you will remove the .OST file that is causing a synchronization problem. Where this .OST file resides depends on the version of Windows that you're using.
In Windows Vista, the file is located in the C:\Users\<your user name>\AppData\Local\Microsoft\Outlook folder.
The .OST file that I removed was roughly 1.1 GB (Figure 2). The .OST file never seemed to grow, even though it was 3.7 GB prior to the backup. Rebuilding an .OST file can cause the file to shrink because the rebuild removes empty space in the file. However, this shouldn't cause the file to shrink by 2.6 GB.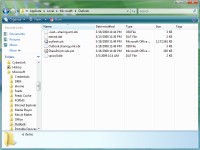 Figure 2. My .OST file was smaller than it was supposed to be.
To complete the repair process, I deleted the .OST file and opened Outlook. I performed the same procedure, but this time I turned on cached Exchange mode. I closed and reopened Outlook, and it began properly rebuilding the offline cache.
About the author: Brien M. Posey, MCSE, is a five-time recipient of Microsoft's Most Valuable Professional (MVP) award for his work with Exchange Server, Windows Server, Internet Information Services (IIS), and File Systems and Storage. Brien has served as CIO for a nationwide chain of hospitals and was once responsible for the Department of Information Management at Fort Knox. As a freelance technical writer, Brien has written for Microsoft, TechTarget, CNET, ZDNet, MSD2D, Relevant Technologies and other technology companies. You can visit Brien's personal website at www.brienposey.com.
Do you have comments on this tip? Let us know.
Please let others know how useful this tip was via the rating scale below. Do you know a helpful Exchange Server, Microsoft Outlook or SharePoint tip, timesaver or workaround? Email the editors to talk about writing for SearchExchange.com.

Dig Deeper on Exchange Server setup and troubleshooting