Manage
Learn to apply best practices and optimize your operations.
How to copy and transfer a Microsoft Outlook 2007 auto fill list
Microsoft Outlook 2007 caches all email addresses that a user enters via its auto fill list. But a user loses his or her auto fill list cache after a PC is swapped and Outlook is reinstalled. This tip explains step-by-step how to copy and transfer the Microsoft Outlook auto fill list.
The auto fill list function in Microsoft Outlook 2007 caches all email addresses that users enter when sending...
Continue Reading This Article
Enjoy this article as well as all of our content, including E-Guides, news, tips and more.
messages. This saves users from having to type the entire email address every time. But what happens when you swap out a user's PC for another machine and have to re-install Outlook 2007? In this tip, Microsoft Exchange Server expert Brien Posey details the steps for copying and transferring the Microsoft Outlook 2007 auto fill list.
---
Switching PCs can often be as simple as installing Microsoft Windows and loading a few applications, but there also are some user-specific facets to the transfer. Anyone who has used roaming profiles in Microsoft Windows knows that they tend to prolong the logon and logoff processes. For this reason, I don't use them in my organization. I have, however, started copying a user's desktop icons and Internet Explorer (IE) favorites list from the profile to the new PC.
After replacing my own PC, I received an unusual request -- a user wanted her Microsoft Outlook 2007 auto fill list back. The Outlook auto fill list is Microsoft Outlook's email address cache.
Whenever you send an email message to someone, Outlook caches the address. The next time you need to send an email to that recipient, you only need to type the first couple of characters of the recipient's email address, and Outlook fills in the rest.
I suspected that the auto fill list was stored as part of the user's profile, but had to do some research. I discovered that the auto fill list is stored in a nickname file (has an .NK2 extension). Once you locate the nickname file, it's fairly easy to transfer it to another PC.
The file's location varies depending on the version of Windows you are using. In Microsoft Windows Vista, it's located in the \Users\user name\Application Data\Microsoft\Outlook folder. Because this is a protected folder, you will need to gain access to the folder before you can make a copy of the nickname file.
The first step in gaining access to the folder is to make it visible. Here's how to do that:
Log on as an administrator and then open Windows Explorer.

Choose Folder and Search Options commands from the Options menu. Windows will display the Folder Options properties sheet.

Deselect the following check boxes:

Hide Extensions for Known File Types

Hide Protected Operating System Files (recommended)

You also must select the Show Hidden Files and Folders option, then click OK.
The necessary folders will now be visible, but you still won't have access to them. This is because Windows places an explicit denial on the Application Data folder; this denial overrides any type of permissions that have been granted.
To gain access to the nickname file, you must get rid of the explicit denial. To do so, navigate through Windows Explorer to C:\Users\user name\Application Data. Right-click on the Application Data folder and choose the Properties command from the menu.
When the Application Data properties sheet appears, go to the Security tab and click Advanced, followed by Edit. There is one access control list entry that is set as a specific denial (Figure 1). Select this entry and click Remove.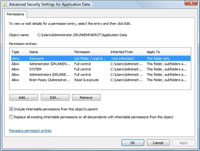 Figure 1. Eliminate the Microsoft Outlook Deny entry. (Click on image for enlarged view.)
Click OK three times and you should be able to gain access to the Application Data folder. Navigate to the Microsoft\Outlook folder beneath the Application Data folder, and copy the .NK2 file to removable media.
Note: The name of the .NK2 file matches the name of Microsoft Outlook's profile. For machines with a single Outlook profile, the filename will be Outlook.nk2. For machines with multiple Outlook profiles, there will be a separate .NK2 file for each profile. Figure 2 shows an example of this type of configuration.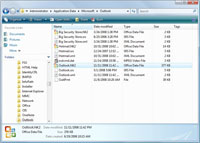 Figure 2. There is a separate .NK2 for each of the user's Outlook profiles. (Click on image for enlarged view.)
Copy each of the .NK2 files to removable media. Log onto the new machine using the end user's account and create any necessary Outlook profiles. When you are done, log out and log back in as an administrator.
Use the technique that I demonstrated earlier to gain access to the user's Application Data directory. Finally, find the \Users\user name\Application Data\Microsoft\Outlook folder and replace any existing .NK2 files with the ones you copied from the other machine.
About the author: Brien M. Posey, MCSE, is a five-time recipient of Microsoft's Most Valuable Professional award for his work with Exchange Server, Windows Server, Internet Information Services (IIS), and File Systems and Storage. Brien has served as CIO for a nationwide chain of hospitals and was once responsible for the Department of Information Management at Fort Knox. As a freelance technical writer, Brien has written for Microsoft, TechTarget, CNET, ZDNet, MSD2D, Relevant Technologies and other technology companies. You can visit Brien's personal website at www.brienposey.com.
Do you have comments on this tip? Let us know.
Please let others know how useful this tip was via the rating scale below. Do you know a helpful Exchange Server, Microsoft Outlook or SharePoint tip, timesaver or workaround? Email the editors to talk about writing for SearchExchange.com.