Manage
Learn to apply best practices and optimize your operations.
How to custom-configure a Microsoft Outlook 2007 install using OCT
Installing and configuring Microsoft Outlook in an identical fashion throughout your organization gives users a uniform experience when accessing a workstation. Unfortunately, Microsoft's installation wizard doesn't provide many customization options during a Microsoft Office 2007 deployment. Learn how to use the Office Customization Tool (OCT) to custom-configure your Outlook 2007 installation.
It's important to install and configure Microsoft Outlook in a consistent manner throughout your Exchange Server organization so that users know what to expect when accessing a workstation. Identical configurations can also help lower support costs. During a Microsoft Office 2007 deployment, the installation wizard doesn't provide many options. This doesn't mean, however, that you have to manually configure each instance of Outlook after the installation is complete. Instead, you can use the Office Customization Tool (OCT) to perform custom configurations during the initial installation. This tip shows you how.
---
Keep in mind that only the volume license version of Microsoft Office 2007 is equipped with the Office Customization Tool. If you attempt to run the Office Customization Tool on other versions of Office 2007, you'll receive the following error message: Files necessary to run the Office Customization Tool were not found. Run Setup from the installation point of a qualifying product.
Fortunately, there is a workaround. Copy the files from the Office 2007 installation media to a folder on a network share. Next, download the AdminTemplates.exe file.
This file contains the administrative templates necessary to control various Office 2007 settings at the Group Policy level as well as the Office Customization Tool. Simply decompress the file and copy its contents to your network share where the Microsoft Office source files reside. Once everything is in place, open a Command Prompt window and enter the following command: \\server_name\share\Setup.exe \admin.
Windows will launch the Office Customization Tool once you enter the Setup command with the \admin switch. The tool will first ask if you want to create a new setup customization file for Microsoft Office 2007, or if you would like to open an existing Setup customization file.
Next, choose the option to customize Microsoft Office 2007 and click OK.
At this point, you'll be taken to the screen that is shown in Figure 1. This screen shows that the Office Customization Tool works a bit differently than most of Microsoft's other tools. While most of the company's tools are wizard-based (excluding command-line tools), the Office Customization Tool isn't.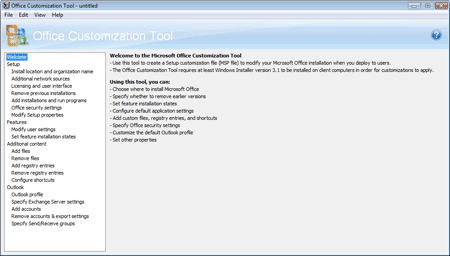 Figure 1. The Office Customization Tool lists the commands you can execute. (Click on image for enlarged view.)
A wizard-based tool usually forces you to perform steps in a certain order. To move onto the next step, you generally click Next. The Office Customization Tool, on the other hand, takes a different approach. Figure 1 shows a column on the left that lists the various tasks that you can perform. You can click on any of these tasks at any given time to go to them directly.
Useful Microsoft Outlook customization sections
When customizing Microsoft Outlook, the two most interesting areas are the Modify User Settings section (Figure 2) and the Outlook section.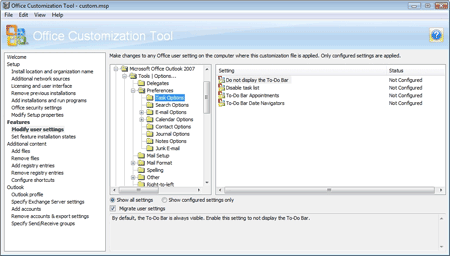 Figure 2. The Modify User Settings section lets you configure Outlook's features. (Click on image for enlarged view.)
The Modify User Settings section lets you customize the end-user experience. For example, you could hide the task list or require that all messages are spell-checked before being sent.
The Outlook section is located near the bottom of the left-hand column. It's primarily associated with Outlook profiles and can be used to create or modify profiles. This is where you would specify an Exchange server or add account information to a profile.
Note: The Microsoft Office suite comprises several individual applications. The method demonstrated in this tip can be used to customize other Microsoft Office applications.
About the author: Brien M. Posey, MCSE, is a five-time recipient of Microsoft's Most Valuable Professional award for his work with Exchange Server, Windows Server, Internet Information Services (IIS) and File Systems and Storage. Brien has served as CIO for a nationwide chain of hospitals and was once responsible for the Department of Information Management at Fort Knox. As a freelance technical writer, he has written for Microsoft, TechTarget, CNET, ZDNet, MSD2D, Relevant Technologies and other technology companies. You can visit Brien's personal website at www.brienposey.com.
Do you have comments on this tip? Let us know.
Please let others know how useful this tip was via the rating scale below. Do you know a helpful Exchange Server, Microsoft Outlook or SharePoint tip, timesaver or workaround? Email the editors to talk about writing for SearchExchange.com.