Manage
Learn to apply best practices and optimize your operations.
How to customize Outlook 2010, important settings
Not all Outlook deployments are created equal. Learn how to customize Outlook 2010 using a free tool, as well as which settings you can tweak.
Corporate policies often require administrators to tweak Microsoft Outlook's default deployment settings. Fortunately, Microsoft provides the Office Customization Tool to facilitate the task. It helps admins customize Outlook so that it is consistently deployed across an organization and accommodates whatever organizational policies that are in place.
The Office Customization Tool (OCT) is included on the Microsoft Office 2010 installation media (volume licensing version). If you're not sure whether you have the tool or not, check the installation media for the "Admin" folder.
If you don't see it, or otherwise know you don't have the OCT, you can easily download it from the Microsoft site. To launch the tool, enter the Setup.exe /admin command.
Customizing Outlook 2010: Available options
The Office Customization Tool contains several different settings admins can use to customize their Microsoft Outlook 2010 deployments.
The Outlook Profile
Although Outlook profiles can contain multiple mailboxes, the Outlook Profile setting only lets you define a single email account. There are four Outlook profile options:
Use Existing Profile: If a profile already exists, Outlook 2010 will use it. If not, a new profile will be created when the user opens Outlook for the first time.
Modify Profile: This option lets admins specify which changes are made to the default profile or a named profile. Changes are based on the other custom options discussed below.
New Profile: This option creates a new profile and makes it the default profile. If profiles already exist, they remain on the machine and are available to use.
Apply PRF: This option uses a .prf file to define a new default profile or modify an existing profile.
Add accounts in Outlook 2010
As the name implies, the Add Accounts option adds email accounts to a user's profile. Although most organizations use this option to add an Exchange account, POP3 and IMAP are also supported. The Add Accounts option is also useful if you need to link a .pst file to a user's mailbox or must deliver messages to an alternate location.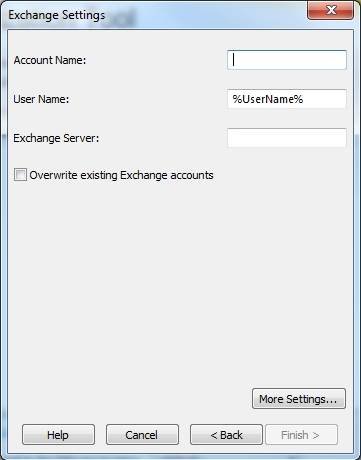 Figure 1. Specify various Exchange mailbox settings with the Office Customization Tool.
Customizing Exchange settings for Outlook 2010
Use the Exchange Settings option to configure a user's profile to work with Exchange Server. Admins must specify an account name, a user name and the name of the Exchange Server (Figure 1). This option is also used to determine whether or not to overwrite existing Exchange accounts.
You can also use environment variables in the Exchange Settings option. For example, you can specify %USERNAME% in the User Name field to avoid supplying a user name for each user.
Configuring offline use and Outlook Anywhere
You can also configure other Exchange-related settings via the More Settings section. This section focuses on offline use and Outlook Anywhere (Figure 2).
The Offline Use option lets you configure the Outlook data file's (.ost file) path and file name. You can also specify a unique path for the offline address book (OAB).
The Outlook Anywhere setting lets you specify the Outlook Anywhere URL and whether or not you require SSL-encrypted sessions. You can also control the connection type (HTTP or TCP/IP) for both fast and slow networks. Finally, you can also specify which authentication type is used if users connect to Exchange via a proxy server.
Controlling Outlook 2010 cached mode
The Cached Mode section of the Outlook Customization Tool lets you control whether or not to store content offline in an .ost file. If you enable Cached Mode, you control exactly which content is cached. For example, you can decide if you want users to download full messages or just message headers. There is also an option to cache shared non-mail folders and favorite public folders.
Configuring Outlook 2010 send and receive groups
Most organizations do not use send and receive groups, but if you do, you'll be happy to know that they're easily defined via the Office Customization Tool.
Configuring Outlook 2010 address book settings
The Office Customization Tool also lets admins control how address books are downloaded. One option is to download the changes that have occurred since the last send/receive. Another is to download the address book's full details. You can also save time and bandwidth by configuring Outlook 2010 to only download the most essential address book information.
As you can see, the Office Customization Tool lets admins control Outlook's default configuration. Doing so alleviates the nuisance of configuring essential Outlook 2010 settings.
If you need a higher degree of control, turn to group policy controls via the Office Administrative Templates. You also have the option to define and import an Outlook .prf file.