How to export Global Address List data to Microsoft Office Access
Exporting an Exchange Server Global Address List into a Microsoft Office Access database can help administrators filter through GAL data easily.
I was asked recently if it was possible to export information from the Exchange Global Address List (GAL) to a database or spreadsheet. Specifically, this administrator was focusing on a subset of users listed in a large GAL. He hoped that exporting the Global Address List data would allow him to easily filter through it. After some research, I learned that it's possible to export the Global Address List directly to Microsoft Office Access. In this tip, I'll outline the required steps.
Keep in mind, this procedure was designed for Microsoft Office 2007; therefore, it assumes that you have both Outlook 2007 and Access 2007 installed. Additionally, Microsoft Outlook must be connected to an Exchange Server mailbox that you have permission to open. Lastly, you also must have permission to access the Global Address List. Unfortunately, the database doesn't sync with the Global Address List automatically.
To begin exporting GAL data to Microsoft Office Access:
Open Microsoft Office Access and click on the Microsoft Office orb.
Choose New from the menu. You'll see a screen that displays several different templates on which you can base a new database.
Ignore these templates, and choose the Blank Database option found near the top of the screen. When you do, Microsoft Access prompts you to enter a filename and a path for the database that you are creating, as shown in Figure 1.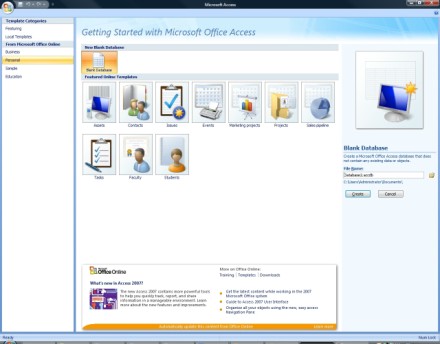 Figure 1. Click the Create button to create a new database.
Click Create and you will be taken to the database that you have just created.
After creating a new database, you must import the GAL into it. To do so:
Choose External Data from the menu to display the different types of external data that you can import. Since Outlook isn't listed, click More to display additional types of data that you can import, as shown in Figure 2.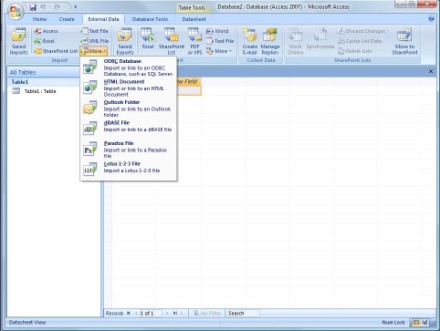 Figure 2. Clicking the More button causes Outlook to reveal some additional data types that you can import.
Select the Outlook Folder option from the list and you will be asked how and where you want to store the data in the current database.
Select Import the Source Data Into a New Table Within the Current Database and click OK.
Depending on whether or not you've configured Microsoft Outlook to use multiple profiles, you may be taken to a screen that asks you which Outlook profile you want to use. If you see this screen, select the appropriate profile, and click OK.
Access then will display the screen shown in Figure 3. Here, you have the option to create a database based on almost any of the Outlook folders. We're focusing on the Global Address List, so choose the Global Address List option and click Next.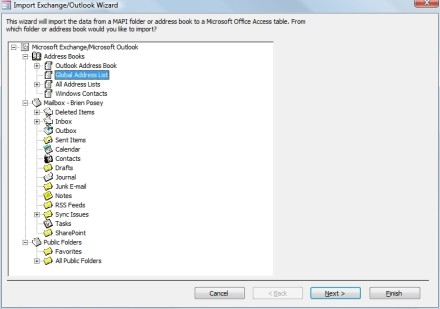 Figure 3. Choose the Global Address List option, and click Next.
More on this topic
How to create dynamic distribution groups in Exchange Server 2007
How to troubleshoot the Recipient Update Service
You can customize the database fields that will be used to store data imported from Microsoft Outlook. You don't have to do anything on this screen, so click Next.
Microsoft Office Access will ask you if you want to add a primary key to the database. If you haven't worked with Microsoft Access before, you may not be familiar with this concept. A primary key is a database field that contains a unique number that identifies each record within the database.
You're not required to have a primary key, but it's a good idea to create one. To do so, choose the Let Access add Primary Key option and click Next. You'll see a screen that confirms that you're about to import the Global Address List. Click Finish to import the Global Address List.
About the author: Brien M. Posey, MCSE, is a five-time recipient of Microsoft's Most Valuable Professional award for his work with Exchange Server, Windows Server, Internet Information Server (IIS), and File Systems and Storage. Brien has served as CIO for a nationwide chain of hospitals and was once responsible for the Department of Information Management at Fort Knox. As a freelance technical writer, Brien has written for Microsoft, TechTarget, CNET, ZDNet, MSD2D, Relevant Technologies and other technology companies. You can visit Brien's personal website at www.brienposey.com.
Do you have comments on this tip? Let us know.
Please let others know how useful this tip was via the rating scale below. Do you know a helpful Exchange Server, Microsoft Outlook or SharePoint tip, timesaver or workaround? Email the editors to talk about writing for SearchExchange.com.