Manage
Learn to apply best practices and optimize your operations.
How to implement iSCSI for Microsoft Exchange Server 2003
Get step-by-step instructions on how to move your Exchange Server 2003 databases to offsite storage servers using iSCSI technology.
iSCSI stands for Internet Small Computers System Interface. With the help of iSCSI technology, it is possible to distribute storage over long distances. And, because of its lower cost and comparable performance, it has become an attractive alternative to traditional SAN implementations for many companies.

In an iSCSI network, there are three components:
The Target is like classic direct-attached storage. A DAS device is a hard disk like ATA or SCSI disks. It offers the disks to the Initiator.
The Initiator can be compared with a traditional disk controller. It uses the hard disks hosted by the Target.
The TCP/IP network interconnects the Initiator and the Target. For performance, at a minimum, you should use a gigabit network between the Target and Initiator.
Since Microsoft does not offer its own iSCSI Target Software, for the purpose of this tip, I am using the Starwind iSCSI solution to illustrate how to set up iSCSI for Exchange Server 2003. You can download a trial version of Starwind from the Rocketdivision Web site.
Another option is WinTarget from String Bean Software, which I wrote about in an MSExchange.org article, Implementing iSCSI for Exchange Server 2003. (Microsoft acquired String Bean Software in March 2006.)
After downloading and installing the Starwind program, start the Starwind console and connect to the Localhost.
Figure 1: Connect to the Starwind console on the Localhost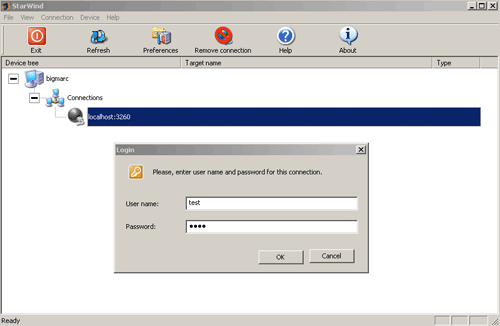 The default username and password is test. (You should, of course, change the password as soon as possible.)
SPTI stands for SCSI pass-through interface; it allows any physical storage device, such as local hard disk and CD-ROM, to be shared as iSCSI target. For our example, select SPTI device to create a new SPTI device that will then be accessible on Exchange Server 2003.
Figure 2: Select SPTI device

After selecting SPTI, choose the device you want to make accessible through iSCSI.
Figure 3: Choose the device as a target for iSCSI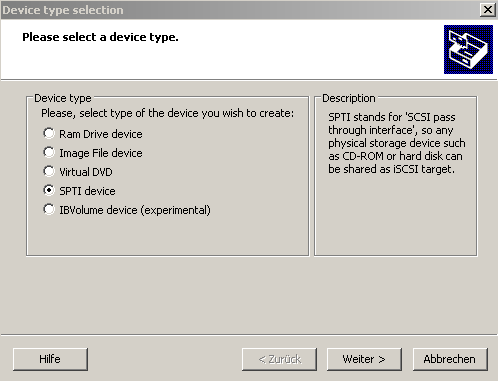 You have successfully created a new device named searchexchange. This device is now possible on the Exchange Server 2003 with the iSCSI Initiator installed.
Figure 4: A new created device with Starwind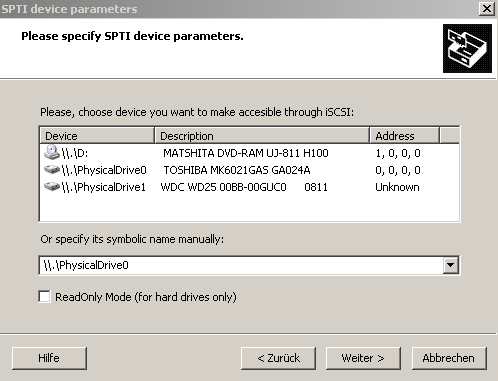 Now it's time to install the Microsoft iSCSI Initiator on the Exchange 2003 server. You can use the Microsoft iSCSI Initiator 2.0.
Figure 5: Installation of the iSCSI Initiator 2.0 from Microsoft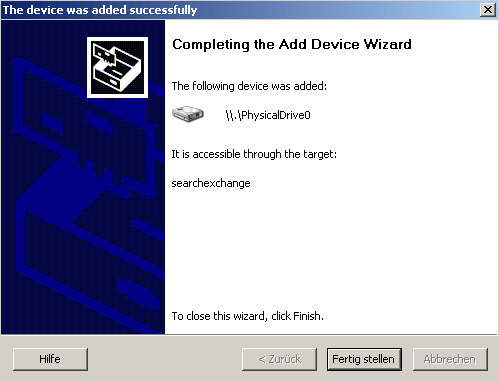 Once you've downloaded the iSCSI Initiator, install it and reboot. Then start the ISCSI Initiator configuration in Control Panel, click Discovery and then Add to add the iSCSI Target.
Figure 6: Connect to the iSCSI server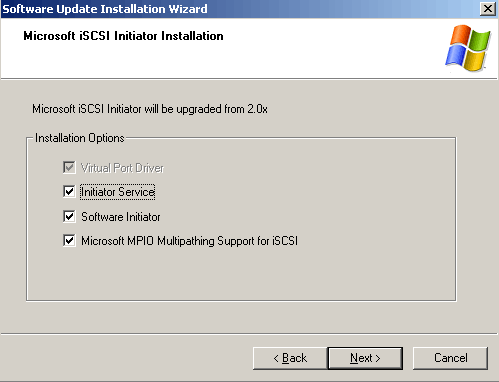 Next, select Targets. You will see the published Targets on the iSCSI Target. Click Log On.
Figure 7: Log on to the iSCSI Target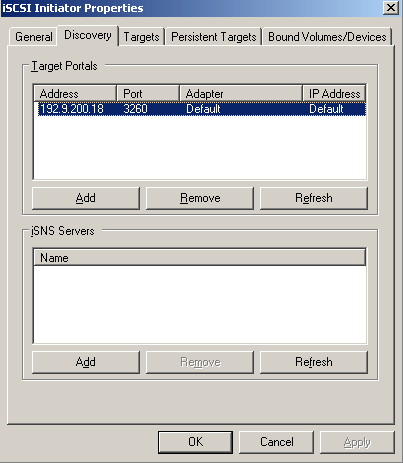 After connecting to the iSCSI Target, you can use the Disk Management console from Windows Server 2003 to create a new volume on your Windows 2003 server.
After creating and formatting the new volume, you can start Exchange System Manager and move the Exchange Server databases and/or transaction log files to the new volume.
Figure 8: Move the Exchange database to the new iSCSI Target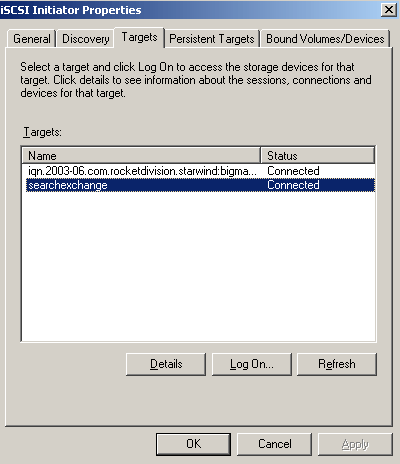 About the author: Marc Grote is a MCSA/MCSE Messaging & Security, Microsoft Certified Trainer, and Microsoft MVP for ISA Server. He works as a freelance IT trainer and consultant in the north of Germany and as a part-time employee of Invenate GmbH in Hanover, Germany, consulting on the company's Windows server infrastructure. He specializes in ISA Server, Exchange Server, and security on Windows 2000 and Windows 2003. You can visit his homepage at IT-Training-Grote.
Do you have comments on this tip? Let us know.