How to make the most of a free Office 365 trial
Using a free trial of Office 365 gives you some cloud exposure and experience as well as a head start over peers.
Office 365 has become a billion-dollar business for Microsoft. And many Exchange admins are trying to get hands-on experience in Office 365. But what do organizations do if they aren't ready to move to the cloud? Try Office 365 out for free.
Microsoft has a number of one-month trials to help expose admins to the cloud world. There are ways to gain exposure to Office 365 E3 plan, Microsoft Intune, Azure Active Directory (Azure AD) and Azure Active Directory Premium without paying a dime. But some discipline is necessary to make the most out of a one-month trial.
Create an Office 365 plan
To start an Office 365 trial, sign up for an Office 365 plan. There are a number of plans available, depending on whether an organization is a charity, educational, midsize or a large enterprise. The best bet is to sign up for Office 365 E3 plan because it offers the ability to have a hybrid deployment without a lab. The same plan can be used as a cloud-only option.
Sign up for O365 E3 plan at this site. Click on Free Trial, select the country and then fill in some personal and organization details. Since you're using the trial for learning purposes, you can use your personal email and telephone number during sign up (Figure 1).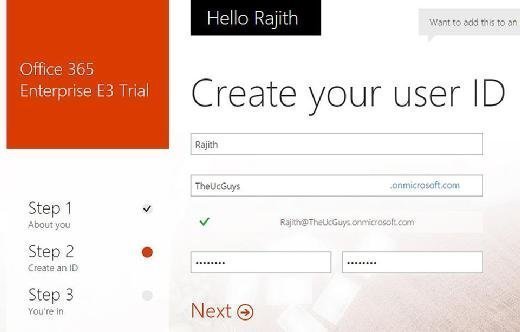 On the next page, create the global administrator username, password and a free tenant name (something.onmicrosoft.com).
Note that the tenant name can't be changed in the future. If an organization is creating a trial tenant with an eventual plan to move its organization to Office 365, it's best to give the company name as tenant name (for example, contoso.onmicrosoft.com).
Next, enter a valid mobile number so Microsoft can verify the account by sending a unique code via text message or call. Type in the code and click Create my account (Figure 2).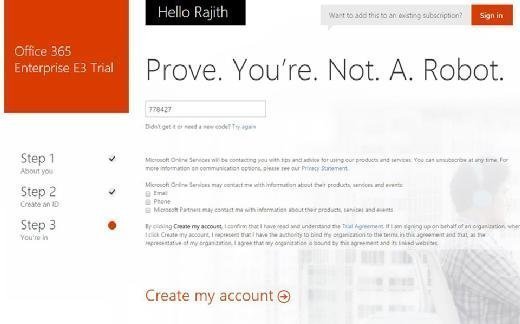 The new Office 365 sign-in page and User ID will appear on the page while the tenant is created. A "Ready to go" link will appear to transport us to the Office 365 admin portal (Figures 3 and 4).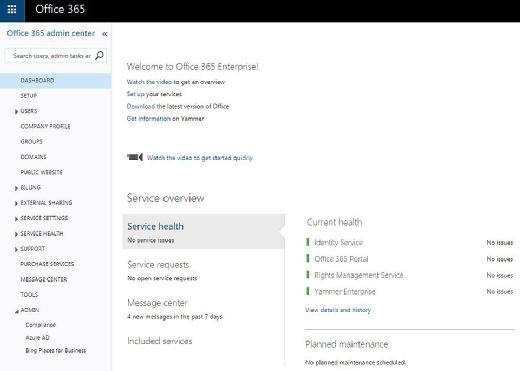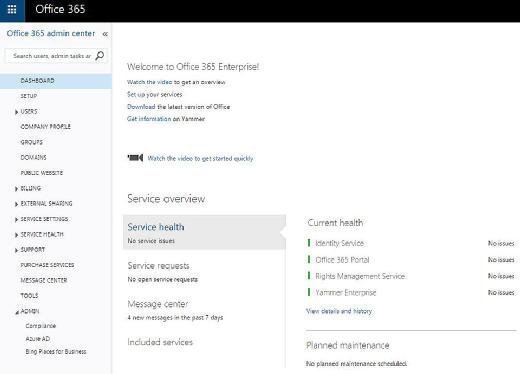 You now have a fully working Office 365 tenant. You can email the global administrator ([email protected], in this case) from an external domain to receive the email.
Admins can run a small company by using the free tenantname.onmicrosoft.com account if they aren't bothered about branding the company email. To have this personal domain work with this trial (for example, theucguy.net), add the domain in the Office 365 portal and verify it.
The steps to complete each task within the Office 365 portal are explained in detail; admins can create more user accounts in minutes. The trial gives admins access to 25 Office 365 licenses.
Use the Microsoft Intune trial
After creating an Office 365 trial tenant, it's possible to use the Microsoft Intune trial. Visit windowsintune.com and click Try Now. Because there is an Office 365 tenant up and running, there's no need to sign up. Just sign in using the global administrator credentials (Figure 5).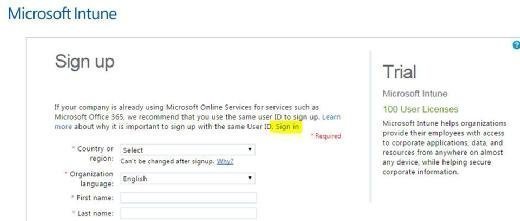 Once admins have signed in, click Try Now to complete the order and then Continue on the order receipt page to complete the trial sign-up. Admins will then be logged in to the Microsoft Intune portal (Figure 6).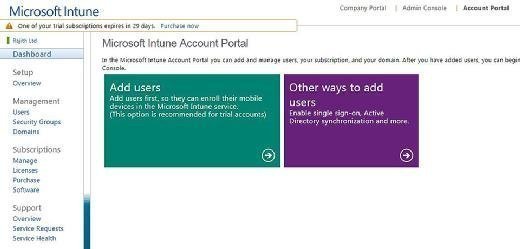 Set up the Azure AD trial
To use the Azure Active Directory trial, visit manage.windowsazure.com; there will be a message stating you don't yet have a subscription.
Click on Sign Out and sign in with an account with a Microsoft Azure trial or subscription. After signing into Azure AD, click on New in the bottom left corner. Then, follow this path: App Services > Active Directory > Directory > Custom Create (Figure 7).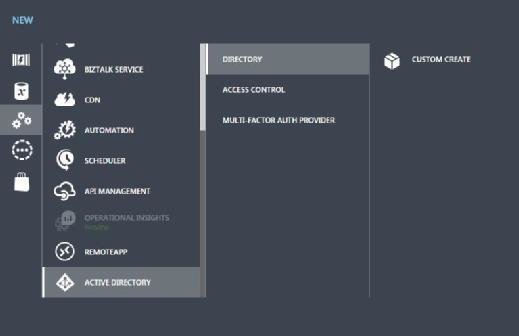 Add the directory information by typing in the company name, domain name (theucguys.onmicrosoft.com) and the country. Once the domain has been added, it's now possible to manage cloud end users as if they were on-premises accounts using AD end users and computers snap-in.
Within the Azure management portal, navigate to the Licenses tab; there is an option here to try the Azure Active Directory Premium and Enterprise Mobility Suite (Figure 8).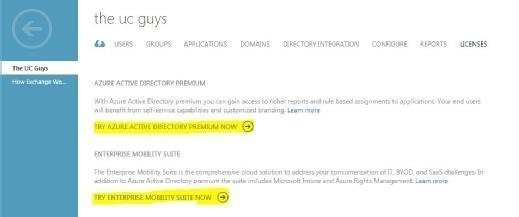 The Azure AD Premium unlocks more reporting features for the Azure AD tenant, including the ability to have customized branding. This will be available as a trial for 90 days.
With a single click, admins will have access to the premium version of Azure AD and the Enterprise Mobility Suite, which has Microsoft Intune and Azure Rights Management.
About the author:
Rajith Enchiparambil is a UC Architect who works on large Exchange and Office 365 projects for clients in the U.K. He specializes in Exchange, Office 365, Active Directory and a bit of Lync. He has been working in the IT industry for the last 13 years and has worked extensively with Microsoft Exchange since version 5.5. He has worked for consultant services such as HP, Siemens, AtoS, CapGemini and Computacenter. He regularly writes about Office 365 and Exchange in his personal blog, theucguy.net.
Dig Deeper on Office 365 and Microsoft SaaS setup and management