How to remove persistent Exchange 2003 servers
Have you upgraded from Exchange 2003 to a newer version, but can't get rid of the server? Find out what to delete to completely uninstall Exchange 2003.
Online message boards are lighting up with questions from frustrated Exchange administrators who thought they migrated off Exchange 2003. It seems that many admins upgraded to Exchange Server 2007 or Exchange 2010 only to discover they can't completely remove Exchange 2003. What's the deal? Here are a few things that could be causing the problem.
Public folder and mailbox stores
If you are having trouble removing Exchange 2003, the first thing you should do is remove existing public folder or mailbox stores. Before deleting a store, make sure it's empty. If your mailbox store still contains mailboxes, you'll either need to migrate or delete the mailboxes before you can completely remove the store.
The same is true for public folder stores -- remove any public folder instances before completely deleting a public folder store. Exchange 2003 SP2 prevents organizations from accidentally deleting public folder stores that contain folder replicas. If you're running a service pack earlier than SP2, check the Public Folder Instances container to make sure there are no instances in it. Remember: unless the public folder store is mounted, the container won't display any public folder instances.
After you've emptied you're your stores, open the Exchange System Manager and navigate to Administrative Groups -> <your administrative group> -> Servers -> <your Exchange 2003 server> -> <your storage group>. Right-click on a store and select Dismount Store. Once you've dismounted the store, you can delete it by right-clicking on the store and selecting Delete (Figure 1).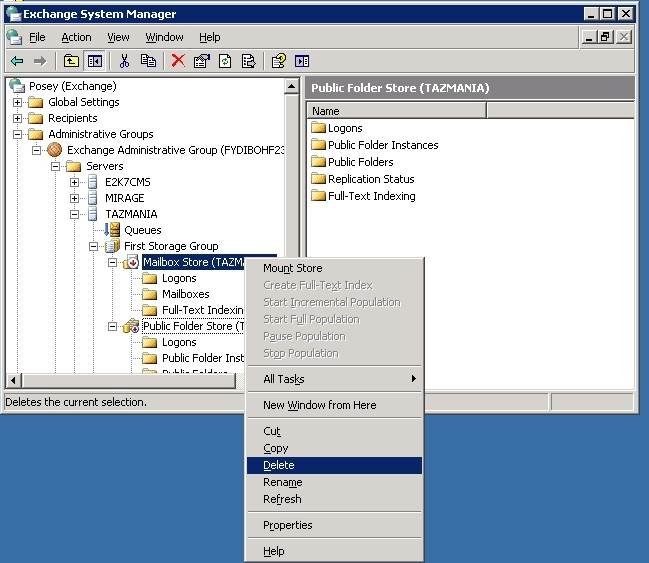 Figure 1. You can dismount an Exchange 2003 using Exchange System Manager and then delete it.
If you're trying to delete a public folder store, you may receive an error message stating, "This is the last public folder store containing the MAPI public folder tree and it cannot be deleted," as shown in Figure 2.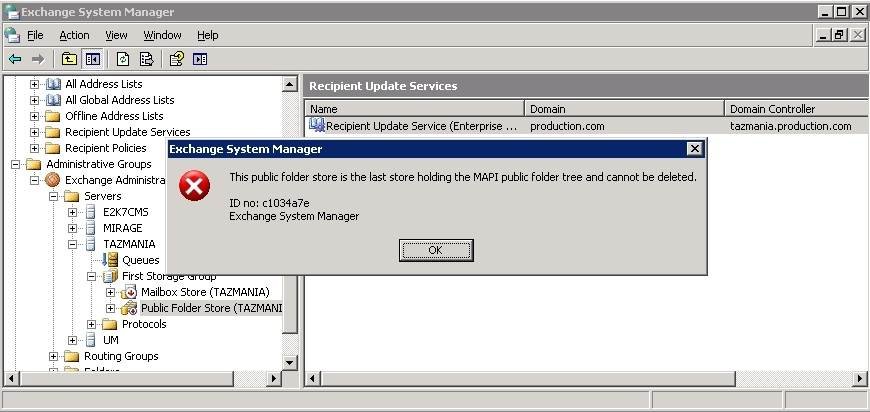 Figure 2. This error message can occur when you try to delete an Exchange 2003 public folder store.
This error occurs because the public folder is being replicated in another location there is an Active Directory corruption. If the public folder is being replicated between old and new servers, you should remove the Exchange 2003 server as a replica. Then you can delete the public folder store.
If that doesn't work, the problem may be a corruption in Active Directory. AD corruptions can occur if one of several Exchange 2003 public folder servers is taken offline permanently before public folders were removed. To fix this, you'll need to manually remove the public folder tree, a process that is similar from one version of Exchange to another.
Exchange 2003 Recipient Update Services
Recipient Update Services (RUS) can also prevent you from removing Exchange 2003 after an upgrade. Recipient Update Services must first be deleted in order to completely remove Exchange 2003 from your organization because they are not used in Exchange 2007 or Exchange 2010.
To delete the Recipient Update Services, open the Exchange System Manager and navigate to Recipients -> Recipient Update Service. Next, right-click on your listed Recipient Update Services and select the Delete command (Figure 3).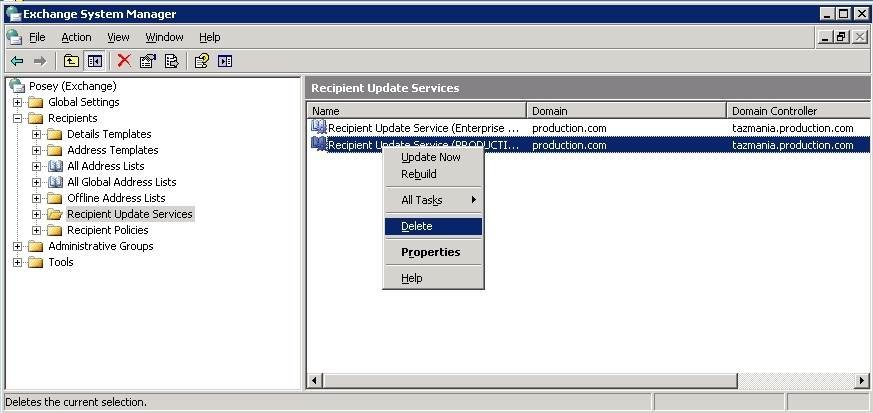 Figure 3. Use the Exchange System Manager to delete Recipient Update Services from an Exchange 2003 server.
There are two Recipient Update Services listed: a domain service and an enterprise service. You should be able to delete the domain level service easily, but the enterprise service can be more difficult to remove. Microsoft's ADSI Edit tool can help you remove it. But use extreme caution when working with ADSI Edit.
When you use ADIS Edit, you directly manipulate Active Directory and bypass the usual safeguards. Make sure you back up domain controllers before diving into ADSI Edit.
To delete the enterprise service, open a command prompt window, go to the C:\Program Files\Support Tools container and type ADSIEDIT.MSC. After the tool loads, navigate through the console tree to Configuration -> CN=Configuration,DC=<your domain> DC=COM -> CN=Services -> CN=<your Exchange organization name> -> CN=Address List Container -> CN=Recipient Update Services.
Select the CN=Recipient Update Services container to view the remaining RUS in a column on the right-hand side. Right-click on this service and choose Delete (Figure 4).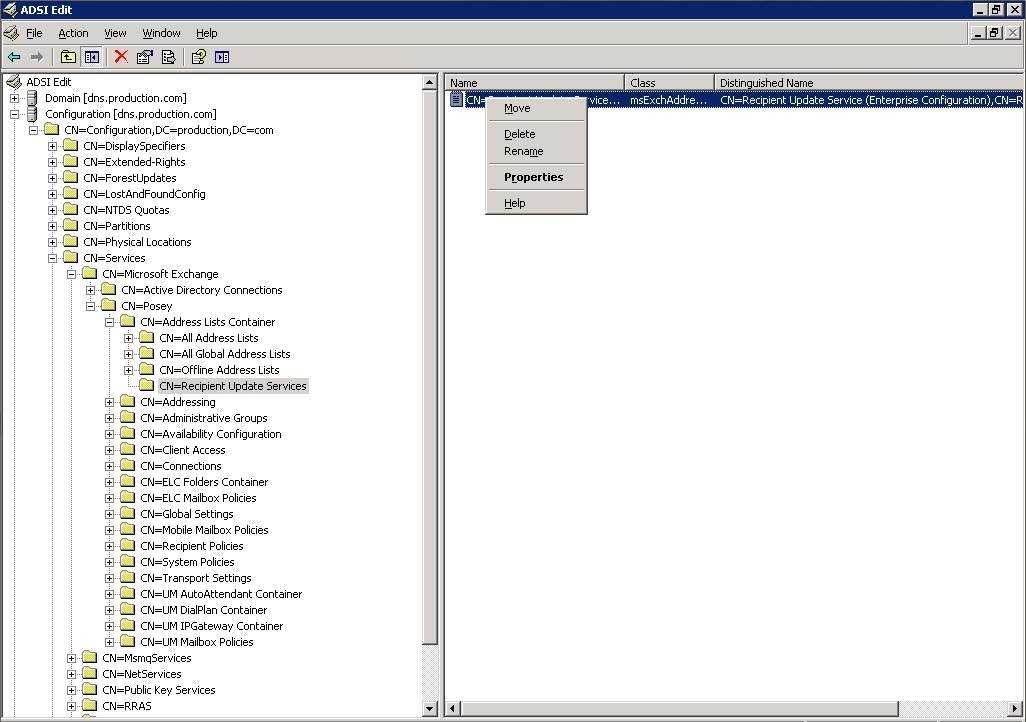 Figure 4. Remove the Exchange 2003 Recipient Update Service with ADSI Edit.
After you've removed the stores and the RUS, open the Control Panel and use the Add/Remove Programs applet to completely remove Exchange Server 2003.
ABOUT THE AUTHOR:
Brien Posey is a seven-time Microsoft MVP with two decades of IT experience. Before becoming a freelance technical writer, Brien worked as a CIO for a national chain of hospitals and healthcare facilities. He has also served as a network administrator for some of the nation's largest insurance companies and for the Department of Defense at Fort Knox.
Dig Deeper on Exchange Server setup and troubleshooting