Manage
Learn to apply best practices and optimize your operations.
How to separate primary and archive mailboxes in Exchange 2010 SP1
If you've already deployed personal archive mailboxes in your Exchange organization, our expert explains how to move them to a separate database in Exchange 2010 SP1.
Exchange Server 2010 gives each user a secondary mailbox to use as a personal archive -- a concept that initially...
Continue Reading This Article
Enjoy this article as well as all of our content, including E-Guides, news, tips and more.
faced some criticism. Administrators were skeptical about this setup since users' mailboxes and personal archive mailboxes were both stored in the same database.
In the recently released Exchange Server 2010 SP1, Microsoft redesigned the personal archive feature so that you can separate users' mailbox archives and primary mailboxes into two different databases. That way, archives won't affect the amount of space that the database storing the primary mailbox consumes.
The best move is to separate a primary mailbox and an archive mailbox into separate databases when you create the user's mailbox. To do this, you'll need the New Mailbox Wizard (Figure 1).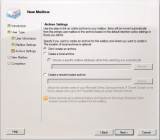 Figure 1. The New Mailbox Wizard enables you to create an archive mailbox and a user mailbox concurrently.
This wizard lets you control where the archive mailbox will reside. As you can see in Figure 1, you can create either a local archive or a remote hosted archive. A local archive is an archive mailbox that is stored on a database within your local Exchange Server organization.
The database doesn't need to be local to the Exchange server where the mailbox is created, but it can be. The database, however, must reside on an in-house Exchange 2010 mailbox server.
If you create a local archive, you can either specify which database the archive mailbox will use or allow Exchange to pick the location. If you allow Exchange to choose, the archive mailbox will be hosted within the same database as the primary mailbox.
The remote hosted archive is located in the cloud. Microsoft provides this option because some Exchange organizations prefer to keep their users' primary mailboxes local while simultaneously hosting the archives in the cloud. This structure prevents the archive mailboxes from harming local storage or the organization's backup media.
Moving archive mailboxes in Exchange Server 2010 SP1
If you've been using Exchange Server 2010 for a while and your mailboxes already have archive mailboxes that reside within the same database as the primary user mailboxes, don't worry, there's a simple solution for that as well. In this situation, you can issue a move request against the archive mailbox. To do so, navigate through the Exchange Management Console (EMC) to Recipient Configuration -> Mailbox. Right-click on the archive mailbox you want to move and choose either the New Local Move Request or the New Remote Move Request command (Figure 2).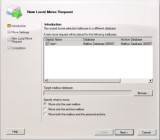 Figure 2. You can use commands in the Exchange Management Console to move an archive mailbox in Exchange 2010 SP1.
This dialog box may look similar to the New Move Request dialog box that existed prior to Exchange Server 2010 SP1; however, it contains a few different options:
To only move the user mailbox
To only move the archive mailbox
To move both the user's mailbox and his personal archive
Understanding Exchange Server 2010 SP1 mailbox quotas
Mailbox quotas work differently for archive mailboxes than they do for user mailboxes. Navigate through the EMC to Recipient Configuration -> Mailbox and right-click on a mailbox. Select the Properties command and you'll see the mailbox properties sheet.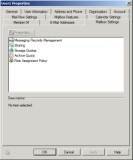 Figure 3. The Mailbox Settings tab has separate entries for the Storage Quota and the Archive Quota.
The Mailbox Settings tab on the properties sheet has a separate entry for both the Storage Quota and the Archive Quota (Figure 3, above).


Figure 4. You can only set a quota warning for archive mailboxes in Exchange 2010 SP1.
You can enforce a hard quota for the user mailbox (the storage quota ), but you can only set a warning for the archive quota (Figure 4, above). Exchange Server doesn't seem to have a way to limit archive size.
About the author: Brien M. Posey, MCSE, is a six-time recipient of Microsoft's Most Valuable Professional (MVP) award for his work with Exchange Server, Windows Server, Internet Information Services (IIS), and File Systems and Storage. Brien has served as CIO for a nationwide chain of hospitals and was once responsible for the Department of Information Management at Fort Knox. As a freelance technical writer, Brien has written for Microsoft, TechTarget, CNET, ZDNet, MSD2D, Relevant Technologies and other technology companies. You can visit Brien's personal website at www.brienposey.com.
Do you have comments on this tip? Let us know.
Dig Deeper on Exchange Server setup and troubleshooting