Manage
Learn to apply best practices and optimize your operations.
How to set up a Deleted Items Retention policy for Microsoft Outlook
Exchange Server supports a Deleted Items Retention policy that lets you recover messages even after they've been emptied or purged from the Deleted Items folder in Microsoft Outlook. In this tip, SearchExchange.com expert Brad Dinerman explains how to set up a Deleted Items Retention policy for Microsoft Outlook.
Now you see it, now you don't… and now you do again.
In corporate environments that use Exchange Server on the back end, the Deleted Items folder serves at least two purposes:
It can be a temporary holding place for messages or other items that users delete from their Inbox. Users move items into the Deleted Items folder, with the intention of emptying the folder later. Alternatively, Exchange administrators can run scheduled policies to empty the folder based on criteria such as item age or size.
It can be a perpetual archive for end users that refuse to accept the concept of Inbox subfolders or data retention best practices. These culprits are the users who come after you with torches and pitchforks when you run (or accidentally run) that policy to empty the Deleted Items folder.
Whatever the case may be, you don't want to be in the position of having to recover items that were accidentally or intentionally deleted if all you have is a tape backup for recovery purposes. For single-item retrieval, the amount of time and effort can outweigh the perceived value of the message itself. In many cases, administrators may not know how to recover an Exchange server properly.
Fortunately, Exchange Server supports a Deleted Items Retention policy that lets you recover files even after they have been emptied or purged from the Deleted Items folder in Microsoft Outlook.
To enable this policy, open Exchange System Manager (ESM) and drill down through your server and storage group objects until you come to the mailbox store. Right-click on the mailbox store and select its properties, and then locate the Limits tab (see Figure 1).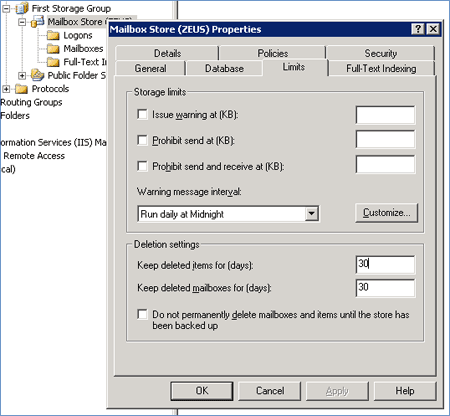 Figure 1
Companies that still use Exchange Server 5.5 have the same option, but the management console is very different. You should read the Microsoft Knowledge Base article 246283, "XADM: Set deleted mail message retention time in Exchange Server 5.5," for details.
Within the Limits tab you will be able to specify the amount of time for which to retain any items that users have deleted. You can select one day, 30 days or any other value up to 68 years. Keep in mind, however, that the longer these messages are retained, the more disk space is used on the server. Also, if you are still using Exchange Server 2003 in 68 years, then we have other issues to discuss.
Once you've enabled this setting, users will be able to recover their own deleted messages and will no longer need to come to you for this task. To recover items, users click their Deleted Items folder in Microsoft Outlook, and then select Tools -> Recover Deleted Items from the toolbar. From the window that appears, they will see all the items that they have deleted within the range that you specified on the server.
One final item to note: Users can bypass their Deleted Items folder -- and this recovery technique -- by holding down the Shift key when deleting the item. By default, the Recover Deleted Items option is not available when you've selected any folder other than Deleted Items.
So you may wonder if it's possible to recover an item that's been hard deleted in this manner. The answer is yes. You can do this if you first create or modify a registry value on the workstation that is running Microsoft Outlook. The value to set is:
HKEY_LOCAL_MACHINE\SOFTWARE\Microsoft\Exchange\Client\Options

Value name: DumpsterAlwaysOn

Data type: DWORD

Value data: 1  

As always, use caution when making any changes to the registry. This process is described in the Microsoft Knowledge Base article 246153, "How to recover items that have been hard deleted in Outlook."
Good luck and best wishes for a full and speedy recovery!
About the author: Bradley Dinerman, vice president of IT at MIS Alliance, is a Microsoft MVP, possesses an MCSE and MCP+I, and is a Certified SonicWall Security Administrator (CSSA). Brad is also the founder and president of the National Information Security Group (NAISG) and the former chair of the Boston Area Exchange Server User Group. He is a frequent contributor to various online TechTips sites and gives user group/conference presentations on topics ranging from spam and security solutions to Internet development techniques. You can visit Brad's personal Web page at brad.dinerman.com.
Do you have comments on this tip? Let us know.
Related information from SearchExchange.com:
Expert Advice: Recovering a deleted mailbox in Microsoft Outlook 2003
Expert Advice: Recovering deleted Exchange public folder subfolders
Reference Center: Exchange Server and Microsoft Outlook backup and recovery
Reference Center: Microsoft Outlook tips and resources
Please let others know how useful this tip was via the rating scale below. Do you have a useful Exchange Server or Microsoft Outlook tip, timesaver or workaround to share? Submit it to SearchExchange.com. If we publish it, we'll send you a nifty thank-you gift.