Problem solve
Get help with specific problems with your technologies, process and projects.
Install the Outlook Connector to use Hotmail in Microsoft Outlook
Install and configure the Microsoft Outlook Connector to access and send MSN Hotmail email messages through Outlook in an Exchange Server environment.
Hosting an Exchange server through an ISP's dynamic IP address is sometimes the most practical approach for small IT shops. But this can create spam blacklisting issues and prevent email delivery to some recipients. One solution to this problem is to use a free third-party email account like MSN Hotmail to send messages from within Microsoft Outlook. In this tip, Exchange MVP Brien Posey explains how to set up the Microsoft Office Outlook Connector to configure access to a Hotmail account via Outlook 2007 on Windows Vista. He also covers some blocked features and limitations you need to consider when implementing this email workaround.
---
Installing the Microsoft Outlook Connector
The Outlook Connector is a Microsoft add-in that interfaces with MSN Hotmail and Exchange Server. It's available in a 3.8 MB executable file download.
To install the connector:
Close Outlook and run the Outlook Connector file. The Setup wizard will ask you to accept an end-user license agreement.
Open Outlook and you'll be prompted to configure the connector. If Outlook is already configured to connect to Exchange Server, click Cancel. Before configuring the connector, you should create a profile that can be used specifically for Hotmail.
The procedure to create a profile varies, depending on which version of Windows and Outlook you're using. For this example, suppose that you're running Outlook 2007 on Windows Vista.
Open the Control Panel and click on User Accounts, and then the Mail link.
Vista will display the Mail Setup dialog box. Click on Show Profiles, followed by Add.
Follow the prompts to create a profile that can be used specifically for Hotmail. If you're running Exchange 2007, Outlook will try to configure so it can be used with Exchange by default. Because you have a default profile associated with Exchange Server, click Cancel.
You'll then receive a message to click OK if you want to create the profile with no email accounts. Click Cancel to abort the process completely; clicking OK will create a new profile.
Configuring Microsoft Outlook 2007
Now that you've successfully created a profile, follow these steps to configure Outlook 2007:
Open Outlook and the Outlook 2007 Startup wizard will appear.
Click Next to bypass the welcome screen, and you will be prompted to configure an email account.
Click Yes and then Next to view a screen prompting you to enter your name, email address and password.
Instead of entering this information, click the checkbox to manually configure server settings or additional server types, and then click Next.
You will be asked to choose an email service. Choose Other option, and select the Microsoft Office Outlook Connector from the list of servers.
Click Next and you will be prompted to configure the Outlook Connector. The only information that you need to enter on this screen is your email address (use your Hotmail account address), your password and your name as you want it to appear in a recipient's inbox.
Click OK and a message will indicate that your changes won't take effect until you restart Outlook.
Click OK to acknowledge the message and click Finish.
Close the Startup wizard and restart Microsoft Outlook.
Human Interaction Proof challenges
When sending Hotmail messages via Outlook, Microsoft prevents the Hotmail/Outlook combination from being used as an automated mechanism to send spam. The first few times that you send a message through Outlook, it will behave similar to the way that it behaves when sending mail from an Exchange server.
Periodically, however, Microsoft Office Outlook Connector will issue a Human Interaction Proof (HIP) challenge. As such, Microsoft Outlook will prompt you to answer a question that only a human (not an automated program) could answer. Most often, the HIP challenge asks you to type the characters that you see on the screen (Figure 1).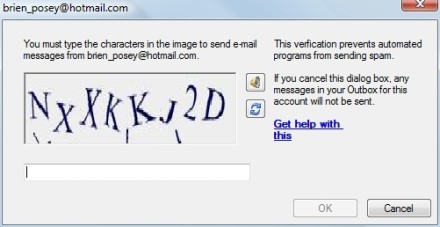 Figure 1. The Microsoft Office Outlook Connector may issue a Human Interaction Proof challenge.
You may also receive an audio challenge, which is similar to the Human Interaction Proof challenge, but requires you to listen to an audio recording and transcribe numbers that are read aloud (Figure 2).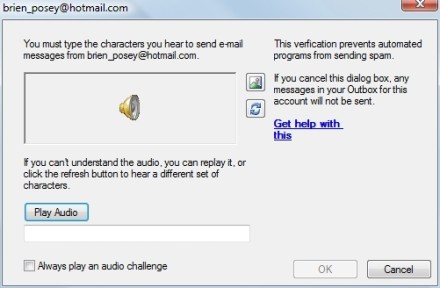 Figure 2. An audio challenge ask you to transcribe the numbers as they are read to you.
The audio used in this challenge is presented to make automated transcription impossible. Be aware that the audio quality is very distorted, and there is a lot of background noise. Fortunately, the Microsoft Office Outlook Connector gives you the option to switch from an audio challenge to a text challenge, or vice versa.
When you compose a message and click Send, the message is placed in your Outbox. If the Microsoft Office Outlook Connector issues an HIP challenge, you will receive it at this point. The message will remain in your Outbox until you have completed the challenge. If a message moves from your Outbox to your Sent Items folder, then it has been sent and no challenge was required.
More on this topic
The Microsoft Outlook Toolbox
The Outlook 2007 configuration process
Favorite new Outlook 2007 features
Allow outsiders to send to an Exchange public folder email address
Blocked features and limitations
The Hotmail Web interface doesn't have as much functionality as Microsoft Outlook, nor does it have a way to archive messages.
The Server Status button is located in the lower right-hand corner of the Outlook interface. You'll see a yellow triangle with an exclamation point just to the left of the Server Status button. If you click this button, you'll receive a report explaining how close you are to reaching your storage quota and which Outlook components are connected to Hotmail.
Most likely, you'll find an error message associated with the calendar. This is because the Microsoft Office Outlook Connector blocks calendar synchronization without a paid Hotmail subscription, as well as access to Tasks and Notes.
About the author: Brien M. Posey, MCSE, is a four-time recipient of Microsoft's Most Valuable Professional Award for his work with Windows Server, Internet Information Server (IIS) and Exchange Server. Brien has served as CIO for a nationwide chain of hospitals and healthcare facilities, and was once a network administrator for Fort Knox. You can visit Brien's personal web site at www.brienposey.com.
Do you have comments on this tip? Let us know.
Please let others know how useful this tip was via the rating scale below. Do you know a helpful Exchange Server, Microsoft Outlook or SharePoint tip, timesaver or workaround? Email the editors to talk about writing for SearchExchange.com.