Manage
Learn to apply best practices and optimize your operations.
Installing and configuring Data Protection Manager
Although Microsoft has automated much of the DPM installation process, there are things you need to know to prepare for installation, not to mention the post-installation configuration.
Most operating systems and applications have an intuitive Setup wizard that renders necessary articles which walk a reader, step by step, through the installation of a piece of software.
However, when Microsoft released Data Protection Manager, it was a nightmare to install. There were prerequisites to prerequisites to prerequisites. Furthermore, deploying DPM was also expensive because of all of the software required. Here is a list of software components that were once required before you could install DPM:
Windows Server 2003 (Standard or Enterprise Edition) with Service Pack 1 or higher
Internet Information Server 6.0
Hotfix number KB891957
SQL Server 2000 with Service Pack 3A or higher
SQL Server hotfix number 821334
Visual Studio .NET
SQL Server Reporting Service with service pack 2 or higher
Fortunately, Microsoft has begun to include all of the required software (except for Windows Server 2003 and IIS) with DPM. Furthermore, the DPM wizard has been redesigned so that it automatically installs the following prerequisites:
IIS 6.0
SQL Server 2000
SQL Server 2000 Service Pack 3A
SQL Server 2000 Hotfix 821334
SQL Server Reporting Service (and the necessary excerpts from Visual Studio)
SQL Server Reporting Service, Service Pack 1
Although much of the DPM installation process is now automated, there is still at least one thing that you must do to prepare for the installation. You must prepare the server by installing the Volume Shadow Copy Service hotfix. This hotfix is necessary because without it, Windows Server 2003 could deplete its paged pool if the Volume Shadow Copy Service is placed under a heavy load.
You can download the necesssary patch from the Microsoft Web site. This hotfix is only 1.22 MB, and can be downloaded and installed quickly. But you will need to reboot our system once you apply the hotfix.
Although the installation process itself is pretty simple, once it finishes, you must configure DPM through the DPM 2006 Administration Console. The console takes a tabbed approach to management and offers tabs for Monitoring, Protection, Recovery, Reporting and Management. You will use these tabs to perform the initial configuration, and then later to protect your network servers and to monitor DPM.
Add a disk to the storage pool
Once DPM is installed, your next task is to add one or more disks to DPM's storage pool. The storage pool is a set of disks that are reserved for DPM's exclusive use. The storage pool stores items such as file replicas, shadow copies and transfer logs.
Before I show you how to add a disk to the storage pool, there are three things to know.
You can only add physical disks to the storage pool. You can not add logical disks, partitions, volumes, etc.
Because the entire disk will be reserved for use by DPM, any data that currently exists on the hard disk will be erased.
DPM uses the storage pool for storing file replicas. Therefore, the more disk space you allocate to the storage pool, the more data you can protect. Even if the volumes that you will be protecting don't really contain all that much data, it's still important to allocate a lot of disk space to DPM. Having extra disk space allows the server to retain more history (versions of protected files).
Adding a disk to the storage pool is a straightforward process. Select the DPM Administrator Console's Management tab. That tab is divided into two sub-tabs: Agents and Disks. Select the Disks tab, then click the Add button found in the Actions pane. At this point, the DPM Administrator console will display the Add Disks to Storage Pool dialog box, which displays the disks you can add to the storage pool. Make your selection and click the Add button, then the OK button. Repeat these steps to add any additional disks to the storage pool. When you are done, the Disks tab will display the disks contained in the storage pool, similar to what you see in Figure 1.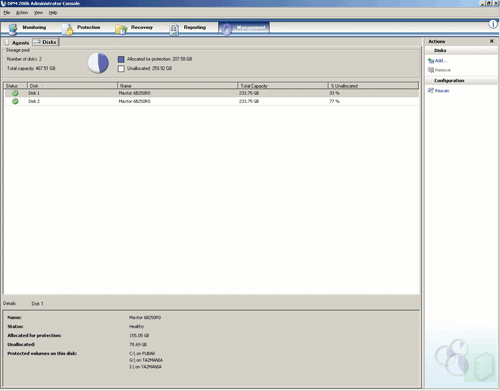 Deploying agents
Now that you have allocated disk space to a storage pool, you need to determine which file servers you want to protect. A single DPM server can protect up to 50 servers -- assuming the DPM server has sufficient disk space to protect those servers.
Once you have determined which servers you want to protect, you must deploy an agent to those servers. Note: Deploying an agent to a server does not protect the server, it only facilitates communications between the protected server and the DPM server.
To deploy an agent, select the DPM Administrator Console's Management tab, then select the Agents subtab. Before you can install any agents, you must tell DPM how many agent licenses you have purchased. To do so, click the Update Agent Licenses link in the Actions pane. This will cause the Administration console to display the Update Agent Licenses dialog box. Enter the number of agent licenses you have purchased and click OK.
Now that you have made DPM aware of the number of agent licenses that you have purchased, it's time to deploy the agents. Click the Install link found in the Actions pane to reveal the Install Agents dialog box, shown in Figure 2.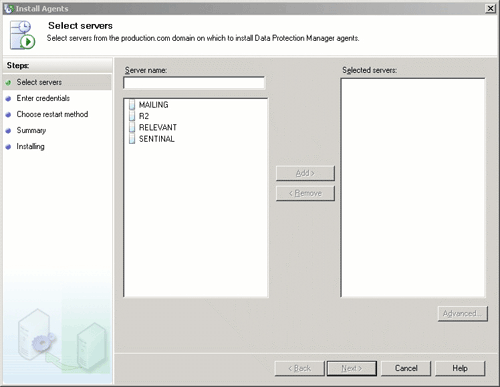 You must simply select the servers that you want to deploy an agent to and then click the Add button to add them to the Selected Servers list. Clicking Next will prompt you to enter a set of authentication credentials for a user who is a local admin for all the selected servers. Click Next again and you'll be asked whether you want the DPM server to automatically reboot the soon to be protected servers when the agent installation process completes, or if you'd rather manually reboot the server later on. Keep in mind that the protected servers must be rebooted before the agent installation will be fully acknowledged. Click Next and you'll see a summary of the installation options you have chosen. Click Next again more and the installation process will begin. Note: The process of deploying agents can be time-consuming, so don't panic if your DPM server appears to stop responding for a while. When the installation process completes, click Finish. When the protected servers have rebooted and DPM acknowledges the newly installed Agents, the Agents tab will look similar to the one shown in Figure 3.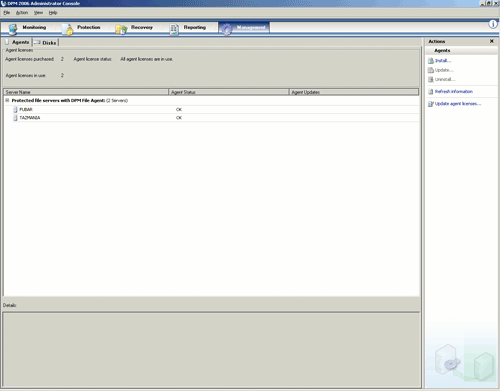 In this article, I have discussed the initial installation and configuration of DPM. The next article in this series will explain how to go about protecting the servers that you have deployed the agent to.
About the author: Brien M. Posey, MCSE, is a Microsoft Most Valuable Professional for his work with Windows 2000 Server and IIS. He has served as CIO for a nationwide chain of hospitals and was once in charge of IT security for Fort Knox. He writes regularly for SearchWinSystems.com and other TechTarget sites.
More information from SearchWinSystems.com
Tip: Server plays a key role in DPM deployment
Topics: Backup