Evaluate
Weigh the pros and cons of technologies, products and projects you are considering.
Introducing Exchange Server Performance Troubleshooting Analyzer Tool
Microsoft has created a new tool called the Exchange Server Performance and Troubleshooting Analyzer Tool that can help you deal with performance issues on a production server.
There are hundreds, if not thousands of methods for improving Exchange Server performance. Techniques range from...
Continue Reading This Article
Enjoy this article as well as all of our content, including E-Guides, news, tips and more.
placing databases and transaction logs in an optimal location to using Performance Monitor to locate and remove Windows bottlenecks.
You can also use one of the many stress-testing tools, such as LoadSim, to place a simulated workload on a new server and then optimize as you discover how it behaves under stress.
These techniques are great if you are working with a brand new server. But it's a whole lot harder to troubleshoot performance problems on a production server, because you can't freely take the server offline to try different optimization techniques. Furthermore, although Performance Monitor doesn't usually drain systems of resources, it can cause a noticeable impact if you run it against a system already starved for resources.
Fortunately, Microsoft has created a new tool called the Exchange Server Performance and Troubleshooting Analyzer Tool (PTA) that can help you to deal with such situations.
PTA's job is to diagnose the cause of performance problems on Exchange servers. Like Performance Monitor, it does require some system resources and can cripple a server that's already struggling. However, keep in mind that the PTA tool is designed to reveal the root cause of the problem with minimal effort, while tools like Performance Monitor require you to guess what might be wrong and then run subsequent tests to see if you're right.
Using the Exchange Server Performance and Troubleshooting Analyzer Tool
Download the application, which consists of a 3731 KB MSI file.
After downloading, double click the MSI file to launch the Setup Wizard. The Setup Wizard is very simple; it basically just asks you to accept the end-user license agreement and confirm the installation path. When the installation completes, the PTA tool will be added to your server's Start -> All Programs -> Microsoft Exchange menu.
Launch the tool to begin checking for updates to itself or to its configuration file.
When the update process completes, click Next to bypass the wizard's Welcome screen.
You will now see a screen that asks you to select the type of problem that you are having. Surprisingly, this screen only has two choices: a high number of RPC operations or users complaining of slow response time. Make your selection and click Next.
You will now be prompted to enter the name of the server you want to analyze and the name of your Global Catalog Server. You also have the option of entering an alternate set of credentials in case the account you're logged in with has insufficient permissions. After you enter the required information, PTA will run a quick check to make sure it can talk to the Microsoft Exchange box and the Global Catalog Server.
You'll see a summary screen telling you how many databases and how many mailboxes are hosted by the server. This screen also explains which performance tests will be run against the server. Click Next and the analysis will begin.
Evaluating results
So how well does the tool work? It's hard to say. At the time I wrote this article, the PTA tool had been available for only a short time. I ran the tool against a test server that wasn't suffering from poor performance, but it did have limited system resources.
Microsoft has always recommended that you store Exchange Server databases on a high-performance RAID array and store transaction logs on a separate physical disk.
Since I just used this particular test server for writing about Exchange Server, and not for hosting mailboxes, I never worry about the server's disk resources. In fact, the server only has a single hard drive. Like I said, the server isn't performing poorly at the moment, but the server's disk configuration should be an obvious red flag to the PTA tool.
When I ran the tool against my server, it informed me that no RPC-related performance problems were detected. I have to admit that I was a little surprised by the results, but I was even more surprised by what the screen said next. If you look at Figure A, you can see that the PTA tool indicated that it would continue checking my server for other types of performance problems.
Figure A
If PTA can't find a problem, it will keep trying!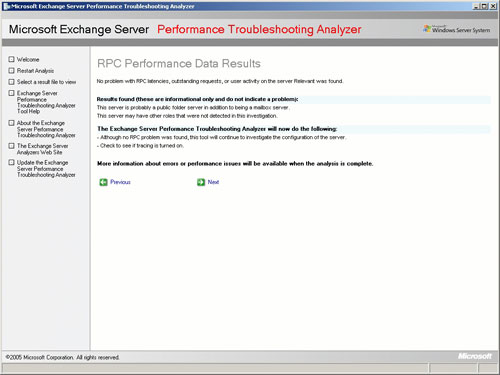 The PTA tool went on to check a few more things, but eventually it gave me the screen shown in Figure B, which reports the error I expected all along. The cause of the problem is displayed in red text.
Figure B
The PTA tool eventually displayed the cause of the problem.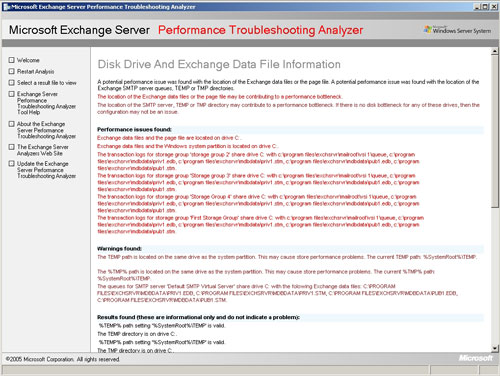 What's more impressive is that PTA continued to look for other performance problems. This is important, because the most difficult problems to diagnose are systems in which there is more than one problem. I was really happy to see that PTA checks for multiple problems.
After several more checks, PTA eventually displayed a list of all of the problems found on my server. As you can see in Figure C below, this list can be a bit overwhelming.
Figure C
The list of performance issues found on a server can be overwhelming.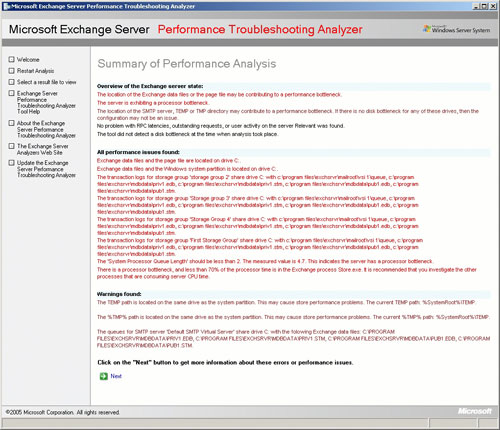 Fortunately, when you click Next, PTA gives you a nice, neat screen that outlines the server's top 10 Microsoft Exchange performance issues. You can even click on items to get more information.
Figure D
The summary screen lists the server's top 10 performance issues.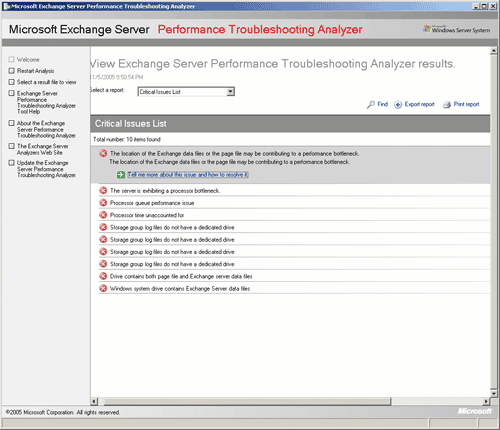 Conclusion
I believe that the Exchange Server Performance Troubleshooting Analyzer Tool is destined to become a huge asset for administrators, regardless of their skill levels. To be perfectly honest, I probably could have found most of my test server's performance issues on my own. However, I would much rather use PTA to find them, because the tool is such a timesaver -- it completed an analysis in under half an hour that probably would have taken me all day to do manually.
About the author: Brien M. Posey, MCSE, is a Microsoft Most Valuable Professional for his work with Windows 2000 Server and IIS. Brien has served as CIO for a nationwide chain of hospitals and was once in charge of IT security for Fort Knox. As a freelance technical writer he has written for Microsoft, TechTarget, CNET, ZDNet, MSD2D, Relevant Technologies and other technology companies. You can visit Brien's personal Web site at http://www.brienposey.com.
Do you have comments on this tip? Let us know.
Related information from SearchExchange.com:
Learning Guide: Exchange Server Performance
Checklist: Top 10 Exchange performance worst practices
Learning Center: Toolbox for Exchange administrators
Reference Center: Exchange Server administration tools
Dig Deeper on Exchange Server setup and troubleshooting