Evaluate
Weigh the pros and cons of technologies, products and projects you are considering.
Introducing the Exchange Server Disaster Recovery Analyzer Tool
Microsoft's Exchange Server Disaster Recovery Analyzer Tool can examine your database headers, transaction logs, etc., and use the collected information to provide you with step-by-step instructions on how to mount the Exchange database.
VIEW MEMBER FEEDACK TO THIS TIP
Exchange Server 2003 makes it easier to recover a database than previous versions of Microsoft Exchange, but it can still be frustrating to mount a recently repaired database. Fortunately, Microsoft has introduced a new tool that addresses this problem.
The Exchange Server Disaster Recovery Analyzer Tool (DRAT) can examine your database headers, transaction logs, etc., and use the collected information to provide you with step-by-step instructions on how to mount the Exchange database.
DRAT can be run against Exchange 2000 Service Pack 3 or higher and Exchange 2003. The tool itself can be run under Windows 2000, Windows XP, and Windows Server 2003.
Using the Exchange Server Disaster Recovery Analyzer Tool
Download the 3691 KB MSI file. Then double click on it to launch the Setup Wizard, accept the end-user license agreement and confirm the installation path.

Once installation completes, DRAT will be added to the server's Start -> All Programs -> Microsoft Exchange menu. When you start the tool for the first time, you'll see a screen asking if you want to check for updates upon first initialization. I recommend enabling the Update option. Then click the "Go to Welcome Screen" link, followed by Next.

DRAT will now give you a choice of either automatically detecting your Exchange databases or manually specifying the database locations. Unless your server is running an unusual configuration, just click the Auto Detect link.

Enter the Exchange server's name and the name of one of your domain controllers. You can also enter an alternate set of credentials in case the account you're currently logged in with doesn't have sufficient permissions.

Click Next and DRAT will begin gathering the server's configuration. It isn't actually analyzing the database yet; it's just detecting the various storage groups set up on your server and the databases within them.

When the detection process completes, select the storage group containing the problematic database. Then click Next to see a screen that lists the names of the databases within the store that you previously selected.

You now have a choice to make: Analyze a single database or all databases within the storage group. Analyzing all databases isn't a bad idea -- even if you are only having trouble with a single database -- because all databases in a storage group share a common set of transaction logs, which can sometimes be the root of the problem. If you are pressed for time though, you are probably better off just selecting a single database.

Once you make your selection, the analysis begins. This can take a while to complete. I can't really tell you what to expect, but on my test server (a 3.2 GHz Pentium 4 with 512 MB of RAM), it took about three minutes on an empty database (8 MB in size) that was in a clean shutdown state.
Evaluating results
So how good is the tool? At the time I wrote this article, it had only been available for a short time, so I can't really say for sure. All my servers were functional, and I wasn't about to trash a database just to see if a new tool could tell me how to fix it! Instead, I dismounted the server's databases and ran DRAT to see what it would turn up.
If you look at Figure A below, you'll see that the tool informed me that my Exchange databases were in a clean shutdown state. It also pointed me to a Knowledge Base article I could use to revive the server if I was unable to mount the database -- even though it had been shut down cleanly.
I was actually glad to see this. I expected to see a message telling me that there was nothing wrong with my server. I'm glad that Microsoft acknowledges the fact that sometimes Exchange Server databases won't mount even if they are shut down properly.
Figure A: This is what the DRAT results screen looks like.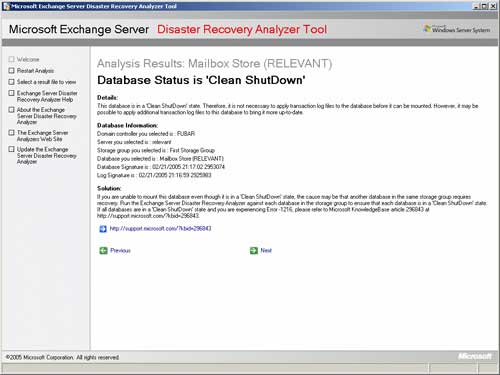 About the author: Brien M. Posey, MCSE, is a Microsoft Most Valuable Professional for his work with Exchange Server, and has previously received Microsoft's MVP award for Windows Server and Internet Information Server (IIS). Brien has served as CIO for a nationwide chain of hospitals and was once responsible for the Department of Information Management at Fort Knox. As a freelance technical writer, Brien has written for Microsoft, TechTarget, CNET, ZDNet, MSD2D, Relevant Technologies and other technology companies. You can visit Brien's personal Web site at www.brienposey.com.
---
MEMBER FEEDBACK TO THIS TIP
It would help if the link provided to the DRAT actually linked to DRAT.
—George M.
******************************************
George, thank you for bringing up this point. After this tip was written and published, Microsoft has since incorporated the Exchange Server Disaster Recovery Analyzer Tool (DRAT) into the Microsoft Exchange Troubleshooting Assistant v1.0. Despite the name changes, the links provided in this article are correct.
For more information on this tool, please read Serdar Yegulalp's tip "Microsoft Exchange Troubleshooting Assistant 1.0."
—Kimbers Sheppard, Associate Editor
---
Do you have comments on this tip? Let us know.
Related information from SearchExchange.com:
Dig Deeper on Exchange Server setup and troubleshooting