Manage
Learn to apply best practices and optimize your operations.
Key enhancements to SCCM give admins more control over assets, licensing
System Center Configuration Manager now includes Asset Intelligence 1.5, which gives admins more control over their assets and IT infrastructures.
Asset Intelligence is an important new component that has been added to System Center Configuration Manager (SCCM) 2007. This feature set is the only real way to accurately account for assets and ensure that all the software you're using is properly licensed.
Asset Intelligence version 1.0 first appeared as part of Systems Management Server 2003 SP3. The tool was useful but flawed by some critical limitations. Fortunately, the release of Asset Intelligence 1.5 beta just a few weeks ago marks the best edition of the tool to date. Version 1.5 has several new features and improvements that make it a much better product than the original, and more extensive than version 1.1, which shipped with SCCM 2007 RTM.
The latest release of Asset Intelligence includes three main enhancements:
A new user interface that allows full interaction with Asset Intelligence and includes a GUI def.mof editor

The ability to customize the on premises catalog (or local edits)

The ability to upload and download information to System Center Online (dynamic updates)
The connection to System Center Online is a key enhancement that for the first time connects the local on-premise SCCM catalog to an online service in the cloud. It is probably comforting to know that your inventory and license information are never sent to Microsoft. Only specific information about a given software title is sent for identification (e.g., name, publisher, version, etc.). Finally, it is important to note that Microsoft decided to provide the connection to System Center Online only to Software Assurance customers.
This version of Asset Intelligence adds significant new functionality to asset management. In previous versions, the Catalog, which stores the list of software titles installed in your organization, was a hard-coded list of titles that could not be changed. That was a major issue for administrators who could not use it to manage all their software since they invariably had applications (especially mission-critical apps) that were not on the list and thus could not be categorized. Features in Asset Intelligence 1.5 solve these issues via local edits. They include:
The ability to customize the catalog (knowledgebase) via the new Catalog and License Management UI that is built into the SCCM administrator console. This is a major improvement to the previous 'static' versions of Asset Intelligence. The UI also includes full reporting and editing capabilities.
Basic replication to distribute the latest catalog updates to other SCCM sites.
the capacity for importing license information into SCCM.
Dynamic updates of software titles via System Center Online.
Take a look at the new user interface
The UI is now integrated into the System Center Configuration Manager console, which makes things much easier for admins. Let's take a look at the new UI and the features exposed there. Figure A shows the SCCM administrator console. Note that Asset Intelligence is a root node in the SCCM console tree. The inset in Figure A shows the Asset Intelligence tree expanded. At the Asset Intelligence root node, there are several options, including Customize Catalog, Inventoried Software Titles, Cataloged CPU statistics, Hardware Requirements and Asset Reports.
FIGURE A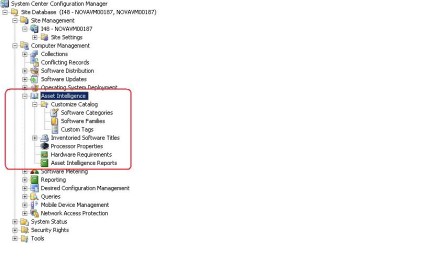 Figure B shows the UI, a standard MMC 3.0 snap-in with the Customize Catalog option exposed. This is the main interaction point with the catalog that allows you to view and create Available Categories and Available Families, plus Custom Tags that let you group software titles based on your own criteria.
FIGURE B


The Inventoried Software Titles option in the UI is a complete list of all software titles in your enterprise, with information such as name, category, version, etc., as shown in Figure C. For example, you could create Mission Critical Apps and associate it with those applications and generate a report that lists all those titles. Again, unlike previous versions of Asset Intelligence, this is fully customizable. Cataloged CPU Statistics is a list of CPUs that Asset Intelligence collected in the hardware inventory. It is read-only and includes the CPUs of hardware that Asset Intelligence knows about.
FIGURE C


The Hardware Requirements listing should be of great value during an upgrade. As shown in Figure D, it displays the minimum hardware requirements for each software title and you can customize it for vendor information. For instance, you may determine that you want your minimum memory requirement for a certain app to be 1.0 GB where the vendor specifies 500 MB.
FIGURE D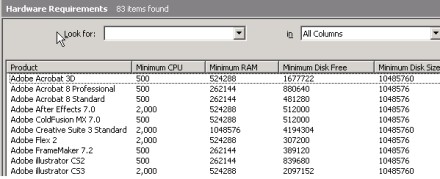 Figure E shows Asset Reports, which is where all the Asset Intelligence reports are stored. It is separate from the general SCCM reports, making the Asset Intelligence reports more readily available.
FIGURE E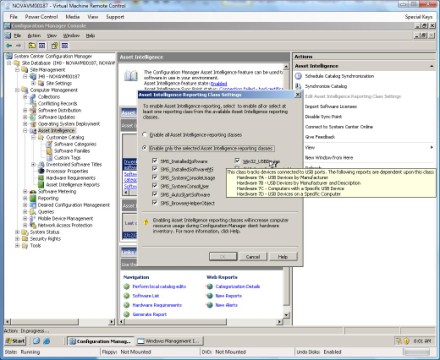 Putting it all together: The Asset Intelligence dashboard
The Asset Intelligence dashboard, shown in Figure F, puts all these components into a complete picture. Thus, you can use the dashboard for an overall view of the Asset Intelligence environment or drill down specifically to each component.
FIGURE F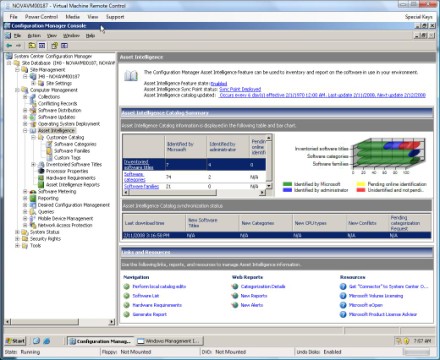 When you click on the Asset Intelligence root node, you will get an Action pane as shown in Figure G. The options in the Action pane control interaction with the System Center Online service. These features include:
Edit SyncPoint Schedule -- This is where you define synchronization schedule frequency with System Center Online.
Initiate Catalog Sync -- This option allows you to manually initiate data transfer with System Center Online, but has a limit of two such manual syncs every seven days.
License Import Wizard -- This wizard walks you through importing Microsoft and third-party software licensing information. It permits you to track the license data in an Excel spreadsheet and import it to System Center online in XML format.
Disable Sync -- This can be considered an "off switch" to disable synchronization with System Center Online.
Provision System Center Online -- This action allows you to get the certificate that is required for the dynamic connection to System Center Online.
FIGURE G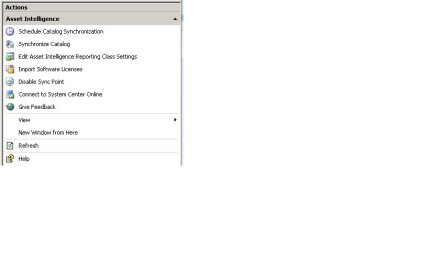 Obviously this is a very quick summary of Asset Intelligence, but it should give you an idea of the power the new version has to offer. It allows you to create customized catalogs of software titles, group them to meet your own needs, import Microsoft and third-party software licensing information and generate reports to track it all.
With the collection-gathering agents on each machine in the environment and a subscription to the System Center online service, all of the existing assets as well as future updates will be available via customized reports. This will make life easier not only the IT manager who needs this information for planning and budgeting, but also for the administrator who has to gather the data. It is certainly an improvement over standard SMS capabilities as well as previous versions of Asset Intelligence.
ABOUT THE AUTHOR
Gary Olsen is a systems software engineer for Hewlett-Packard in Global Solutions Engineering. He authored Windows 2000: Active Directory Design and Deployment and co-authored Windows Server 2003 on HP ProLiant Servers. Gary is a Microsoft MVP for Directory Services and formerly for Windows File Systems.
Dig Deeper on Windows systems and network management