Problem solve
Get help with specific problems with your technologies, process and projects.
Link Shell Extension simplifies hard link creation for Windows NTFS
Looking for a better way to build hard links and junctions for NTFS volumes? Link Shell Extension moves the process out of the command line and into Windows Explorer.
I recently wrote about a utility called NTFSLinksView that lets you examine hard links or junction points on an...
Continue Reading This Article
Enjoy this article as well as all of our content, including E-Guides, news, tips and more.
NTFS volume, but not create them. Although creating a hard link is something you can do from the command line, it's not the most user-friendly approach.
The Link Shell Extension utility simplifies the process of creating hard links on an NTFS volume by making it a simple copy/paste operation. It does this by simply adding an extension to Windows Explorer's right-click context menu.
Link Shell Extension works in x86, x64 and I-64 versions of Windows, meaning almost every desktop and server edition of Windows is covered. (A Windows NT 4.0 version is also available with the core feature set, but it is not being actively developed and has mostly been preserved for historical interest.) The program requires that you install the Visual C Redistributable Runtime, but links to the installer are available on the program's webpage.
After you install Link Shell Extension -- no reboot required -- you will see a new option in Explorer's right-click context menu for files and folders called "Pick Link Source". When you want to create a new hard link on your file system, right-click on the object in question and select that option. Then use Windows Explorer to browse to the place where you want to create the link, right-click again and select "Drop As…". From there you can elect to create a hard link or a symbolic link at the destination. If you want to cancel the whole process, you can select "Cancel Link Creation" from the same submenu. You can also right-click and drag a file from the source to the destination. Upon letting go of the right mouse button you'll see a "Drop Here…" submenu option to create the link.
In addition, you can use Link Shell Extension to create a hardlink clone from a directory hierarchy or individual file, where multiple files and folders are recreated as hard links on the destination. This is useful if you want to "copy without copying" since the source files remain right where they are.
Another function of Link Shell Extension -- smart copy/smart move -- copies or moves files and folders and preserves any symbolic link references to files within that particular hierarchy. If you create a link in a place where there's a file of the same name, the native file-renaming function in Explorer will be invoked for whatever version of Windows you're running. In Windows XP, for instance, this means links are renamed to "HardLink of <filename >". In Vista and Windows 7, it's "<filename > - Hardlink". It's also possible to choose a whole volume as a link source and create a volume mount point for it, though you can only do this on NTFS 5.0 volumes.
Many more options are available in Link Shell Extension's online documentation. Note that the creation of links is limited by the file systems in question. For instance, you can't create symbolic links on FAT16 or FAT32 file systems.
Figure 1: After selecting the "Sample Music" folder, Link Shell Extension is used to create a hard link clone of the folder on the desktop.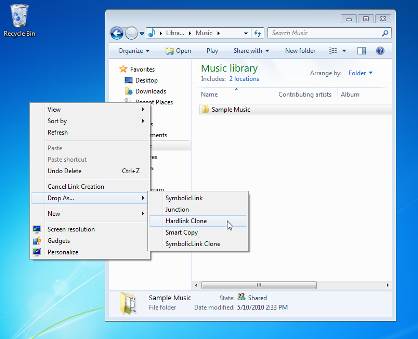 You can follow SearchWindowsServer.com on Twitter @WindowsTT.
ABOUT THE AUTHOR
Serdar Yegulalp has been writing about computers and information technology for more than 15 years for a variety of publications, including InformationWeek and Windows Magazine.
Dig Deeper on Windows administration tools