Problem solve
Get help with specific problems with your technologies, process and projects.
Making the business decision to move to Windows Server 2008, Part 1
Migration to Windows Server 2008 is on the mind of just about every IT manager. Make your best business case by knowing all about the product support lifecycle and features that can save time and money.
You probably have a beta version of Windows Server 2008 already running somewhere, and your staff is already pushing to install the latest and greatest. However, experience quickly reminds us all that you need a better reason than "it is really cool" to justify the pain and expense of migration.

Migration is its own can of worms. Not only do you have to worry about the technical implementation basics, such as hardware, drivers, training and software compatibility, but you also need to explain it to upper management. Whether you are on the bleeding edge or would rather wait for Windows Server 2008 Service Pack 2, you need to have some information on why you should upgrade.

To help ease your pain, here are a few of the top reasons to migrate to Windows Server 2008:
This article will review product support lifecycle, read-only domain controller, Terminal Services and Server Core in Windows Server 2008. Look for File System Improvement, PowerShell, Windows Hardware Error Architecture and Virtualization in part two.

One of the most important factors that determines when you will migrate is understanding Microsoft's product support lifecycle. The lifecycle is how long you can get phone support, as well as hotfixes, for your current version of Windows.

Microsoft has a fairly well-defined support lifecycle for all products including Windows. Microsoft's lifecycle support policy statement says Microsoft will offer mainstream support for either a minimum of five years from the date of a product's general availability or for two years after the successor product. After mainstream support expires, Microsoft offers extended support for another five years, but it is expensive.

So how does this information affect your migration decision? With Windows Server 2008 released in February, mainstream support for Windows 2003 will most likely end in early 2010. That means you have two years to migrate -- and you must migrate.

It is important that you begin to communicate to your company that the migration will occur and make sure all commercial and proprietary software will be compatible when the upgrade takes place.

IT managers are familiar with the phone calls that come in just about every Monday morning from remote sites regarding people who are having problems logging on and so on. This pain will be eased with the new feature in Windows Server 2008 that will allow you to create a read-only domain controller, or RODC.
The RODC is a special role of a domain controller that contains a read-only copy of the Active Directory database.
,
The RODC is a special role of a domain controller that contains a read-only copy of the Active Directory database. Of course, the AD database contains user accounts, passwords, security policies and other data that can seriously compromise your company's security if it were stolen or modified. This was a primary consideration in Windows 2000 and 2003 in determining if a site would get a domain controller or not.

IT managers also know all about the problems that exist with users at a site without a local domain controller and with poor network connectivity because there are always a host of performance issues. It is usually a good idea to put a domain controller at poorly connected sites to protect the users from battling the network wars. DNS and authentication, for example, can then be provided locally.

However, those sites generally have no IT staff on site and cannot guarantee physical security. The RODC replicates from a full function domain controller, but does not replicate out. So if an attacker made changes -- such as stealing an admin account and making modifications to the AD -- it would not be replicated to the enterprise.

You can select which accounts can be stored on that domain controller so you don't expose your entire user list to an unsecured site. Thus, you can deploy an RODC at a remote site securely and give users a better experience.

Special line-of-business applications may have a requirement to be installed on a domain controller, or you may have only one server in a site that must be a file/print and application server as well as a domain controller. Installing an RODC in those situations would permit application owners to have interactive logon rights to a domain controller, without fearing the repercussions if they inadvertently make unauthorized changes.
Business value: The result will be a better user experience, increased productivity, minimal unnecessary help desk calls and better security at remote sites.
Server Core
Windows administrators and architects have been begging for years for a Server Core feature to free Windows servers from all the baggage that comes with the GUI. There really is no reason for a DHCP or DNS server to need 32-bit color, for example. While Server Core doesn't eliminate the GUI, it certainly simplifies it and limits the footprint.
Just a reminder: Server Core is not an additional product. You can install the full function version of Windows Server 2008 or Server Core version from the same CD.
Figure 1 shows a Server Core GUI, there is no task bar, no start menu, no desktop icons and only a single command window. All operations from the console must be done from the command window. Although this makes the server easier to deploy, more efficient and more secure, it can be a challenge for admins who have grown up depending on the GUI. Even defining the IP address and computer name has to be done from the command prompt.
Figure 1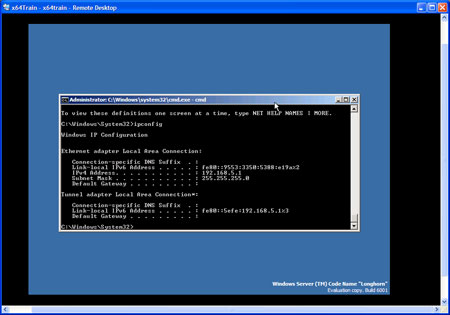 Business value: Server resources will be used more effectively. Although you can connect to a Server Core machine through terminal services from a server with the full GUI and use the GUI-based tools to administer roles such as DNS, you will most likely need to budget some money for training to bring your Windows administrators up to speed on how to move around without a rich GUI.
Terminal Services
If you have implemented Terminal Services, and many organizations have, you should look at the many features included in Windows Server 2008.
Parallel sessions: When you have multiple users logging into a terminal server system, the sessions are created serially -- causing a bottleneck at certain times, such as the beginning of the workday. Windows Server 2008 can initiate four sessions in parallel.
Desktop experience: For users of terminal services, it can get confusing keeping all the windows organized. Windows Server 2008 offers the following interface enhancements:

* Custom display resolution: Custom resolution can be set individually in each rdp file
* Multiple monitor spanning: Can span multiple desktops to allow up to four monitors horizontally, for up to 4096 by 2048 resolution

RemoteApp: On the surface, Terminal Services RemoteApp seems like the same old thing -- running an application installed on a remote terminal server, which appears on the user's desktop. But instead of actually logging into the terminal server and getting that desktop and then running the app, the app appears on the user's own desktop all by itself as if it were indeed installed on the local workstation. This is a big deal for the user experience, making it easier and less confusing for users to access critical applications.

Business value: The result is a better user experience and better productivity for Terminal Services users. Applications can be deployed from a centralized location without requiring users to login to a terminal session.
For explanations of Windows Server 2008's File System Improvement, PowerShell, Windows Hardware Error Architecture and Virtualization, read Making the business decision to move to Windows 2008, Part 2.

Gary Olsen is a systems software engineer for Hewlett-Packard in Global Solutions Engineering. He authored Windows 2000: Active Directory Design and Deployment and co-authored Windows Server 2003 on HP ProLiant Servers. Gary is a Microsoft MVP for Windows Server-File Systems.

Russell Olsen is the CIO of a medical data mining company and previously worked for a Big Four accounting firm performing technology risk assessments. He co-authored the research paper "A comparison of Windows 2000 and Red Hat as network service providers." Russell is a CISA, GSNA and MCP.