Manage
Learn to apply best practices and optimize your operations.
Managing assets with Microsoft System Center Configuration Manager
The Asset Intelligence component of Microsoft's System Center Configuration Manager 2007 has tools to keep track of software and hardware as well as the ability to develop executive reports.
Companies spend enormous amounts of resources just to determine if there are any gaps in their software licensing....
Continue Reading This Article
Enjoy this article as well as all of our content, including E-Guides, news, tips and more.
Then the IT manager has to take that long walk to the CIO's office to explain how many tens of thousands of dollars it will cost to get all the licensing up to date.
The Asset Intelligence component of Microsoft's System Center Configuration Manager 2007 can solve a lot of the asset management headaches regarding software and hardware. Asset Intelligence has a robust tool set not only for viewing hardware, but also for managing Microsoft SoftGrid virtualization and software. It also has the capability to "baseline" assets so changes can be seen over time.
While Asset Intelligence has been around since SMS 2003 SP3, the version offered in System Center Configuration Manager has taken leaps and bounds to help IT administrators. Some of the major enhancements include the following:
Enhanced user interface (see Figure 1).
Ability to customize the catalog (previous versions forced a static catalog).
Enhanced reporting and asset tracking tools (including identifying and tracking USB devices).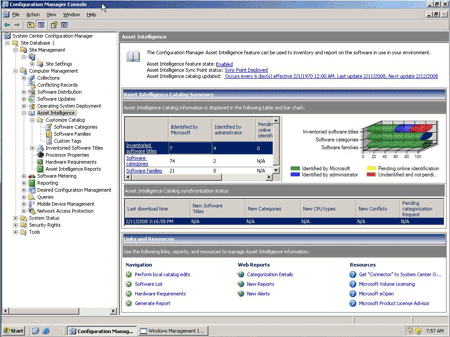 Figure 1: System Center Configuration Manager now feautures an enhanced user interface. (Click on image for enlarged view.)
Here is a quick dive into some scenarios that describe how this could change the way Windows shops view the world.
Hardware management:
Asset assignment -- We are all familiar with the summer intern who spends his or her summer exploring the office armed with a bar code reader, roll of asset tags and a list from the IT manager. Asset Intelligence significantly changes this scenario. Imagine being able to quickly produce an asset report that accurately ties each computer to the user who most frequently logs into it. Asset Intelligence captures and summarizes login information for each hardware asset. This not only eliminates guesswork, but also the overhead it takes to keep up with reassigning hardware as it moves from one end user to another.
Attached devices -- Try to imagine how much proprietary information can walk out the door on any given day with thumb drives and terabytes of portable hard drives that can fit into a pocket. It makes me wish I could rip out the USB ports in every computer in my company. Asset Intelligence allows for tracking and reporting on USB devices connected to PCs across the company. This knowledge allows security teams to monitor and address inappropriate usage of USB devices.
Software management:
Administrators can use Asset Intelligence for the following software management tasks:
Monitor for unauthorized software. Detailed software installation information allows admins to proactively detect new installations. They can then quickly eliminate software compliance issues as well as identify how users are installing unauthorized software.
Monitor software usage. How much software is purchased just because someone new has started at the company? With Asset Intelligence, administrators can track software usage and identify and reclaim unused licenses. It also creates reports that show how much money the IT department has saved the company.
License planning. With capabilities such as monitoring installs and individual and concurrent usage, Windows managers can begin to build licensing into their budgets – rather than plead for forgiveness when they deliver the bad news.
Because licensing is so complex, it is important to note that Asset Intelligence shouldn't be used as the authoritative source for determining licensing compliance. However, it will likely be a significant step in the right direction.
Executive Reporting:
Asset Intelligence is backed by a high-powered Web-reporting engine. This will allow the IT department to arm itself with reports. These reports can be customized and integrated into personal "dashboards," offering constant information with minimal effort. Summary reports can also be created and delivered to management on a weekly, monthly or quarterly basis to keep them informed too.
As you begin to explore how these new features might benefit you, remember that the tool can only be as good as the process it supports. Cool features that are not integrated into existing processes can offer more problems than solutions. Be sure to evaluate these processes to see how Asset Intelligence could help:
Security/Compliance: Monitoring for the use of USB storage devices, unauthorized software, etc. could help make the security team's job easier.
Change management: The ability to quickly monitor for new software versions could facilitate the auditing of the change management process.
Also, don't forget the importance of incorporating this tool into your logical access procedures to be sure that only appropriate individuals have access to this system.
More on Windows Change Management
Keeping your change management process honest
Windows change management on a budget
Russell Olsen is currently the CIO of a Healthcare Technology company and previously worked for a Big Four accounting firm performing technology risk assessments and Sarbanes-Oxley audits. Olsen is a CISA, GSNA, and MCP.
Dig Deeper on Enterprise infrastructure management