Get started
Bring yourself up to speed with our introductory content.
Meet compliance needs with an inactive mailbox
Organizations that want to preserve mailboxes in Office 365 without incurring additional costs should evaluate inactive mailboxes.
Exchange administrators who have worked with different types of mailboxes may wonder what an inactive mailbox does, especially if they're administering on-premises Exchange. An inactive mailbox lets organizations preserve a mailbox in Office 365 if the person using the mailbox leaves the organization -- without incurring any extra costs.
In an on-premises deployment, mailboxes of staff members who leave are preserved as instructed by the legal and HR teams for compliance and business requirements. Using a transport rule, or tweaking the mailbox properties to restrict access, will block the mailbox from receiving emails; the mailbox is also removed from all internal distribution groups. As storage gets cheaper, keeping these mailboxes in an on-premises deployment isn't a big deal.
But when it comes to an Office 365 deployment, there should be ways to keep these mailboxes in the cloud without incurring additional costs. Inactive mailboxes are one option for Office 365 tenants. Admins can search through the inactive mailboxes and keep them as part of any E-discovery queries.
As the name suggests, an inactive mailbox in Office 365 is inactive -- it cannot send or receive emails and it's hidden from the Global Address List and other distribution groups. What makes this mailbox appealing to administrators is that it doesn't require an Office 365 license. Organizations can indefinitely preserve the mailbox of someone who leaves by taking advantage of the inactive mailbox feature in Office 365.
It's important for Exchange admins to understand how the inactive mailbox works, including how to make a mailbox inactive and how to remove the litigation hold. This knowledge helps admins retain any number of departed end users' mailboxes for an indefinite period of time without incurring any extra costs.
Convert a mailbox to an inactive mailbox
How can organizations convert an active mailbox to an inactive one? The mailbox is placed on litigation hold for a set number of days or indefinitely, depending on HR and legal requirements. Once the litigation hold is in effect, which normally takes up to an hour after configuring it, Office 365 deletes the end-user account. There is no single button or command for the conversion.
In my example, I configure an indefinite litigation hold for a mailbox named Chakka Rajith (Figure 1). After an hour, I delete the associated account from the Office 365 portal (Figure 2).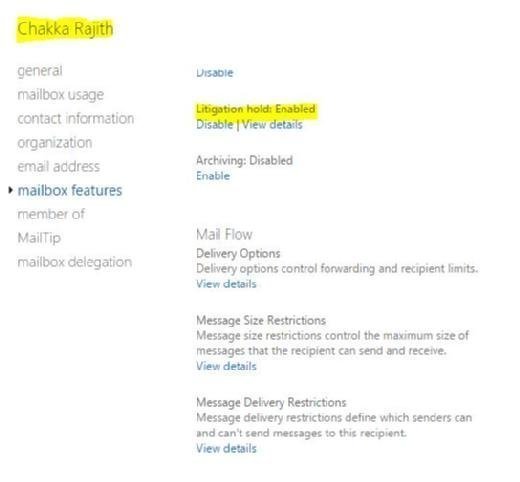 Once these initial steps are complete, the end user is moved to the Deleted users tab in the Office 365 portal. The Get-Mailbox command will confirm the mailbox's deletion; note how the Chakka Rajith mailbox no longer appears in the list (Figure 3).
Because the litigation hold is in place on the mailbox, even though the associated end-user account is no longer present, the mailbox is kept intact and is now known as an inactive mailbox. Admins can find all of the inactive mailboxes in their tenant by running the following command and establishing a remote PowerShell session to Office 365 (Figure 4).
Get-Mailbox –ResultSize Unlimited –InactiveMailboxOnly

You can pipe the Measure-Object command to find the number of inactive mailboxes in your tenant (Figure 5).
Get-Mailbox –ResultSize Unlimited –InactiveMailboxOnly | Measure-Object

Admins can also list all mailboxes in their tenant, along with the inactive mailboxes, by running this command (Figure 6):
Get-Mailbox –Resultsize Unlimited –IncludeInactiveMailbox

Once the required period to keep the inactive mailbox passes the retention period HR and legal specified, admins can delete the mailbox to permanently remove it from the tenant. This is done by removing the litigation hold on the mailbox with a certain command (Figure 7). This command is handy if admins need to remove a bunch of inactive mailboxes.
Get-Mailbox –SoftDeletedMailbox <ExchangeGUID or Alias> | Set-Mailbox –LitigationHoldEnabled:$false –InactiveMailbox

Once the litigation hold is removed, the mailbox will be permanently deleted (Figure 8).

About the author:
Rajith Enchiparambil is a UC Architect who works on large Exchange and Office 365 projects for clients in the U.K. He specializes in Exchange, Office 365, Active Directory and a bit of Lync. He has been working in the IT industry for the last 13 years and has worked extensively with Microsoft Exchange since version 5.5. He has worked for consultant services such as HP, Siemens, AtoS, CapGemini and Computacenter. He regularly writes about Office 365 and Exchange in his personal blog,theucguy.net.
Next Steps
Shared mailboxes boost productivity
How to handle departed end users in Exchange
Alternative options to closing or disabling Exchange accounts
Dig Deeper on Office 365 and Microsoft SaaS setup and management