Evaluate
Weigh the pros and cons of technologies, products and projects you are considering.
Microsoft Online Backup Service in Windows Server 2012: Under the hood
Weigh the pros and cons of Microsoft Online Backup Service in Windows Server 2012. Some features could benefit IT shops.
With cloud being all the rage, one of the new and interesting capabilities added to Windows Server 2012 is a cloud backup service integrated directly into the operating system.
Microsoft's Online Backup Service takes copies of files and folders and stores them in Windows Azure for safekeeping. Similar to Amazon's new Glacier service, you can add cloud-based backups to your list of disaster recovery safeguards and multiply the places in which your data is duplicated for fault tolerance purposes. As always, there's good and bad with this new product.
Advantages
The Microsoft Online Backup Service uses block-level backups. Like its on-premises cousin, the Online Backup Service performs block-level backups. These are much easier to synchronize when data changes and better at using just the necessary amount of bandwidth and storage since only small changes are transmitted and stored.
You get built-in compression, throttling and encryption. The agent that runs on the Windows Server 2012 machine efficiently compresses all data before it's transmitted over the wire. Once the data is on the cloud servers, the service encrypts it based on a passphrase you submit. The passphrase never leaves your server, so the data is always encrypted in the cloud-- that's right, it's never decrypted. This allows for a higher level of security once this sometimes proprietary data leaves your premises.
Compared with other backup solutions, it is very inexpensive to get started. Unlike maintaining other storage products, there is no initial hardware investment required to use Microsoft Online Backup Service. To be fair, this is an advantage shared by other backup providers like Carbonite and Barracuda. You don't have to buy expensive additional storage hardware or deal with license fees from software providers. You set up an account and pay for the space you use while you are using it. No muss, no fuss.
You interact with and manage the service directly within the venerable Windows Server Backup MMC utility on your server, as shown in the figure. The service is currently in a closed beta, but the online backup service is destined for a preview release soon, according to Microsoft.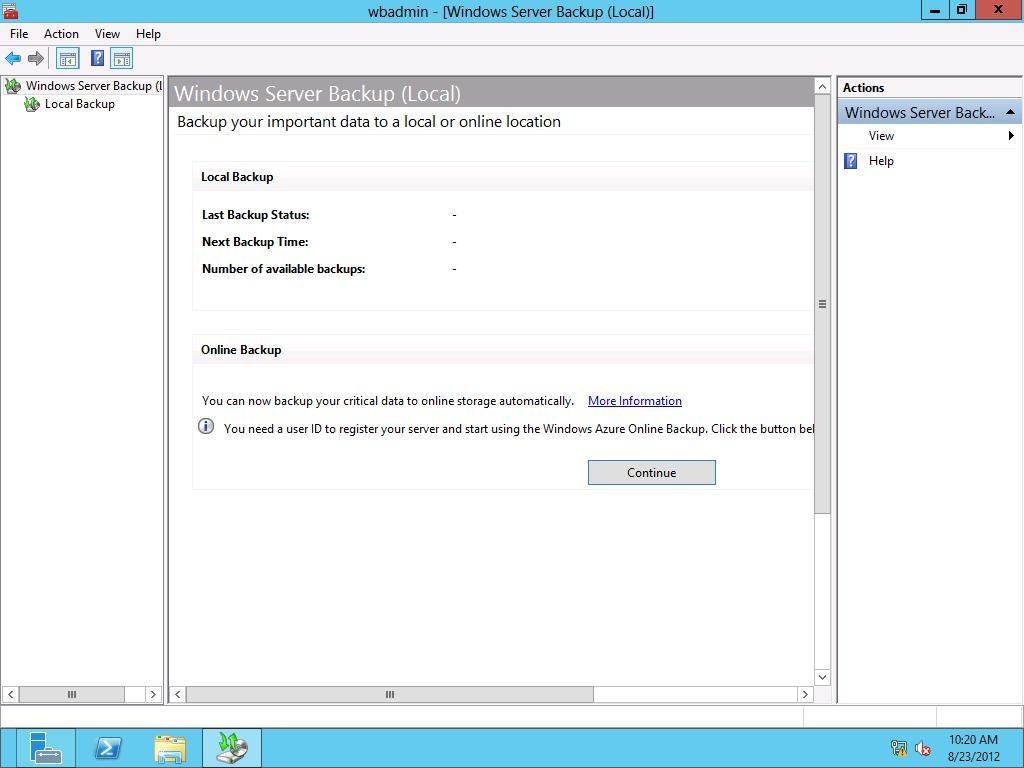 The Wbadmin panel manages the Microsoft Online Backup Service.
Disadvantages
According to Microsoft, there are some limitations when using the Online Backup Service.
You can't use the service on operating systems other than Windows Server 2012. There is no word about whether this will be addressed or if other OS-level targets might be supported in the future. Even if other OSes are supported, there's no guarantee the integration level will be back-ported. If you're a cross-platform shop, you might want to investigate other options.
BitLocker is out of the picture; it has to be turned off before the agent can back it up.
The backup source must be formatted with NTFS, FAT, ReFS and other volumes are left out in the cold. Neither can you use the service when your backup source isn't on a fixed-type drive. You can't use dynamic drives or volumes on network shares with this service.
Finally, you can't use the service when your source is read-only since it requires write access to your source. Your source must also be online; it can't be marked offline for any reason.
These limitations can make the service unsuitable for your primary backup regimen, but it can make a fantastic second level of defense in case something happens with your primary backups. It can also help when primary backups are too inconvenient to restore for simple requests, such as recovering a single mail or redelivering a single file that was accidentally overwritten.
The Last Word (for now)
Although final pricing hasn't been announced, you should expect the service to be priced much like Amazon Glacier at essentially a couple of pennies per gigabyte; there might be a slight premium given that, on the whole, Windows Azure is more expensive than Amazon's comparable offerings. This service has hooks directly integrated with Windows Server, while you'd have to cook up your own scripts and access to use Amazon Glacier with Windows. Still, this is a service which will likely be worth considering when it comes out of beta.
ABOUT THE AUTHOR
Jonathan Hassell is an author, consultant and speaker residing in Charlotte, N.C. Jonathan's books include RADIUS, Hardening Windows and Windows Vista: Beyond the Manual.
Dig Deeper on Microsoft Windows Server 2012