Problem solve
Get help with specific problems with your technologies, process and projects.
Microsoft System Center Advisor tracks server issues in the cloud
Microsoft System Center Advisor can help admins keep up to date with Windows Server configuration issues and avoid problems before they occur.
Windows Server admins are always looking for new ways to harvest and manage information about their servers. The more they can automate the process of collating reams of data about what's going on with their machines, the less they have to do it themselves. Not surprisingly, there's no shortage of these management tools, from log analysis applications to patch management utilities.
Microsoft's System Center Advisor (SCA) is a new cloud-hosted service that analyzes historical data gathered from servers, instead of just responding to momentary alerts. It lets admins monitor servers in an organization, gather information about possible issues before they become chronic problems and report them through a convenient Web interface.
System Center Advisor consists of two basic elements -- the service itself, which is hosted in Microsoft's cloud, and the software that is installed on the designated servers. The software is made up of two components, which include an agent installed on each server to collect data, and an advisor gateway, which forwards the gathered data on to the cloud. Every time the agent detects a problem according to a set of internal rules, it generates an alert and forwards the alert to the service. The resulting data can be seen through a Web-based portal where admins can view all the servers being monitored and any warning conditions recorded from the servers.
Figure 1: System Center Advisor snapshot (click to enlarge)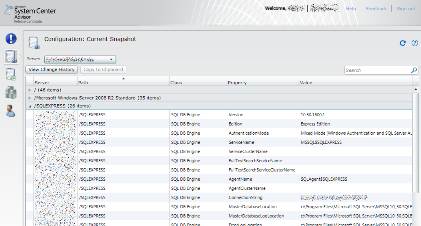 To set up System Center Advisor, download a package containing the System Center Advisor Gateway and agent programs. Note that one server in the network must have an Internet-facing network connection. That server is where the gateway is installed and where reports from all the other servers in the organization are harvested and forwarded to the SCA service on Microsoft's side. Each server also needs to have a copy of the agent installed, including the server where the gateway is running. The whole setup process takes a couple of minutes per machine.
Once installed, the first reports generated by SCA will take about 24 hours to show up since the agents have to collect data for some time before they can produce anything of value. However, not all of the alerts generated may be useful. Some may be totally spurious, or related to things that don't apply to a particular situation. As such, admins can elect to suppress specific alerts, but this is only recommended once enough reports have been generated to assess an organization's need.
Figure 2: Managing alerts in System Center Advisor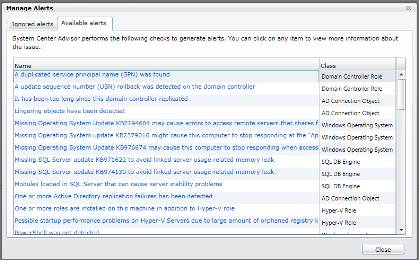 Note that System Center Advisor is meant as a way to gather information periodically from across multiple machines, rather than provide moment-by-moment alerts like with System Center Operations Manager. And since many of the issues SCA tracks unfold over time they're better handled via incremental tracking, which gives an aggregate view of changes.
The release candidate of SCA is freely available, but will eventually be limited to those signed up for the Software Assurance program. For now, the RC analyzes Windows Server 2008 and 2008 R2 installations, along with Active Directory, Hyper-V hosts and SQL Server 2008 or later. Other products might be added eventually, but these represent some of the most commonly used products in Microsoft environments. They're also products that are most likely to manifest consistently fixable problems due to admin oversights.
You can follow SearchWindowsServer.com on Twitter @WindowsTT.
ABOUT THE AUTHOR
Serdar Yegulalp has been writing about personal computing and IT for more than 15 years for a variety of publications, including (among others) Windows Magazine, InformationWeek and the TechTarget family of sites.
Dig Deeper on Windows administration tools