Evaluate
Weigh the pros and cons of technologies, products and projects you are considering.
Microsoft Web development tool simplifies website deployment
Currently in beta, Microsoft's WebMatrix tool is designed to provide a streamlined route to website development.
Over the years, Microsoft has changed the way Windows Server is delivered. For example, there's been a good deal of refinement to the SKUs that reflects the changing roles the OS has filled, such as the Web-only edition of Windows Server.
To that end, there now appears to be a rising culture of server add-ons from Microsoft that extend the way these new SKUs work and, as Microsoft principal program manager Scott Hanselman wrote, give you exactly the "right-sized LEGO pieces" so you don't have to buy or do more than what's necessary.
Microsoft's newest offering in this regard is WebMatrix, a Web development tool for -- in Microsoft's words -- "building, customizing and deploying websites in one common, straightforward experience." It is meant to complement an existing Windows Server system, or it can even be used as its own mini-server for simple projects. Through the WebMatrix installer you can set up any number of common open source web applications, including WordPress, Acquia Drupal, Moodle, SugarCRM and Joomla!, and use WebMatrix as a deployment system for those programs.
The setup process for WebMatrix allows you to install the default selection of tools or customize the installation. Some of the components might not be needed in your setup. For instance, you might not want to bother with the media-encoding components if you're not using WebMatrix. Since some of the components installed belong to third-party vendors, you may be asked to agree to separate licensing agreements or to supply additional setup data, such as an administrator password for an instance of MySQL. One or more reboots might also be needed if you install system-level components like the .NET Framework.
WebMatrix Web platform installation (click to enlarge)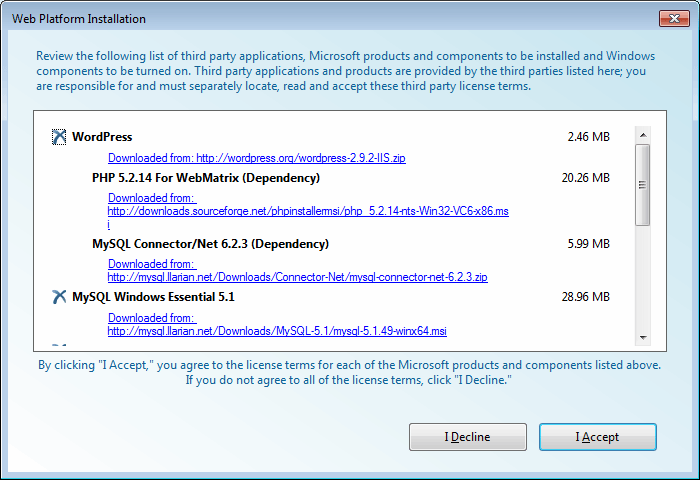 The main WebMatrix window lets you choose an existing site to manage, build one from a gallery of existing site templates (an incredibly handy way to do rapid prototyping), or create one from an existing directory of files. When you have a site open, you can switch between four major contextual overviews:
the site's general settings
the site's files
any databases attached to the site
details from search engine optimization (SEO) reports generated by WebMatrix for the site in question
The built-in file editor isn't terribly sophisticated, but it has syntax highlighting for many native web source code file types, including .PHP and .HTML. It also lets you launch an instance of Visual Studio to edit the site if you'd prefer. The WebMatrix installer lets admins set up a trial version of Visual Studio, but if you already have an instance of it installed, that'll work fine as well.
Finally, say you wanted to host the results on another server. You can publish a WebMatrix site to a remote site through a number of mechanisms, including plain old File Transfer Protocol (FTP) with or without SSL, or Microsoft's Web Deploy extension.
Since WebMatrix is still officially a beta, it's far from feature-complete. Many features are implemented only in the most basic fashion and others are completely missing. For example, the only databases that can be managed through the WebMatrix frontend right now are SQL Server databases, so you can't install, say, a WordPress blog with a MySQL backend and manage MySQL through WebMatrix. You need to do that via MySQL's own interface, though a future revision of WebMatrix ought to make it possible to have MySQL's Web management tools automatically installed.
Using Wordpress with WebMatrix (click to enlarge)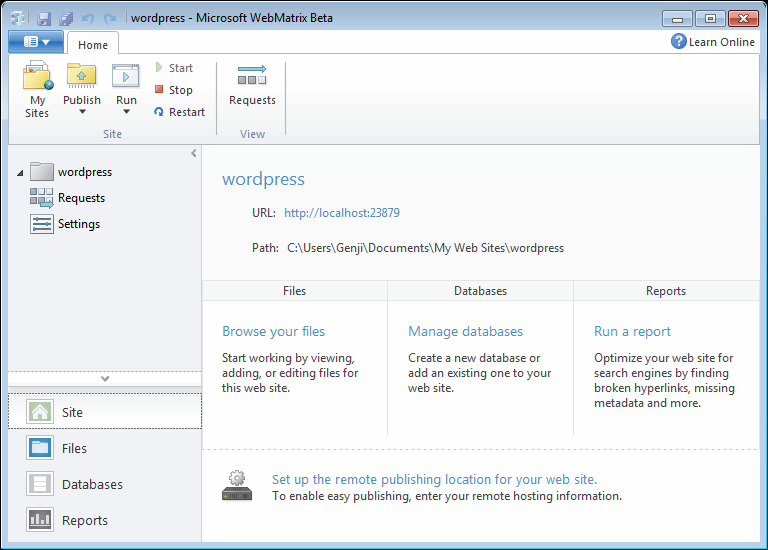 ABOUT THE AUTHOR
Serdar Yegulalp has been writing about computers and information technology for more than 15 years for a variety of publications, including InformationWeek and Windows Magazine.
Dig Deeper on Windows Server troubleshooting