tiero - Fotolia
Microsoft shakes up MCSD, MCSE certifications
Changes to Microsoft's MCSD and MCSE certifications will push IT pros to take elective exams annually -- instead of recertifying every few years.
There's now extra incentive to stay current with Microsoft's advanced technical certifications following the company's move to an annual "re-earning" model.
Microsoft made a number of changes to its expert-level certifications, including the Microsoft Certified Solutions Expert (MCSE) and Microsoft Certified Solutions Developer (MCSD) tracks, or "specialties," as they're called. The company also changed its recertification model such that IT pros can take an annual elective exam to keep their transcript up to date instead of taking a recertification exam every three years.
With updates to SharePoint, Skype for Business and Exchange Server, Microsoft also created the following five specialties for the MCSD and MCSE certifications.
MCSE Mobility requires the Microsoft Certified Solutions Associate (MCSA) Windows 10 certification.
MCSE Cloud Platform and Infrastructure requires the MCSA Windows Server 2012, MCSA Windows Server 2016, MCSA Linux on Azure or MCSA Cloud Platform certification.
MCSE Productivity requires the MCSA Office 365 certification.
MCSE Data Management and Analytics requires the MCSA SQL Server 2012/2014, MCSA SQL 2016 Database Development, MCSA SQL 2016 Database Administration or MCSA SQL 2016 Business Intelligence Development certification. All three tracks appear on the same MCSA page linked to SQL 2016.
MCSD App Builder certification requires either the MCSA Web Applications or MCSA Universal Windows Platform certification.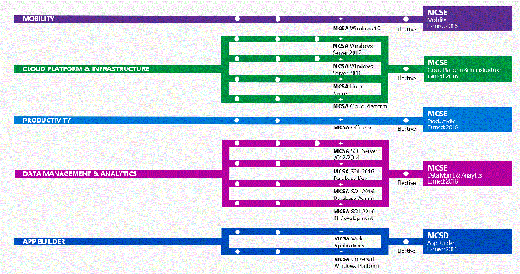 Same structure, new requirements
For each new credential, candidates must first earn a valid MCSA. To earn the corresponding MCSD or MCSE certifications, candidates must pass one additional elective exam.
In addition, new credentials do not expire, nor do they require recertification. Prior to this change, certification holders had to recertify for MCSD every two years and for MCSE every three years. Instead, candidates can now take additional elective exams -- or the next-generation replacement exams -- in the following year to earn a new MCSE or MCSD. Each credential will include the year it was earned in the name so it's visible on certification transcripts. IT professionals must continue to earn and upgrade MCSA certifications.
What about older MCSD and MCSE certifications?
All older MCSE and MCSD credentials will retire on March 31, 2017; exams for those credentials will no longer be available after that date. Candidates working on any soon-to-retire credentials should plan to finish by that date to avoid wasting time and money. Over time, MCSA credentials on older platforms and server versions will also retire.
Through the end of 2016, individuals with a current or "active" MCSE or MCSD certification that will retire soon can earn the equivalent of the new credential by passing an elective exam. IT pros who have already taken these exams automatically qualify for the new MCSE or MCSD. This eliminates the practice of developing and offering single-exam upgrades to new credentials -- and simplifies the overall certification upgrade process.
These changes emphasize ongoing education and encourage MCSD and MCSE holders to take electives and remain current on their certification transcripts -- often on an annual basis.
MCSE credentials that qualify for the elective upgrade option are:
MCSE Server Infrastructure
MCSE Private Cloud
MCSE Data Platform
MCSE Business Intelligence
MCSE Enterprise Devices and Apps
MCSE SharePoint
MCSE Communication
MCSE Messaging
MCSD credentials that qualify for the elective upgrade option are:
MCSD Application Lifecycle Management
MCSD Universal Windows Platform
MCSD Azure Solutions Architect
MCSD Web Applications
MCSD SharePoint Applications
With these changes, transcripts can track which certification credentials are "active," meaning they're still valid, or are "inactive," meaning they've expired, until the corresponding technologies are retired. At that point, related certifications will move to the legacy section of the transcript.
What does it all mean?
These changes emphasize ongoing education and encourage MCSD and MCSE holders to take electives and remain current on their certification transcripts -- often on an annual basis. This also lowers the burden of earning any single MCSE or MCSD to the number of exams required for the related MCSA -- typically, two or three -- plus one exam for the higher level credential.
A few certifications, such as the MCSA Windows 8 and the MCSA Windows Server 2008, won't survive this reorganization because they do not correspond to a new MCSE or MCSD certification. These older platform certifications will eventually appear in the legacy section of IT pros' transcripts.
Not all of the exams for the revised MCSD and MCSE certifications are available; some are in development, while others are still in beta. This is a fairly normal occurrence in certification programs where there is a lag between the announcement and a complete exam roster, which may not solidify until late 2016 or the first quarter of 2017.
Microsoft clears up a few questions
Larry Kaye, who wrote a blog post on Microsoft's certification site, clarified a few points about the changes to the MCSD and MCSE certifications.
First, members of the Microsoft Partner Network -- a group of resellers, service providers and so forth who are required to maintain a minimum number of certified staff members to keep their partner status valid -- will be required to participate in the program and get their staff into the new version credentials starting in 2017.
Second, Microsoft is moving from "recertifying" to keep certifications current to a "re-earning" model, which allows certification holders to keep certifications active by taking an elective exam on an annual basis. Microsoft will retire recertification exams because they focus "on reviewing skills that you have already proven, rather than changes in the products and services" and the "choice of elective exams allows you to focus on the newest technologies, in the specialty area of interest," Kay noted in his blog post.