Microsoft tool simplifies Windows server cluster configuration
Cluster configuration manager, commonly called ClusPrep, is a free Microsoft tool for determining if servers are properly configured to support clustering.
Part 1 | Part 2
Continue Reading This Article
Enjoy this article as well as all of our content, including E-Guides, news, tips and more.
Configuring Windows server clusters can be a challenging endeavor. To achieve the highest level of availability, server clusters need to be configured consistently in terms of both hardware and software. There are numerous items to consider when installing a new cluster, such as networking components, storage, DNS and the Active Directory to name a few.
Microsoft's Cluster Configuration Validation Wizard (also known as ClusPrep) is a useful, free tool designed to determine if servers are properly configured to support clustering. It runs as a client/server type of application by installing it once on the platform that runs the wizard. The wizard will remotely install agent components on potential or existing cluster servers so it can collect inventories and run validation tests. ClusPrep then correlates the information from multiple nodes and generates an HTML report revealing any inconsistencies or invalid configurations not suitable for clustering.
Background
The Cluster Configuration Validation Wizard grew out of the need to correctly configure server clusters up front rather than try to troubleshoot issues once the environment is put into production. The vast majority of cluster installation and operation problems stems from misconfigured systems. This can be attributed to hardware issues, such as cabling mistakes, or software inconsistencies, like driver mismatches.
ClusPrep originated from several other tools, including ClusDiag's ability to perform basic cluster validation tests and SysCompare's ability to correlate inventory collections from multiple servers. As ClusPrep continues to evolve, it has been built into the operating system in Windows Server 2008 as part of the Cluster Admin MMC. Although this KB article focuses on the out-of-band version of the tool you can currently download, its principles will apply to the subsequent releases found in Windows Server 2008 and beyond.
The BIG picture
To simplify the understanding of how ClusPrep works, see Figure A below. The tool is installed once on the client system (on the left), either a Windows XP SP2 workstation or a Windows 2003 server. The wizard is not currently supported on Windows Vista, Windows Server 2008 or 64-bit versions of XP and 2003. It is run to specify which servers (on the right) should be validated for suitable server cluster configurations.
Figure A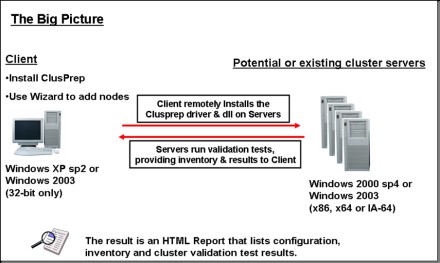 The client remotely installs the ClusPrep driver (Clusprep.sys) and DLL (CPrepSrv.dll) on the potential or existing cluster servers to be validated. These servers can be running Windows 2000 SP4 or Windows Server 2003 (32-bit or 64-bit). While the intent is to run ClusPrep before the server cluster is created and put into production, you can run the tool on an existing cluster to identify inconsistencies and collect baseline information.
Note: To prevent data loss, storage tests are never run on an existing cluster.
The servers to be validated run the tests and collect inventories. Agent components are de-installed after the tests. The results of the tests and inventories are sent back to the client where the data is correlated among the multiple servers. An HTML report is generated that flags any discrepancies that were observed during the tests and includes node-specific inventories and configurations. By default, the report is located in:
C:\Program Files\Microsoft\ClusPrep\Reports\ValidationReport.html
System configuration tests
A variety of system configuration tests are run on the potential or existing cluster servers to determine if they are properly configured to operate in a clustered environment. These tests must run successfully before other tests (network and storage) or inventory collections are run. The table below summarizes the different System Configuration Tests and what they validate.
System Configuration tests performed by ClusPrep

| | |
| --- | --- |
| System Configuration Test | Description |
| Validate Domain Membership | Checks to ensure servers are part of the same domain |
| Validate Domain Role | Checks to ensure servers hold the same domain role (either all DCs or all member servers, not a mixture) |
| Validate Processor Architecture | Checks to ensure servers have the same processor architecture (all x86, x64 or IA-64, not a mixture) |
| Validate Driver Signing | Checks to ensure that all device drivers are digitally signed by Microsoft |
| Validate Software Update Levels | Checks for hotfixes to ensure all servers have the same ones installed |
| Validate Service Pack Levels | Checks to ensure all servers have the same service pack level installed |
| Validate Operating System Versions | Checks to ensure all servers have the same operating system version installed |
The resulting HTML report will begin with a System Configuration section that lists the results of the configuration tests. Each test result indicates whether the test was successful, or a warning or a failure. An example of an HTML report is given in Figure B that illustrates the configuration tests and their results.
ClusPrep will flag any inconsistencies with a warning or failure result. In Figure B, you can see that Software Update Levels is flagged with a Warning (exclamation point). If you click on the link in the report associated with Software Update Levels, it will take you to a section of the report that lists the various hotfixes on each server. Figure C illustrates an example of inconsistent Software Update Levels with the server "nordikwolf" having installed hotfix 919117 but not installed on server "timberwolf."
Figure B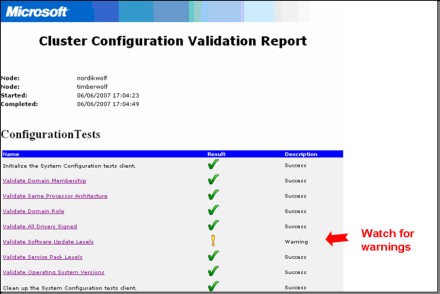 Figure C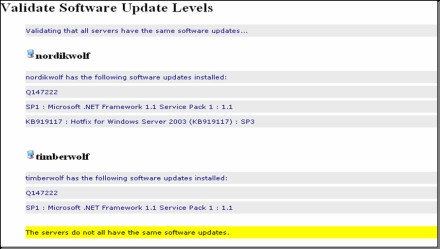 You have just learned how to install Microsoft's Cluster Configuration Validation Wizard and looked at how to analyze system configuration reports. Part two looks at the final phases of ClusPrep, where tests are run to determine hardware and software inventories and validate configuration functionality.
ABOUT THE AUTHOR
Bruce Mackenzie-Low, MCSE/MCSA, is a systems software engineer with HP providing third-level worldwide support on Microsoft Windows-based products including Clusters and Crash Dump Analysis. With more than 20 years of computing experience at Digital, Compaq and HP, Bruce is a well known resource for resolving highly complex problems involving clusters, SANs, networking and internals.