Problem solve
Get help with specific problems with your technologies, process and projects.
Microsoft's ABE keeps users honest
The inability to hide files and folders from users has been an administrative problem for several years, but not anymore! Expert Derek Melber breaks down Access-based Enumeration (ABE), a new tool from Microsoft that allows admins to control which resources users see.
It has been an Achilles heel within the Microsoft world since the first Windows operating system. You know what...
Continue Reading This Article
Enjoy this article as well as all of our content, including E-Guides, news, tips and more.
I am talking about: the inability to hide files or folders from users, even though they don't have access to the resource. Have no fear, Microsoft to the rescue! Now with Access-based Enumeration (ABE) you have the ability to control which users see resources, whether you are a medical institution trying to comply with HIPAA regulations or just a standard business trying to give users only what they need.
Acquiring ABE and limitations
You can download ABE from Microsoft's Web site for free. It is available in three different flavors: AMD64, I386 and IA64. You can download the correct version from here. Once you have it downloaded, you will then need to install it on each server where you want to control access to the resources based on the access control list. Since ABE comes in the form of an MSI package, you could use Group Policy to deploy ABE to all the appropriate servers.
ABE only works on Windows Server 2003 servers that have Service Pack 1 installed. The client is not important; it is just the server portion that has the limitation. If you have a mixture of Windows Server 2003 and Windows 2000 Server file servers, you will only be able to use ABE on those servers running 2003.
Implementing ABE
After download and installation of the MSI on the desired Windows Server 2003 SP1 server, you just need to go to the shares where you want to enable ABE. Each share controls whether ABE will be used for the files and folders contained under it. To control if ABE is enabled, you only need to access the Properties sheet for the shared folder. There you will find a new tab named Access-based Enumeration, as shown in Figure 1.
Figure 1. Access-based Enumeration tab controls how users see resources.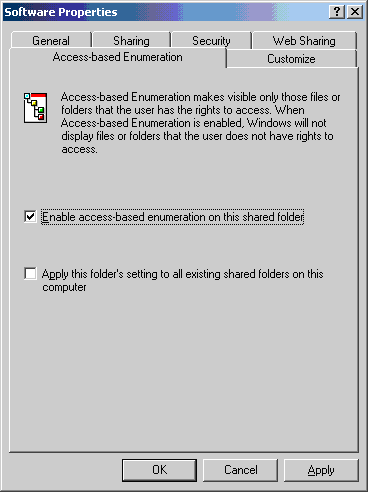 Finalizing the configuration
Now that Access-based Enumeration is enabled for this share, the final step is to configure the access control list (ACL) for the files and folders that reside under the shared folder. This is the standard method of establishing which users have the specified level of access. For files, the user needs at least Read access. Folders also require Read access but can be restricted to hide the contents of the folder.
Summary
Access-based Enumeration is a welcome addition to any network. For the longest time, administrators and security professionals have created elaborate workarounds to hide resources from users. Now ABE solves this problem by hiding resources that users don't have explicit access to. It works great for networks that have Windows Server 2003 SP1 servers with any client viewing the resource.
---
Derek Melber, MCSE, MVP, and CISM, is the director of compliance solutions for DesktopStandard Corp. He has written the only books on auditing Windows security available at The Institute of Internal Auditors' bookstore. He also wrote the Group Policy Guide for Microsoft Press -- the only book Microsoft has written on Group Policy. You can contact Melber at derekm@desktopstandard.com.
Dig Deeper on Windows Server storage management