kentoh - Fotolia
MigrationWiz can make Office 365 migrations whiz by
Native tools are useful for Office 365 migrations, but sometimes a third-party utility can simplify the complicated task of moving data.
As the number of organizations moving to Office 365 increases, the chance of merging two organizations that both...
Continue Reading This Article
Enjoy this article as well as all of our content, including E-Guides, news, tips and more.
have an Office 365 setup increases, as well. CIOs often want to fuse the infrastructure to use a single vendor, so Exchange admins have their work cut out for them. Researching migration options and making clear plans before taking that first integration step can ease the process.
In this four-part series, we've demonstrated some of the core tasks required to maintain mail flow when migrating mailboxes between tenants. We've covered two prerequisites for tenant-to-tenant migrations and explained how to set up Active Directory users on-premises for each end user in the target Office 365 tenant, as well as how to configure mail flow. We've also walked through the steps to perform a tenant-to-tenant migration using native hybrid functionality.
Now that we've covered these important aspects, we can look at how to use a third-party tool to perform the migration. Native Exchange tools can help, but it may be quicker and easier to use a third-party tool to move data.
MigrationWiz for direct tenant-to-tenant migrations
Instead of migrating mailboxes to an on-premises hybrid Exchange Server and then back up to another Office 365 tenant, we can use a third-party tool to perform a direct migration. For this example, we'll use BitTitan MigrationWiz. Other alternatives are available, including Dell OnDemand Migration and CloudMigrator365. It's important to know that there aren't any free tools apart from the hybrid option highlighted earlier in the series, but I'm highlighting MigrationWiz here because I've successfully used it for real customers.
The basic process for this involves using an administrative account with the application impersonation role added. This allows MigrationWiz to use Exchange Web Services to copy mailbox content from the original mailboxes in the source tenant to new mailboxes in the target tenant.
We'll use the same users that Active Directory created beforehand, but we'll enable the Remote Mailboxes in the target Office 365 tenant the same as any other mailbox in our example organization, "Goodman Industries."
We'll add the lisajanedesigns.co.uk email address to each migrated end user to switch over mail flow after performing an initial synchronization using MigrationWiz. Once we've done this, we'll instruct users to log into email via Goodman Industries before performing a final sync.
To get started, we'll create the new Role Group containing the ApplicationImpersonation role in both tenants. In Office 365's Exchange Admin Center, navigate to Permissions > Admin Roles and choose Add (Figure 1).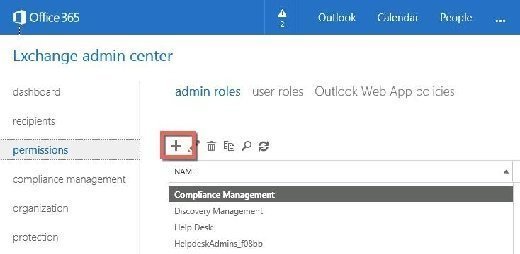 Choose a unique name for the Role Group -- for example, ApplicationImpersonationRG. Add the role ApplicationImpersonation and add the user (in our example, admin in each tenant) and then press Save.
After ensuring administrative accounts have the correct roles in the source and target tenants, log into the MigrationWiz portal. Choose Create a Project and select Create a Mailbox Project. You'll see more complex project options because MigrationWiz has different project types, including those in which you need to migrate OneDrive for Business. We'll leave those for now, because our example organization mailbox migration is all that's required (Figure 2).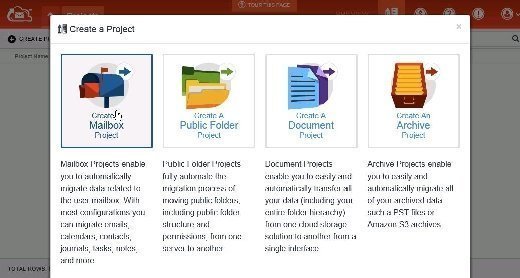 After selecting a project type, give it a suitable name. We'll call our example project LisaJaneDesigns to GoodmanIndustries to reflect the source and target tenants. Then, select Office 365 for both the Source and Destination options and specify that they will use Administrator credentials.
The final setup step is to choose Advanced Options. For both the Source and Destination, select Use impersonation to authenticate (Figure 3).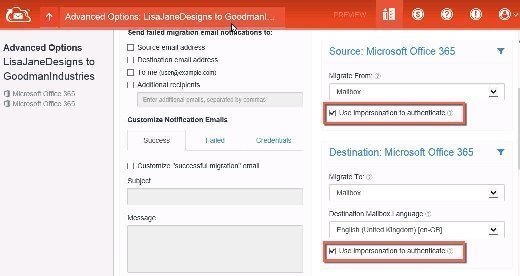 After creating the project, add the mailboxes to migrate. We have two primary options:
1. Use the Quick Add option to add source and target email addresses for each tenant.
2. Use the Bulk Add option to import a CSV file with source and target email addresses.
We'll use the Quick Add option to illustrate the process for a single mailbox. In our example, we have a separate email address for the source and target users. This is because our mailbox in one target Office 365 tenant can't have an email address in the other Office 365 tenant at this stage. Some migrations with MigrationWiz -- Google Apps to Office 365, for example -- will use the same email address in both. Choose Save Item after adding the email addresses to link the mailboxes together in MigrationWiz (Figure 4).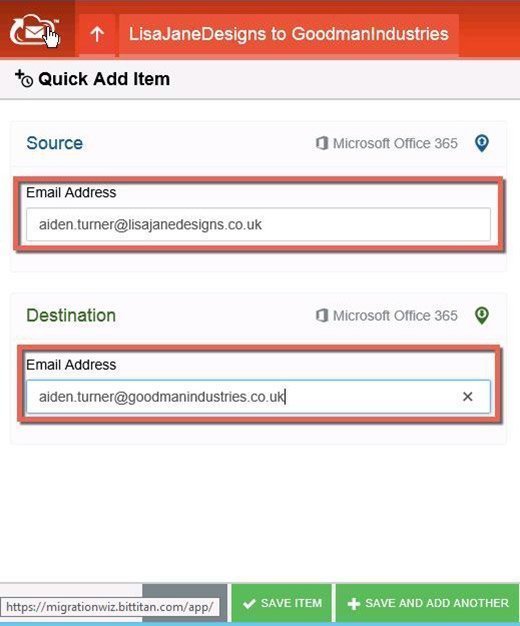 Nothing happens immediately after adding mailboxes to MigrationWiz; the source and target mailboxes remain untouched until you choose to migrate data. The first step for the data migration is to verify administrative access works.
Select a user and then choose the Verify Credentials icon. After a successful verification, the Status column will show Completed (Verification).
It's now safe to perform an initial tenant-to-tenant mailbox synchronization after successful verification. Choose Start Migration after selecting the mailboxes to sync.
This example uses Premium licenses because these allow multiple passes. It also enables us to perform a crucial full sync in the background before switching the user over and performing a quick final sync, and if we'd like, additional synchronizations in the interim.
After selecting the migration type and license, choose Start Migration to begin (Figure 5).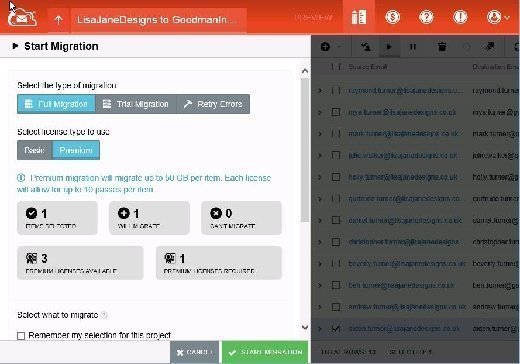 After a successful initial migration, you're ready to switch the mail flow over to the target mailbox in the Goodman Industries tenant. Open the properties for the Remote Mailbox on the hybrid Exchange Server and add the email address from the source tenant.
Mail flow should immediately begin to the target mailbox because of the first step: we added the internal relay domain, changed the Mail Exchange (MX) record and gave the hybrid Exchange Server control over mail flow.
If the server doesn't find a local email address for the Lisa Jane Designs mailbox, it will relay the mail out to the Lisa Jane Designs tenant via the Send Connector we created. As soon as we add an email address to a recipient, mail will then flow to that recipient -- whether on-premises or in our target Office 365 tenant (Figure 6).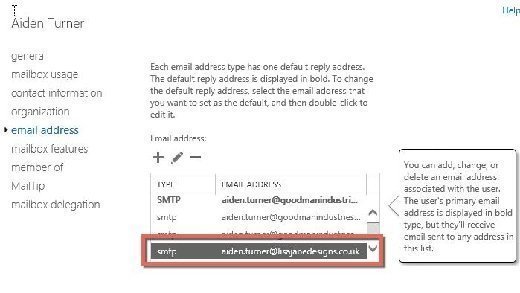 To refine the process using MigrationWiz for a large-scale migration, add a forwarding address to the new Goodman Industries (target) mailbox that forwards to the Lisa Jane Designs (source) tenant until the point of the final synchronization. Then remove the forwarding address on the Goodman Industries tenant mailbox before the final synchronization, and add a forwarder in the source Lisa Jane Designs tenant. You can easily avoid this additional step by keeping the time in creating the mailbox in the target tenant, which performs the sync.
After synchronizing and switching all mailboxes over to the target tenant, remove the mailboxes in the source tenant, then remove the custom domain from the source tenant and re-register it in the target tenant. DirSync on-premises should now automatically synchronize additional email addresses added on-premises to the target tenant, potentially allowing the MX record to be switched back to Office 365.

About the author:
Steve Goodman is an Exchange MVP and works as a technical architect for one of the U.K.'s leading Microsoft Gold partners. Goodman has worked extensively with Microsoft Exchange since version 5.5 and with Office 365 since its origins in Exchange Labs and [email protected]

Next Steps
This is part four in a series exploring some of the tasks Exchange admins have when mergers or acquisitions involve Office 365.
Part one covered Office 365 tenant consolidation
Part two covered tenant-to-tenant migration prerequisites and migrating via a native tool
Part three covered how to migrate Office 365 using a hybrid Exchange Server
Dig Deeper on Office 365 and Microsoft SaaS setup and management