Monitor network bandwidth with CyberGauge
While the burden of monitoring network bandwidth has eased over time, the emergence of unified communications technologies could once again make it a high priority. While there are several bandwidth monitoring tools to choose from, CyberGauge is a great solution for admins who want to monitor individual devices.
Years ago, network bandwidth was a huge concern. Today, however, bandwidth is almost a non-issue. Gigabit Ethernet...
Continue Reading This Article
Enjoy this article as well as all of our content, including E-Guides, news, tips and more.
is cheap, and network switches make it possible to form virtual circuits among machines that need to communicate with each other, which eliminate many of the bandwidth contention issues of the past.
Things are starting to change, though, as unified communications become more prevalent. Things like video conferencing and streaming audio tend to consume much more bandwidth than normal data does. As these technologies become more popular, monitoring your available network bandwidth will once again become a priority.
Even if you never plan on deploying these high-demand applications, it is still a good idea to monitor the amount of bandwidth being consumed on your Internet connection. Although high-speed Internet access has become widely available, almost every application today is designed to be Internet enabled. Applications can do everything over the Internet from checking for updates to providing the end user with a rich collaborative experience.
There are many ways to monitor the amount of network bandwidth being consumed. One solution I found involves using a network bandwidth monitoring tool called CyberGauge from a company called SolarWinds Inc.
The good thing about CyberGauge is that it can monitor bandwidth usage for individual devices. This means that administrators can monitor bandwidth consumption of individual servers, network switches, wireless access points, NAS appliances, Internet gateways or anything else they want to monitor. The only requirements for monitoring a device are that the device must have an IP address assigned to it and it must support SNMP (Simple Network Management Protocol), as shown in Figure A. CyberGauge supports SNMP versions 1, 2 and 3.
Figure A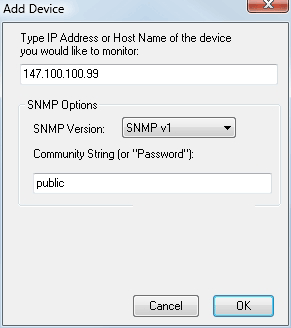 As you would expect, CyberGauge is designed to log bandwidth usage and generate reports on a daily, weekly or monthly basis, and you can produce a report manually at any time. But, the reporting capabilities don't end there. In addition to showing you how much network bandwidth devices actually consumed, CyberGauge can produce reports displaying the traffic distribution patterns so you can identify your heaviest bandwidth users. This feature also helps you learn what types of traffic patterns are normal for your network, which helps you spot any abnormalities that may occur.
In addition to text-based reports (which are compatible with Microsoft Excel), CyberGauge can also produce performance-monitor-style, graphical usage reports. In doing so, CyberGauge creates a JPEG image of the usage graph on a periodic basis. Technically, these JPEG images aren't necessary since text-based reports can convey the same information, but some people have an easier time digesting graphical reports than text-based ones.
Perhaps the best part of CyberGauge is its alerting feature. CyberGauge can be configured to watch for various conditions and then transmit an email message or a net-send message when those conditions occur. Figure B shows that you can even configure CyberGauge to launch an application when an alert is triggered.
If you enable the alerting feature for specific periods of time, it can help you spot network problems as soon as they happen, while reducing the chances of false alarms.
For example, suppose that your company only has a daytime shift. If the traffic flowing through your main switch were to drop to zero during the day, it would probably indicate a serious problem. If the traffic flowing through the same switch were to drop to zero at night, though, it would simply be because everyone has gone home for the day. Having alerts that are aware of the time of day would allow you to monitor for critical failures while avoiding false alerts after hours.
As I previously mentioned, there are many different tools available for monitoring network bandwidth usage. I like CyberGauge because it is versatile and easy to use. Remember, though, if your network devices are not SNMP enabled, then CyberGauge will not work for you.
ABOUT THE AUTHOR
Brien M. Posey, MCSE, has received Microsoft's Most Valuable Professional Award four times for his work with Windows Server, IIS and Exchange Server. He has served as CIO for a nationwide chain of hospitals and healthcare facilities, and was once a network administrator for Fort Knox. You can visit his personal Web site at www.brienposey.com.
Dig Deeper on Windows Server storage management