Monitoring Windows DFS health with diagnostic reports
Windows Server 2008 features new reporting capabilities to help admins stay one step ahead of potential DFS replication problems.
When it comes to the Windows Distributed File System (DFS), one of the most difficult things to troubleshoot can...
Continue Reading This Article
Enjoy this article as well as all of our content, including E-Guides, news, tips and more.
be DFS replication.
In smaller organizations, it is sometimes easier to look at a target folder to see if data is being replicated, while in larger organizations, this approach is impractical. In either case, it is difficult to always tell if updates to data files are being replicated just by looking at the contents of a target folder.
Microsoft provides some diagnostic tools that you can use to troubleshoot Windows DFS replication problems. These tools are built into Windows Server 2008, eliminating the need to download or install new software. The simplest way to diagnose replication problems is to create a DFS diagnostic report. The two types of DFS reports featured in Windows Server 2008 are health reports and propagation reports.
To create a diagnostic report, open the DFS management console and right-click the replication group that you want to examine. Choose the Create Diagnostic Report option from the shortcut menu and Windows will launch the Diagnostic Report Wizard, shown in Figure A. As you can see, both the health and propagation reports are displayed as options.
Figure A. Windows Server 2008 offers two types of diagnostic reports (click to enlarge)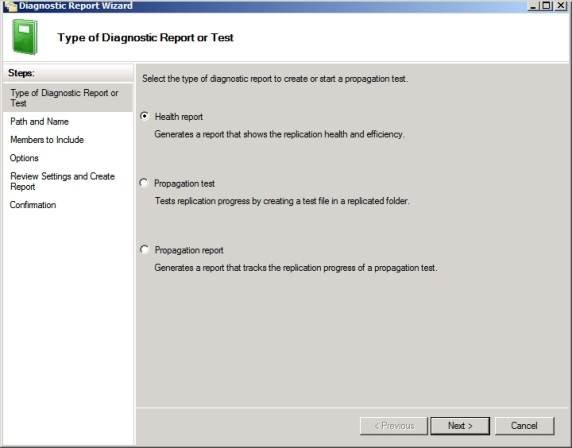 Creating a health report
If you choose the health report option, the wizard will ask you to provide a report path and a name for it. Accept the defaults and verify that the correct replication group has been selected.
The following screen will be similar to the one shown in Figure B. Choose the replicas that will appear in the report. Generally, you will want to include all of the replicas. If there are certain replicas that are of greater interest, however, you can always narrow down the list.
Figure B. Choose the replicas that will appear in the DFS health report (click to enlarge)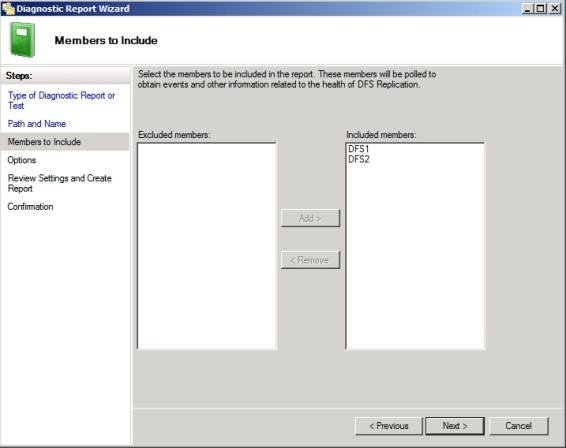 The following screen addresses backlogged files. It is a good idea to have Windows count the number of backlogged files on each replica to determine whether each one is up to date. If there is a large number of a backlogged file, Windows may take a long time to complete the report.
This screen also includes an option to count the number of replicated files and relative sizes. Keep in mind that having more than 10,000 replicated files will also have a negative impact on how long the report takes to complete.
Make sure the reference member option points to the replica that contains the most current copy of the files on the network. On the following screen, verify that the options in the reporting summary are correct and click the Create option. An example of a DFS health report is shown in Figure C.
Figure C. Diagnostic health report for Windows DFS (click to enlarge)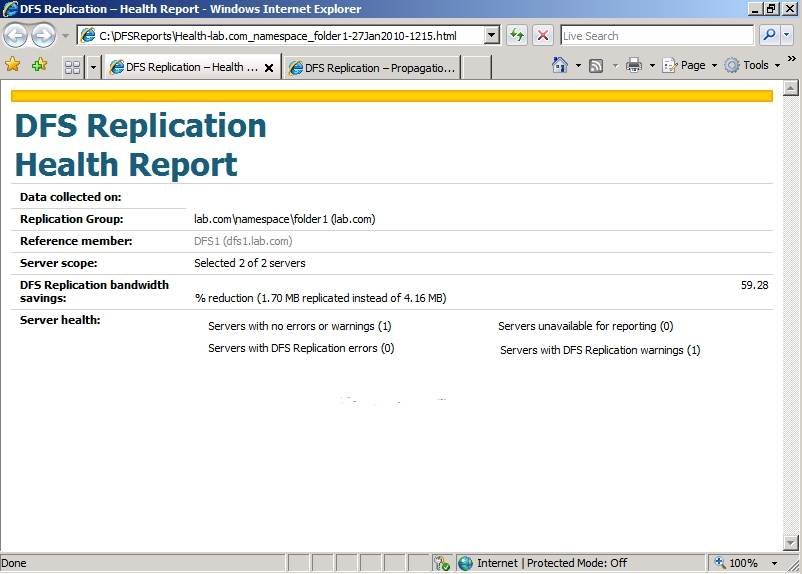 Creating a propagation report
Of course, you could also choose to go with the propagation report option. Notice both the propagation test and propagation report options in Figure A. The propagation test generates the data for the propagation report.
Setting up a propagation test is simple. First, select a replicated folder and a propagation server, as shown in Figure D.
Figure D. Propagation test setup (click to enlarge)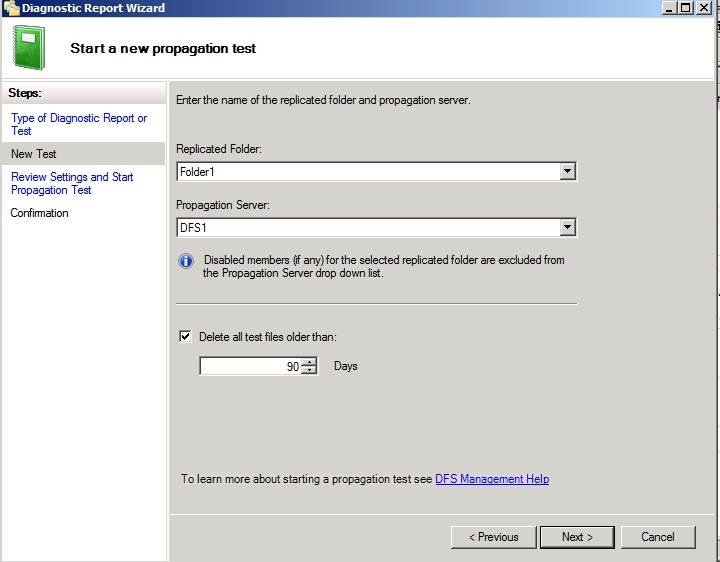 Once the test is complete, you can generate the propagation report based on the test data. Figure E shows an actual propagation report.
Figure E. Propagation report (click to enlarge)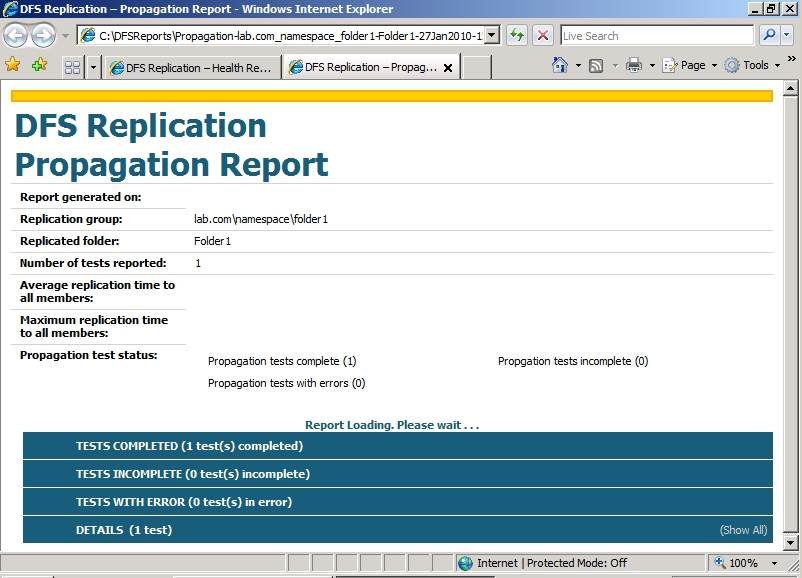 While file server replication can be notoriously difficult to troubleshoot, DFS health and propagation reports provide an easy way to avoid Windows DFS troubleshooting.
ABOUT THE AUTHOR
Brien M. Posey, MCSE, has received Microsoft's Most Valuable Professional Award four times for his work with Windows Server, IIS and Exchange Server. He has served as CIO for a nationwide chain of hospitals and healthcare facilities, and was once a network administrator for Fort Knox. You can visit his personal Web site at www.brienposey.com.