News
Stay informed about the latest enterprise technology news and product updates.
Office 2016 features update the mail client for more collaboration
In addition to design changes, Office 2016 offers new applications such as Clutter and Modern Attachments to make collaborating in the Exchange mail client much easier. Should you upgrade?
Microsoft Office has undergone a lot of layout and functionality changes as the focus changed from a desktop application to one that runs on devices of all shapes and sizes.
Office now runs on any type of device that people use -- be it a desktop, laptop, tablet or mobile device. With the release of Office 2016, the focus has shifted to team productivity rather than information worker productivity -- a positive change given that the way in which team members work has changed dramatically. Gone are the days where we had every team member around the same desk -- people are working from all kinds of locations and Office 2016 features provide the productivity that a diverse team needs.
Microsoft is making it easier for users to find the options and features they need within an application.
As you start using the Office 2016 features on a Windows platform, one thing that will catch your eye straight away is the "Tell me what you want to do" feature in the ribbon. The "Tell me" feature is a search tool that takes users to the feature they need. Just type in what feature you are looking for, and the shortcut pops up. For example, you can type in "create a table" and the option is a click away (Figure 1).

Smart Lookup is a new Office 2016 feature that can be used in Word, Excel, PowerPoint and Outlook. Rather than the traditional way of searching for something by minimizing the Office application and using your favorite search engine, Smart Lookup uses Bing to search for the term without leaving the application. Smart Lookup is a timesaver for diverse projects, such as fact-checking a presentation or researching a paper. Highlight the phrase, right-click and select "Smart Lookup." You will see the search results on the right-hand pane.
New mail client features include Clutter and Modern Attachments
Outlook 2016 adds new features that make working with the Exchange mail client much easier.
The first feature to grab anyone's attention is the way Outlook 2016 lists all the recent documents when you want to attach a file (Figure 2). This is a great feature for those who spend a considerable amount of time in Outlook. No more hunting for the file you just worked with. Click "attach file" and select the right one from the list.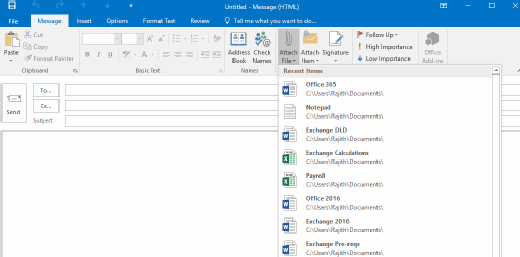 The new Exchange mail client introduces Clutter, a personal mailbox assistant to make users more productive by avoiding unimportant email messages such as newsletters and marketing materials. A Clutter folder is created within the mailbox tree. The feature analyzes the user's behavior from various emails and learns from it. For example, if you frequently delete certain marketing email messages, Clutter will start moving them to the Clutter folder.
Microsoft is trying to make it easier for users to find the options and features they need within an application.
The good thing about Clutter is that it doesn't delete email messages, but keeps suspected unwanted mailings in the Clutter folder. End users can look in the Clutter folder and move any important messages. This mailbox assistant learns from users' actions and assists them better in the future.
Modern Attachments is also new to Outlook with the Office 2016 release. You can now attach a file that is stored in OneDrive, OneDrive for Business or SharePoint Online and set permissions for the document, all without leaving the mail client.
Collaboration and co-authoring pushed to next level in Office 2016
Word, PowerPoint and OneNote 2016 support co-authoring as long as the documents are shared in OneDrive, OneDrive for Business or SharePoint Online -- improving team productivity. But Word 2016 steps up the game with real-time co-authoring so you can see updates another user makes as they happen. You can actually see what they type while you update the same document. Although that is a big step, I personally would be uncomfortable working on a document that is being edited by a different user in real time.
Skype for Business takes collaboration to the next level. While multiple authors work on the same document, you can communicate with them via instant messaging, voice call, video call or email, all from within the Office 2016 application.
Excel 2016 introduces six new chart types for heavy users of the application: waterfall (financial), histogram, box and whisker, pareto (statistical), treemap and sunburst (hierarchical). As the data is updated in the spreadsheet, the charts reflect the change as well.
Application color schemes in Office 2016
Each Office 2016 application is given a distinct color: Word is blue, Excel is green, PowerPoint is red and Outlook is a light blue.
I have worked with this color scheme and made the mistake of opening Word multiple times instead of Outlook, especially because I have the shortcuts pinned to the taskbar. In my opinion, it will be a good move to bring the familiar yellow color for Outlook to avoid the confusion.
What's the final word then? Are the features worth an Office upgrade? It depends on how you work. If you work in a team and make use of the Office 2016 collaboration features, then it is definitely worth an upgrade. If you work on your own and already have Office 2013, you will find some good features in Outlook 2016, but it probably won't justify the cost associated with the upgrade. For businesses, perform extensive testing to make sure that all third-party plug-ins are compatible with the latest Office version before it can roll out. It may take a few months for the third-party vendors to catch up and update their plug-ins.
About the author
Rajith Enchiparambil is a UC Architect who works on large Exchange and Office 365 projects for clients in the U.K.