Pete Saloutos - Fotolia
Office 365 Video puts MS Enterprise Social in limelight
Office 365 Video gives enterprises a new, easy way to post and view videos while providing control over who can access them.
Enterprises want ways to control access to videos or give end users easy ways to post and view videos. Microsoft responded with its Office 365 Video feature, which works with Windows Azure Media Services to allow posting directly within Office 365 portals.
The Office 365 feature may be enabled by default; it's being released to those with portal settings configured to allow roll out or feature updates as soon as Microsoft makes them available. Go to the Office 365 admin center's Service Settings and select Updates to see if the setting is on (Figure 1).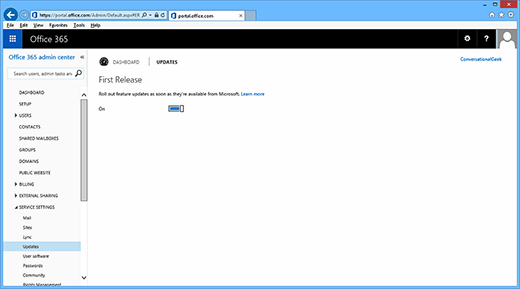 Once update settings are configured -- you may need to wait for the feature to show up once you turn on the setting -- you'll see a new Video option in the quick links App Launcher dashboard (Figure 2).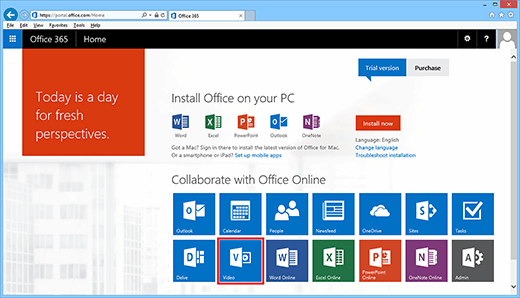 Once the Video feature is set up, you have options to create a channel, manage settings or learn more about the feature (Figure 3).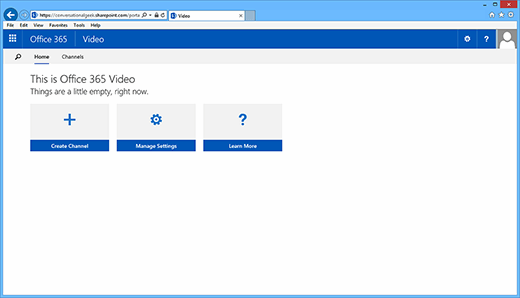 By default, there's a Community channel (you can change the name) and you can begin posting videos there. When you create a new channel, give it a name and pick a color. In the example, I created one called "Windows and Office Training" with a blue background. You can upload videos after creating the channel (Figure 4).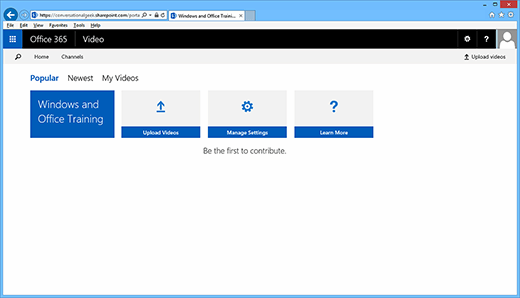 After selecting the Upload Video option, select videos to upload or drag files to the new section. Once the videos upload, there are many organizational options based on the most popular videos, the newest videos or posted videos (Figure 5). Select what to watch or click the ellipsis at the bottom of a video to see a mini screen play the video.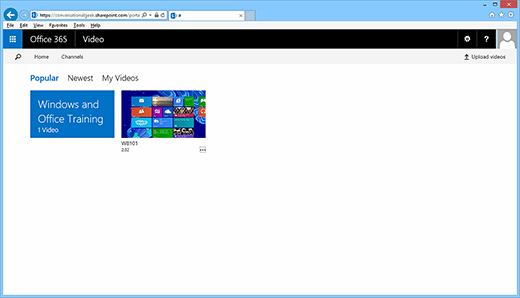 If you've ever posted videos to YouTube, the rest is pretty intuitive. As the library grows over time, click on the magnifying glass to search for videos. You can also use Office Delve to discover videos.
Admins can also configure permission settings on who can post videos. You can configure company portal permission settings from the homepage by selecting the settings wheel and choosing Video portal settings. However, when you're on a channel page and you select the settings wheel, you see the Video channel settings option to set permissions.
Adjusting portal permissions means you can control who manages the homepage, change permissions and determine who can create channels (Figure 6).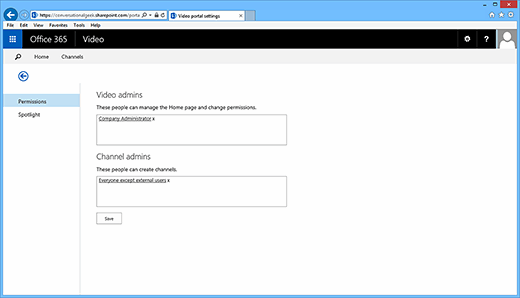 Admins can also control who manages videos and edits channel settings. It's also possible to determine who can view videos (Figure 7).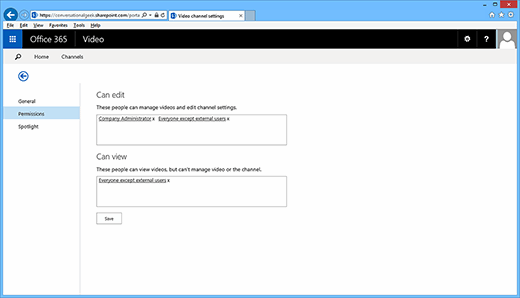 You might not have a lot of videos to start with, but as you grow out your library within channels, you may appreciate the Spotlight feature. This feature allows you to choose the videos you want to display on the channel page. You can configure how you want your homepage to look and which channels you want to appear on the homepage. You can also adjust which videos you want to highlight in individual channel settings.
Behind the scenes of Office 365 Video
After going through the basic settings and setup of Office 365 Video, it's time to discuss some of the underlying services. On one hand, the video is uploaded to and shown through SharePoint Online as the front-end; however, Azure Media Services is on the back-end.
When you upload a video with a supported codec (there are plenty of supported video and audio codecs), Azure Media Services preps the video to ensure the best video playback for end users. Depending on what device you use (desktop, tablet or mobile) and what bandwidth you attempt to connect with, it will make sure the resolution and quality are sized for the best playback experience. Note that the transcoding process can take time once you upload a video, so don't expect immediate upload or viewing capabilities.
Your enterprise can search video content, but you also have the ability to see that content in Delve cards which are automatically put together with Office Graph. You also have the ability within the video page itself to directly share the video into Yammer. This kind of collaboration built right into the feature is a nice bonus.
From a security perspective, it's good to note that all videos at rest or in transit are encrypted and secure. However, if you decide you don't want to use Office 365 Video in your environment, you can disable (and re-enable) it through the SharePoint Admin Center. Use this resource to learn how to manage Office 365 Video in greater detail; you'll find section that walks you through the disable/re-enable process toward the bottom.
Final thoughts on Office 365 Video
I see nothing negative in this feature and I give this feature two thumbs up. For one thing, it's free and was an entirely unexpected Office 365 add-on. Microsoft is making smart moves by adding continued value to its service without inflating the price or being too a la carte about every little feature.
Is Office 365 Video actually free?
The service itself is free, but the uploaded video files are hosted and measured based on the team sites' pooled storage. Storage is still a factor, and depending on usage, may end up costing you.
Office 365 Video can help organizations push out new employee training videos or in-house training videos. It's not a full-fledged learning management system (LMS) -- it's not even LMS-lite. But it's a great way to securely share videos in-house with an option already handling many other services, including email. Plus, the fact that you can use it to collaborate through other tools such as Delve and Yammer can be a great benefit.
About the author:
J. Peter Bruzzese is a Microsoft Office 365 MVP, as a five-time awardee with previous technical expertise in Exchange, a Triple-MCSE, an MCT and an MCITP: Enterprise Messaging. He is the co-founder of an end-user training solution called ClipTraining.com and is a strategic technical consultant for Mimecast. He is an internationally published author with more than a dozen titles to his name. He is a technical speaker for a number of conferences, including Techmentor, IT/Dev Connections and Microsoft TechEd. He writes for online and in-print tech and has written InfoWorld's Enterprise Windows column for more than five years. More recently, he focused his attention on new users in the Exchange/Office 365 community and wrote a short book titled Conversational Exchange (in 10 days!) to help them learn Exchange's conceptual side. In his spare time -- well, let's face it, folks, with all that, JPB has no spare time.
Dig Deeper on Office 365 and Microsoft SaaS setup and management