Luis Louro - Fotolia
Get started
Bring yourself up to speed with our introductory content.
Office 365 admin portal updates offer new insights
The updated service health dashboard in the admin portal enables the IT staff to uncover more specifics when trouble hits the Office 365 platform.
A move to the cloud brings a feeling of powerlessness to administrators who once controlled every system within the data center. But Microsoft's updates to its Office 365 admin portal give IT visibility into the platform to assist with training and troubleshooting.
Office 365 reduces an organization's on-premises infrastructure and applications, such as email servers and SharePoint, in favor of a hybrid or pure cloud play. With this shift, admins spend more time monitoring the status of Office 365 services to stay abreast of disruptions and outages that potentially affect users.
The service health dashboard is a critical part of the Office 365 admin portal for administrators. It provides a single place to check the status of their online services and determine if a disruption impacts the business. Recent enhancements to the portal relate to the overall health of the services, and others focus on ways for admins to encourage user adoption of the platform.
Microsoft overhauls the Office 365 service health overview
The summary view of the Office 365 service health dashboard gives admins an indication of any trouble at a glance. This area displays any recent incidents and advisories from Microsoft and also includes messages about planned maintenance to the platform. Microsoft notifies customers at least five days prior to any work that affects service performance.
If there is an ongoing issue, administrators drill into the service to get additional details. Microsoft also provides access to historical data of service problems that admins further segment with date filters.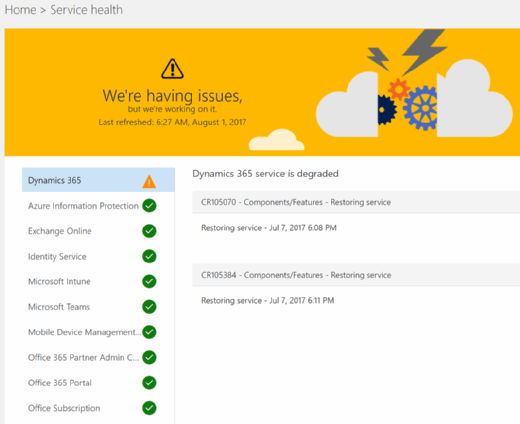 Power BI dashboards share user insights
Other updates in the Office 365 admin portal include new service usage dashboards to enable administrators and business leaders to see statistics on end-user activity in the different workloads.
Administrators must configure the free Power BI subscription and activate the Office 365 adoption content pack -- found under the Reports > Usage section on the left navigation menu -- to produce the dashboards.
After the setup, the Power BI service pulls in usage data to populate dashboards with valuable insights related to user activity in Exchange, Skype for Business, OneDrive, SharePoint and Yammer; user adoption by product, department and region; and assigned licenses. The dashboards are then available through PowerBI.com or from a mobile device or a tablet that runs an iOS, Android or Windows platform.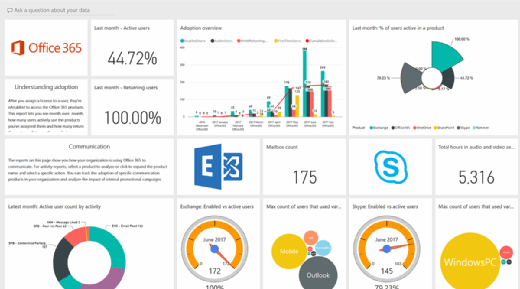 Through Power BI, administrators gain access to advanced interactive capabilities. If the admin asks a question, the system responds with data visualizations. For example, Power BI generated the chart in Figure 3 in response to the request for "Total active users by product."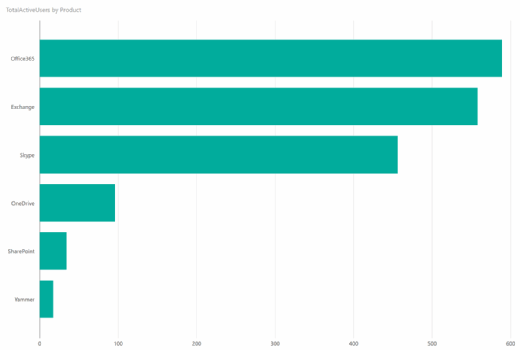 Microsoft also improved the visibility into directory synchronization services. The health of this service is critical because it relates to the connectivity and synchronization between Active Directory in the client's environment and Office 365. A problem with this service can result in issues with user account synchronization.
Administrators monitor this area under Directory Synchronization services in the service health section.
More visibility on the horizon
Microsoft's roadmap indicates the company plans to release more features in the Office 365 service health section to provide:
specific user monitoring capabilities;
access to user-level details;
automated service health notifications via SMS or email; and
ability to send faster incident reports.
The new usage reports gauge the level of end-user engagement with different services and products. Some system engineers still have the native Office 365 admin portal reports to track service use if they prefer it over Power BI.
Dig Deeper on Office 365 and Microsoft SaaS setup and management