Problem solve
Get help with specific problems with your technologies, process and projects.
Organize metadata in Microsoft SharePoint Server 2007 by content type
Previous SharePoint versions lacked metadata organizational capabilities, but MOSS 2007 has added that to its otherwise strong management functions, allowing sorting of metadata by content type.
Continue Reading This Article
Enjoy this article as well as all of our content, including E-Guides, news, tips and more.
Until Microsoft released MOSS 2007, document library metadata was stored in columns, much the same way that data is stored in a SharePoint list. Because these columns are bound to the document library, the columns essentially define the metadata schema for the entire document library.
This doesn't seem like a big deal, after all, a lot of documents share the same types of metadata. It wouldn't be unthinkable, for instance, to associate metadata fields containing the document's name and the name of the original author with every document in a document library. Beyond that, though, associating metadata with a document library could cause problems.
One of the more common problems is that, often, metadata fields in SharePoint are not populated. A lot of users don't populate the metadata fields, either because they're lazy or because they don't know how. But with the new content features in MOSS 2007, administrators can make populating metadata fields a requirement.
Problem solved, right? Not exactly. Unfortunately, requiring metadata fields to be populated can lead to this even bigger problem: Not all documents need the same metadata.
Let's say, for example, that I want to store two documents in a SharePoint document library -- an article and an invoice. Both types of documents could benefit from the use of metadata, but, most likely, the metadata fields that would be appropriate would vary by document type.
If I were to create metadata for this article, I would probably use the Document Name field, but I might also create a field for the site that it was submitted to. I might include a document abstract where I could write a short summary of the article. And, while the Site Submitted field might be relevant for both the article and the invoice, I'd rather create a Boolean field for my invoices that indicates whether they have been paid. That way, I could search all of the invoices that have not been paid yet. To that end, this field, while great for invoices, wouldn't really work for documents containing the articles written.
So what's the solution? In previous versions of SharePoint, you had two choices: (1) Make populating the metadata fields optional. That way, you could fill in only the fields that apply to a specific document. And (2) Create separate document libraries for each type of document.
In MOSS 2007, however, administrators can define a new content type and apply it to documents. To create a new content type, click the Site Actions button, select Site Settings, and the option command Modify All Site Settings. Next, click the Site Content Types link located in the Galleries section on the following page. Now click the Create button. You'll be directed to the "New Site Content Type" page (shown in Figure A) where you'll have to fill in a few simple fields.
Figure A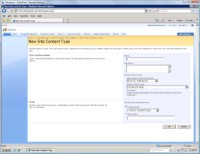 Figure A: Use the New Site Content Type page to define a new type of site content. (Click on image for enlarged view.)
You can include a newly created content type in a document library by going to the "Site Settings" page and clicking the Site Libraries and the Lists links found in the Site Administration section.
Next, click the link to customize your document library. As you can see in Figure B, the "Customize Documents" page contains a Content Type section. If you click the Add From Existing Site Content Types link, you will be given the chance to add stock or custom content types to the document library.
Figure B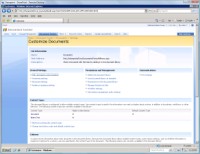 Figure B: You can use the Content Types section to add content types to a document library.. (Click on image for enlarged view.)
It's fairly easy to define a new content type in Microsoft Office SharePoint Server 2007. And when you click on an individual content type, shown in the figure above, it allows you to specify metadata for that content type.
Brien M. Posey, MCSE, has received Microsoft's Most Valuable Professional Award four times for his work with Windows Server, IIS and Exchange Server. He has served as CIO for a nationwide chain of hospitals and healthcare facilities and was once a network administrator for Fort Knox. You can visit his website at www.brienposey.com.
Dig Deeper on SharePoint administration and troubleshooting