Problem solve
Get help with specific problems with your technologies, process and projects.
Outlook add-in personalizes bulk email messages
If you want to personalize and send bulk email messages in Microsoft Outlook, you might want to try MAPILab's Send Personally Outlook add-in.
Although spam has given bulk email a bad reputation, there are still plenty of legitimate scenarios for sending email in bulk. Recently, I've experienced a similar scenario where I needed to send a few dozen email messages, but faced the hassle of putting together a mail-merge.
I wanted to create a simple message in Microsoft Outlook, leave a couple of spaces for the user's name -- for sake of personalization -- then send to a distribution list. To do this, I used an Outlook add-in from MAPILab that came close to scratching that particular itch.
Send Personally, for Outlook 2000 through Outlook 2010, allows you to personalize email messages that are sent to multiple recipients without the overhead of a full bulk mailing solution. Each user that is specified in the To:, Cc:, Bcc:, or distribution lists and is included in the message receives a personalized copy of the message -- without address information for the other recipients.
Note: Outlook 2000 users cannot use Microsoft Word as the message editor with this plug-in. They must edit messages in Outlook.
After installing directly into Outlook, Send Personally displays as a toolbar extension. In Outlook 2007, it appears as a Send Personally panel in the Message tab. To use the add-in, compose an email message and use the Paste Macro command in the panel instead of inserting the recipient's name. This will automatically fill in the recipient's name when the message is sent.
For example, if you want to have "Dear [user's name]" in your message's subject line, you'd use the text Dear %USERNAME%. The %USERNAME% macro is automatically replaced with the name of the recipient. Other macros supported out-of-the-box include %USERNAME%, %USEREMAIL%, %LIST% (the name of whatever distribution list is being used), %USERFIRSTNAME%,and %USERLASTNAME%.
Note: You should not use the conventional Send button in Outlook when sending messages using this add-in. That will deliver the message as-is, without any macro substitutions, and will include the original distribution list information.
Click on the Send Personally button to see a dialog box that contains status information for each message. Individual messages are stored separately in your Microsoft Outlook outbox, which is useful if you want to see the results.
Send Personally is $24 for an single user license; it's available for a free 20-day trial.
Figure 1. The Send Personally add-in personalizes a batch of messages for multiple recipients. The distribution list contains just two members, but longer lists are certainly allowed.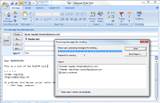 ABOUT THE AUTHOR
Serdar Yegulalp has been writing about computers and information technology for more than 15 years for a variety of publications, including InformationWeek and Windows Magazine.