Outlook on the Web rebranded: new tools organize email
Additions to the Web version of Outlook make it easier for end users to organize their inboxes. Archive, pin and set reminders to email messages in Outlook.
The process to access the Exchange email mailbox using a Web browser -- known as Webmail or Outlook Web App (OWA) -- has been given a facelift and rebranded as Outlook on the Web.
Office 365's added features to the Outlook Web version, available for Office 365 First Release tenants, with standard release rolling out the new features soon after. Most of the feature set will be available in Exchange Server 2016 as well.
Outlook on the Web will feature a more simplistic, cleaner user interface. The action pane (figure 1) is similar to the consumer email platform, Outlook.com, and the email subject line is larger and more noticeable.

New tools added to Outlook on the Web
The release introduces a set of tools that make sorting and identifying important email messages easier.
Archive: This feature in Outlook on the Web allows users to transfer messages out of the inbox to another folder with a single click. The folder to which the emails need to be archived should already exist or must be created before archiving -- there is no option to create a new folder while trying to archive email messages.
The inability to create a new folder while archiving email messages is sure to cause some noise in the community as the consumer service already has it.
Why? Different teams code the Office 365 and consumer version. And depending on timelines, not all features make it to the release in time. Sometimes due to the time constraint, the feature makes it to release with limited functionality and is refined later.
Email reminders: Create email reminders with a date and time for any calendar appointment. This feature keeps everyone on the invite list updated on important items or deliverables. This will come in handy for personal Office 365 use -- imagine setting an email reminder for a birthday party or doctor's appointment.
Finding people: Finding frequently used email recipients is now easier in Outlook on the Web. Newly added intelligence displays a list of frequently emailed people and groups (figure 2). When you place the cursor on the recipient line (To, Cc or Bcc), the list of frequently used recipients picks up changes in your conversation behavior.

Images: Outlook on the Web provides a number of options to craft a graphically appealing email message. The new Outlook Web version allows you to resize images, add custom borders, rotate images and apply shadow effects. There is also a full set of emoticons to make an email conversation more personal.
Improved single line view: The single line view -- where the email is shown as a list with the subject -- shows a preview of the message contents along with the subject, offering a sneak peek into the email body to determine if it is urgent.
Pin: The pin feature is similar to Flag; it sends pinned email messages to the top of the inbox so they aren't hidden when new messages come in, but takes it one step further and colors them yellow to grab the user's attention (Figure 3).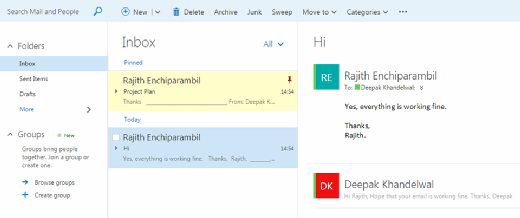 Sweep: The Sweep feature has been in the consumer email service Outlook.com and is now available in Office 365. It allows users to manage recurring email messages, such as newsletters. With Sweep, you can keep email messages from a specific sender for a set number of days, only keep the latest or delete all messages from a particular sender (figure 4).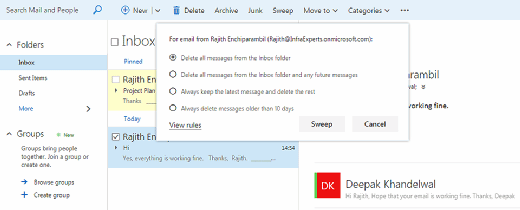 Undo: End users can reverse any action performed while composing a message with the new undo option. If you want to undo the font you selected, the styling you chose or anything else, you can revert back to the original version.
Weather forecast: Scheduling meetings in calendar appointments is easier when you know the weather that day, for example when meeting people outside the organization or planning a team dinner.
What's missing in Outlook on the Web?
Email reminders still don't exist in Exchange. Even though it is a simple option, Microsoft can't bake all features into a single release.
Next Steps
New features in Exchange 2013 OWA
OWA 2013 mobile device hints
Top five OWA tips for the Exchange admin