Perform bare metal restore of Windows Server 2003 using NTBACKUP
NTBACKUP is not an ideal tool for performing a bare metal install. However, if your backups were made using NTBACKUP, you don't have much choice in terms of using Automated System Recovery backup.
The technique for performing a bare metal restore -- restoring a server from scratch -- depends on your backup...
Continue Reading This Article
Enjoy this article as well as all of our content, including E-Guides, news, tips and more.
software. NTBACKUP is not an ideal tool for performing a bare metal install. However, if your backups were made using NTBACKUP, you don't have much choice in terms of using it as a tool for bare metal restore.
NTBACKUP supports a type of backup known as Automated System Recovery (ASR). If you're fortunate enough to have an ASR backup available to you, you can save yourself a lot of work. Here are detailed instructions for performing an an automated system recovery.
Performing a bare metal restore
The problem with performing a bare metal restore when you don't have an ASR backup available to you is that running the restore means using NTBACKUP. Since NTBACKUP can't run without Windows, you'll have to install Windows before you can begin the restore process.
But performing a bare metal restore entails more than just installing Windows and running NTBACKUP. How you install Windows and whichever NTBACKUP options you choose determines whether the restore will be successful.
Installing Windows
In order for your restoration to go well, you must do three things when installing Windows.
You must install Windows in a manner similar to how it was installed before. You don't have to remember every service and subcomponent that was previously installed (although that helps). But you do need to make sure to install Windows to the same volume and path as it was originally installed in.
You must install the Windows service pack that was installed at the time the backup was made. I've found that having matching service pack levels makes a huge difference in how well the restoration goes.
Avoid joining a domain. This is the biggie. During the course of installing Windows, you'll be prompted for a computer name. Using the computer's original name is fine, but you do not want to join a domain. Why not? Because a computer account already exists in the domain. If you try to join a domain, you'll be forced to either rename the machine or delete the existing computer account. If you must join a domain in order to access the backup, you need to name the computer something besides its original name.
Restoring the backup
Just as you had to install Windows in a certain way, you must configure NTBACKUP in a manner appropriate for the task at hand.
By default, before NTBACKUP restores a file, it checks to make sure that the file does not already exist. If the file does exist, the backed-up version is not restored. In the case of a bare metal restore, this behavior is not desirable; it often leads to file version conflicts.
To change NTBACKUP's default behavior, select the Tools command from the Options menu. When you do, Windows will display the Options properties sheet. Go to the properties sheet's Restore tab, and you will see the three options shown in the figure below.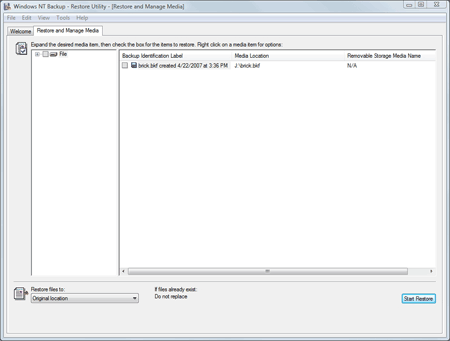 As you can see, the default option is to not replace any pre-existing files. However, this may lead to file version conflicts as a result of updates that have been applied to the operating system.
The second option is to replace only files that are older than the version that has been backed up. This is the option that works best when I perform a bare metal restore. Using the option to replace all files can lead to unsuccessful restores because critical operating system files are being replaced in the middle of the restore operation. Replacing only older files will result in some OS files being replaced during the restore, but not nearly as many as if you configured NTBACKUP to just replace everything.
Now you're ready to perform the restore operation. The thing to keep in mind about the restore operation is that when the restore completes, you must reboot your server to complete the process. When the reboot completes, your server should be back to normal.
About the author: Brien M. Posey, MCSE, is a Microsoft Most Valuable Professional for his work with Windows 2000 Server, Exchange Server and IIS. He has served as CIO for a nationwide chain of hospitals and was once in charge of IT security for Fort Knox. He writes regularly for SearchWinComputing.com and other TechTarget sites.
More information on this topic:
Dig Deeper on Windows Server storage management