Problem solve
Get help with specific problems with your technologies, process and projects.
PowerShell scripting hits the Web with new mobile utility
A new Web-based utility for Quest's command-line automation tool gives admins the ability to execute PowerShell scripts directly from their browsers.
Those familiar with Windows PowerShell might also recognize PowerGUI Pro from Quest Software, a graphical front-end for PowerShell that automates common tasks for the command-line system. What you might not know is that there is new functionality that expands on this concept: PowerGUI Pro – MobileShell.
MobileShell runs the PowerGUI Pro command engine on a remote server through a Web browser. Internet Explorer 8 and Mozilla Firefox are both supported out of the box, and the programmers are working on adding support for many other browsers, including Google Chrome and Opera.
MobileShell installs on a Windows Server running Internet Information Services (IIS). It will install by default in a subdirectory named /MobileShell within the default website. All connections to MobileShell are SSL-encrypted by default, so snooping the traffic on the connection is no easier than it would be for any other SSL-protected transaction. Note that you can run MobileShell without HTTPS, but it is not recommended since (among other things) you'll have to pass credentials in plain sight. Also, if you are disconnected in the middle of a session by a browser crash or network disruption, you can reconnect to the session spawned before in much the same manner as with a Remote Desktop session.
When you connect to MobileShell, you'll see a three-pane display: an output window at the top, a command window at the bottom, and a pair of panels labeled Recent Commands and Favorites on the right. When you begin typing in a command in the bottom window, MobileShell will provide an auto-completion prompt for the command—a big timesaver since PowerShell commands can be a bit wordy.
The Recent Commands and Favorites panels are more or less what they sound like. The former maintains a history of the commands submitted through MobileShell. Click an item in the list and you can repopulate the command window with the same text. The Favorites panel is a list of commonly-used commands which you can customize by adjusting the settings. Among other things that can be controlled in the settings window is the output buffer size, which is set to 1,000 lines by default.
Finally, when using PowerGUI Pro – MobileShell it is important to avoid clicking the back button in your browser, as you risk closing the current session and losing your work; a minor tradeoff for another strong innovation.
Figure 1. The PowerPRO GUI --MobileShell interface (click to enlarge)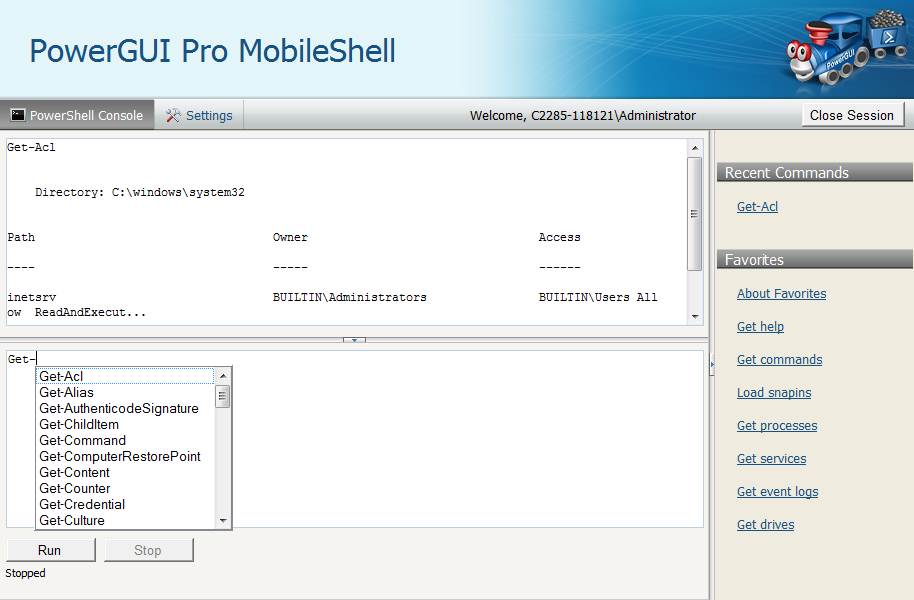 ABOUT THE AUTHOR
Serdar Yegulalp has been writing about computers and information technology for more than 15 years for a variety of publications, including InformationWeek and Windows Magazine.